Apple's iPhone to wirelessly stream YouTube content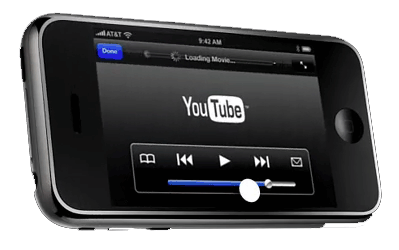 AppleInsider is supported by its audience and may earn commission as an Amazon Associate and affiliate partner on qualifying purchases. These affiliate partnerships do not influence our editorial content.
Apple said Wednesday that its eagerly awaited iPhone will allow users to enjoy YouTube's originally-created content when it begins shipping on June 29.
A new Apple-designed application on iPhone will wirelessly stream YouTube's content to iPhone over Wi-Fi or EDGE networks and play it on the devices 3.5 inch display, the Cupertino-based company said in a statement.
To achieve higher video quality and longer battery life on mobile devices, YouTube has begun encoding their videos in the advanced H.264 format, and iPhone will be the first mobile device to use the H.264-encoded videos.
"iPhone delivers the best YouTube mobile experience by far," said Apple chief executive Steve Jobs. "Now users can enjoy YouTube wherever they are—on their iPhone, on their Mac or on a widescreen TV in their living room with Apple TV."
Over 10,000 videos will be available on June 29, and YouTube will be adding more each week until their full catalog of videos is available in the H.264 format this fall.
iPhone will include the Apple-designed YouTube application when it goes on sale in the US on June 29. The Apple handset will be available in a 4GB model for $499 (US) and an 8GB model for $599 (US) through Apple's retail and online stores, and through AT&T's retail stores.
Apple also said Wednesday that YouTube is now live on Apple TV. Owners of the $299 streaming media hub can download the free update via the device's built-in software update feature located under the "Settings" menu.
AppleInsider has published a photo gallery of the update process.