Next-gen Xeon specs leaked; iPhone sighting at T-Mobile Germany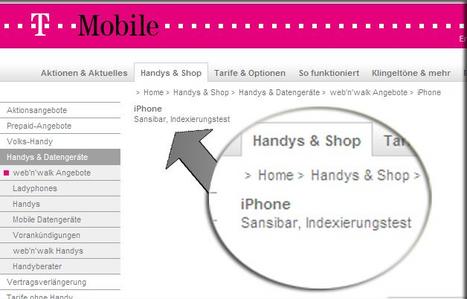 The successor to the chips used in Apple's professional Mac line has been leaked through an Intel company note. Meanwhile, T-Mobile may have inadvertently revealed its selection as a European iPhone carrier through its website.
Claiming to have received an Intel company-only note, DailyTech says it has confirmed nearly all of the CPUs that will be available in the second half of the year using Intel's upcoming Penryn platform.
The Santa Clara, Calif.-based chip designer is said to be prepping at least five quad-core models in its upcoming flagship line, which will be known officially as the Xeon 5400 series and is codenamed "Harpertown" in the company roadmap. With the exception of an unidentified low-end model, Intel has detailed most models and expects to launch 2.33GHz, 2.5GHz, 2.83GHz, and 3.16GHz processors made with the smaller, cooler-running 45-nanometer process, outshadowing the 3GHz mark set in April.
Each processor is already known to provide a minor boost to performance compared to a present-day Xeon 5300 at the same clock speed, as the total amount of secondary cache on each chip jumps from 8MB to 12MB.
Apple in the past has refrained from outlining its future processor choices but has repeatedly used the latest Xeon processors in its Mac Pro and Xserve lines since the switch from PowerPC to Intel architectures in 2006. In its most recent update, Apple requested and received a special 3GHz Xeon three months ahead of when Intel was officially slated to release the processor to PC builders.
A dual-core equivalent to "Harpertown," known as "Wolfdale," is likewise on schedule for a release in the last months of 2007, but will ship only in 3.16GHz and 3.33GHz variants. An Intel engineer said to be familiar with the matter claims the shift to quad-core is simply a logical move for the Xeon's pro business.
"In the server space, there isn't much need for dual-core when we can go quad... If your [programs] are threaded, there's no reason to use two cores when four are available," the engineer said.
iPhone entry spotted on T-Mobile site
It only appeared briefly, but a category for the iPhone purportedly surfaced at T-Mobile Germany's online phone store, according to the newspaper Focus.

T-Mobile.de (screenshot by Focus)
Visitors to t-mobile.de/iphone or those who successfully searched for an entry during a short interval were able to find a brief mention of the Apple device along with the mention of an "indexation test." This suggested that the listing was an internal database listing which accidentally went live until a site developer caught the error, Focus wrote.
T-Mobile has previously denied any deals with Apple to carry the phone in Germany, but is known to have a buried icon for its service within iTunes.