Apple retail stores turn out best third quarter yet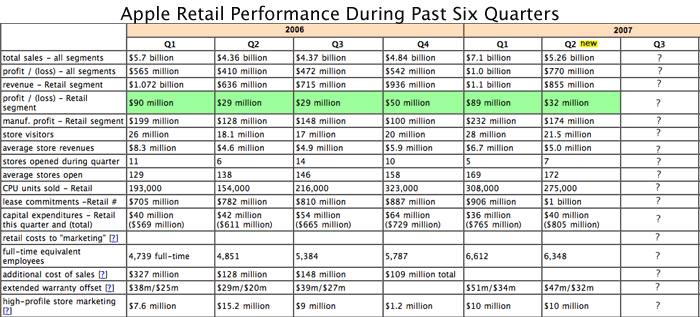 AppleInsider is supported by its audience and may earn commission as an Amazon Associate and affiliate partner on qualifying purchases. These affiliate partnerships do not influence our editorial content.
The fledgling retail business at Apple Inc. continued its steady pace of growth last quarter, with its U.S.-based stores alone posting both higher revenue and Mac unit sales than that of the entire worldwide segment during the year-ago quarter.
For the third fiscal quarter of 2007 ended June 30, Apple's 164 U.S. retail stores combined for sales in excess of $800 million, which was significantly above the $715 million in revenue recorded for the entire Apple retail segment — including international stores — during the third fiscal quarter of last year.
Well-placed sources indicate that the segment's rising revenue was driven not only by an increase in store count, but also significant growth amongst many of the company's existing locations. Nearly every store was able to handily meet or beat internal sales targets for the quarter that had been prescribed by the corporate division, those sources say.
Of those Apple retail stores that have been operating for at least a year, 90 percent saw flat to modest growth over the year-ago quarter, including nearly 45 percent which saw revenues rise in excess of 25 percent. Sales were particularly strong in the South Central and Mid-Atlantic regions, sources added.
Fueling the record setting third quarter, those same sources said, was a sharp uptick in sales of the Cupertino-based firm's Mac computer line. The 164 U.S.-based stores combined to sell more than 275,000 systems, besting all but two quarters in Apple Retail segment history before tallies from international stores are factored into the mix.
iPods were also an important factor for Apple Retail during the third quarter, but were a less material growth driver for the outlets than their Mac counterparts. The U.S.-based stores combined to sell over 730,000 of the digital media players before all attention turned to iPhone during the final two days of the quarter. When broken down, that figure turns out to just over 50 players per store, per day.
Apple, which reports results of its fiscal third quarter on July 25th, is expected to offer additional color on its retail performance, including actual profits, foot traffic, and revenue totals that factor in its international chain.