Study: iPhone already nibbling away at Motorola's lead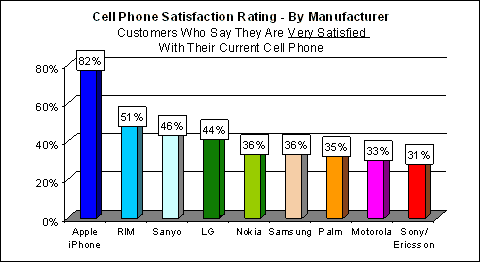 Although it's been on the shelf for just three months, the impact of iPhone is clearly being felt by rival phone manufacturers, according to a new study which claims that Apple's cell phone market share is already on the rise at the expense of Motorola.
Completed earlier this month, ChangeWave's latest consumer cell phone survey of 3,654 of its alliance members focused primarily on key market share changes among the major U.S. cell phone manufacturers and service providers.
The study found that while Motorola still manages to maintain the top spot in terms of current market share (30 percent), it has fallen 1-point since the firm's July survey to its lowest level in more than a year. For its part, Samsung (15 percent) remains in second, unchanged from previously.
"One of the most striking findings for Apple is the iPhone's outstanding customer satisfaction rating," ChangeWave reported. "An impressive 82 percent of iPhone owners reported being Very Satisfied with their purchase, up 5-points since our previous survey in July — by far the highest rating of any manufacturer."
The only other company with a rating above 50 percent was Research-in-Motion (RIM). And at the other end of the spectrum, Motorola was next to last among cellular manufacturers when it came to customer satisfaction, with Sony/Ericsson at rock bottom.
"Most importantly, it's when we asked respondents about their planned future cell phone purchases that the iPhone marketplace transformation becomes fully apparent," ChangeWave said.
Again, an significant 16 percent of respondents who plan to purchase a cell phone in the next 6 months say they'll buy an iPhone, placing Apple at the top among all manufacturers. Moreover, while the number of European and Canadian respondents wasn't large enough to draw final conclusions, the iPhone appears set for a stellar debut when it launches in the coming months in Europe and Canada, the firm added.
Meanwhile, Motorola planned purchases (15 percent; up 1-pt) — after a long and horrendous slide — appear to be bottoming for the first time in a year. Indeed, ChangeWave surveys throughout 2007 have shown Motorola to be the manufacturer hurt most by the iPhone.
"Tough times still lie ahead for the company," the firm wrote in its report.
The chart below illustrates Motorola's dramatic rise and fall over the last 2+ years in terms of planned purchases. Tellingly, the decline first became apparent in ChangeWave's January 2007 survey conducted immediately after Apple's original iPhone announcement.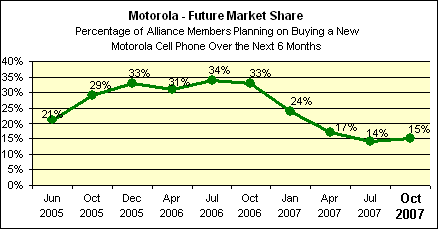 At the same time, Nokia (13 percent) has jumped 3-points since the July survey and, conversely, LG (4 percent) and Palm (2 percent) have each fallen 2-points.
Cellular Service Providers
Concurrently, the tug-of-war between Verizon and AT&T continues in the cellular service providers market, ChangeWave said.
In terms of actual market share, both Verizon (30 percent) and AT&T (29 percent) have each gained 1-point since the firm's previous survey in July. For AT&T, this is the third survey in a row that they've racked up a 1-pt gain.
Mired far behind in third place, Sprint/Nextel (12 percent) showed no signs of a turnaround from its downward slide.
After the initial wave of excitement for the iPhone, future demand for AT&T — while still historically high — is returning to more normal levels, according to the report.
Among respondents who plan to switch carriers over the next six months, a total of 23 percent said they'll go with AT&T — a full 7-points lower than in the July survey.
Verizon, on the other hand, appears to have halted the downward slide in planned purchases that began immediately after Apple's iPhone announcement back in January. All told, they have increased their share of planned purchases 2-points to 21 percent, and significantly narrowed their gap with chief competitor AT&T, according to the latest survey.
Here's another look at the roller-coaster slugfest in planned purchases between Verizon and AT&T over the last 2+ years: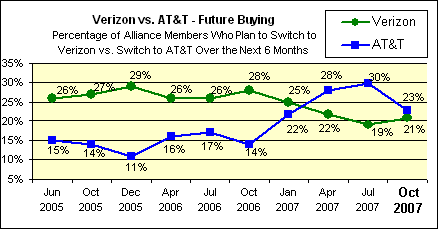 Importantly, ChangeWave said, Verizon customers continue to give their company the highest satisfaction rankings in the industry — even as lower satisfaction ratings continue to be a problem for AT&T. The firm also note that previous surveys have identified the speed of AT&T's network as the top complaint among iPhone users.
Going forward, Sprint barely registers in planned purchases, garnering a minuscule 3 percent.
Fiber Optic Services – Verizon vs. AT&T
In somewhat related findings by the study, a total of 34 percent of respondents said they're likely to sign up for Verizon's FiOS internet service if it becomes available in their area — including 12 percent who say they are Very Likely. Another 39 percent said they're likely to sign up for Verizon FiOS TV.
Regarding AT&T's U-verse Internet and TV service, one-in-three respondents (32 percent) said they're likely to sign up if it becomes available in their area — including 8 percent who said they are Very Likely.
Triple-Play Penetration – Current Market
Meanwhile, Comcast (24 percent) remains the industry leader among respondents who currently pay for a "triple-play" service — but it has lost 3-points since ChangeWave's previous survey on the subject in April. Both AT&T (16 percent; up 3-pts) and Verizon (15 percent; up 6-pts) have experienced big gains during this time period.
AT&T (28 percent; up 6-pts) is also looking strong among those who plan to sign up for a "triple-play" subscription in the next 90 days. Verizon (26 percent; down 3-pts) and Comcast (23 percent; down 2-pts) have fallen to second and third respectively.
"We note that Time Warner (4 percent; down 5-pts) remains on a steep decline in terms of planned triple play purchases," ChangeWave said.