Four states dominate Apple's retail store revenues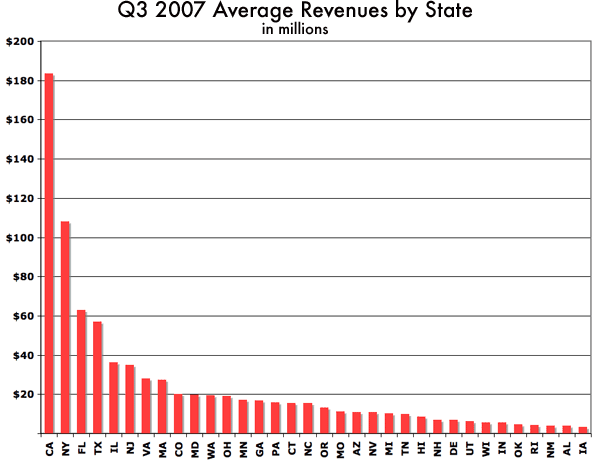 AppleInsider may earn an affiliate commission on purchases made through links on our site.
(ifoAppleStore) Not all states are created equal when it comes to Apple Inc.'s retail store operation, both in the number of stores in each state and their contribution to nearly $1 billion in revenues each quarter.
Not surprisingly, California leads the 201-store chain in total revenues, according to those who have seen the figures for the third fiscal quarter of 2007. California totaled almost $185 million in revenues for the quarter, with 36 stores open — the most of any state — and only partial revenues tallied for two of the chain's newest stores.
Lagging behind California in revenues were New York, Florida and Texas, all states with at least 12 retail stores open. Their revenue contributions totaled from $56 million to $107 million for the quarter.
Together the four states contributed over $410 million of Apple's retail store revenues, or about 45 percent. More significantly, the top four states tallied more revenues than the stores in all other 30 states combined.
At the bottom of the Q3 revenue pack were several states with just a single store, reporting revenues in the $5 million range each. Those states include Nebraska, Iowa and Alabama.
An analysis of average store revenues by state shows that the big revenue states fall in the middle of the range of revenues. New York's 11 stores led all states with an average of nearly $9 million per store, no doubt boosted by the highly successful SoHo and Fifth Avenue stores. The five stores in Illinois placed second with $7.1 million in revenues per store on average.
The total revenue leaders of California, Texas and Florida reported revenues in the $4 million to $5 million range.
At the bottom of the Q3 average revenue list were the single-store states of Nebraska and Iowa.
Gary Allen is the creator and author of ifo Apple Store, which provides close watch of Apple's retail initiative. When Gary isn't busy publishing news and information on Apple's latest retail stores, he finds himself hanging out at one.