Elgato to unleash EyeTV 3 with Smart Guides, iTunes-like interface
AppleInsider is supported by its audience and may earn commission as an Amazon Associate and affiliate partner on qualifying purchases. These affiliate partnerships do not influence our editorial content.
Elgato on Tuesday will introduce EyeTV 3, a major overhaul to its Mac OS X software for recording, post-processing and export of television programs that will introduce a handful of new features, including a refined interface, smart program guides, and enhanced WiFi access, AppleInsider has learned.
Drawing off feedback from existing EyeTV 2 users, Elgato has revamped nearly every aspect of the software using concepts that will be familiar to users of Apple's iTunes software, people familiar with matter say. Among the enhancements is a completely redesigned programs window that mimics the iTunes interface, placing all key functions in a customizable sidebar and offering a supplemental Cover Flow view for browsing the EyeTV Library.
Like Apple's Smart Folder technology included in Mac OS X, users of EyeTV 3 will be able to save their program guide search criteria to the sidebar as "Smart Guides" that will automatically update whenever new data appears in the program guide.
Smart Guides can further be used to create subscriptions that automatically record the contents of any Smart Guide. This will reportedly make it possible for users to not only record all episodes of a regular series, but also all content that matches a specific search criteria, such as all shows containing the actor Jerry Seinfeld that are broadcast in high-definition.
Similarly, a feature called Smart Playlists will let users create dynamic groupings of all the recordings that match a specific term, such as all movies containing the actor Kevin Spacey. Like Smart Guides, the Smart Playlists will also update automatically as new recordings are added to the EyeTV 3 Library.
According to those people familiar with EyeTV 3, the software will also introduce enhanced Wi-Fi access that will make it possible to watch low-resolution recordings in Safari on the iPhone and iPod Touch, or on a variety of other smart phones. Users will be able to password protect the Wi-Fi access feature to control who is able to review the recordings.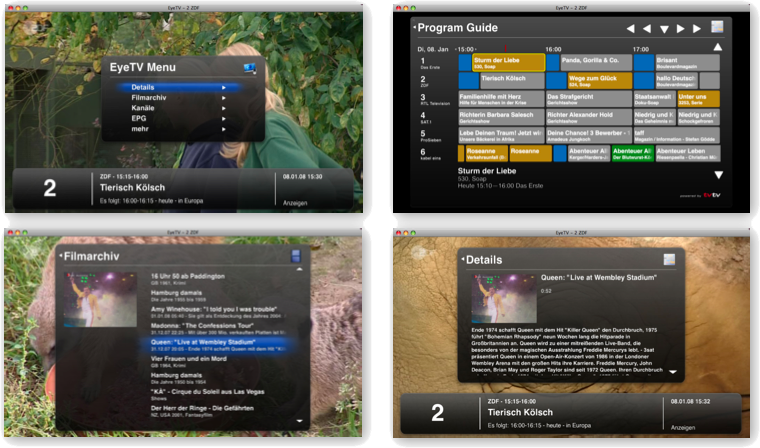 Another feature expected to make its debut as part of EyeTV 3 is a new iPod assistant modeled after Elgato's popular VHS Assistant. The feature will guide users through the steps needed to capture analog sources like VHS cassettes and camcorder tapes and prepare them for iPod use.
Like iTunes and iPhoto sharing, users will be able to share their library of recordings with other EyeTV 3 users over a local network. Shared libraries will appear in the application's sidebar for instant browsing.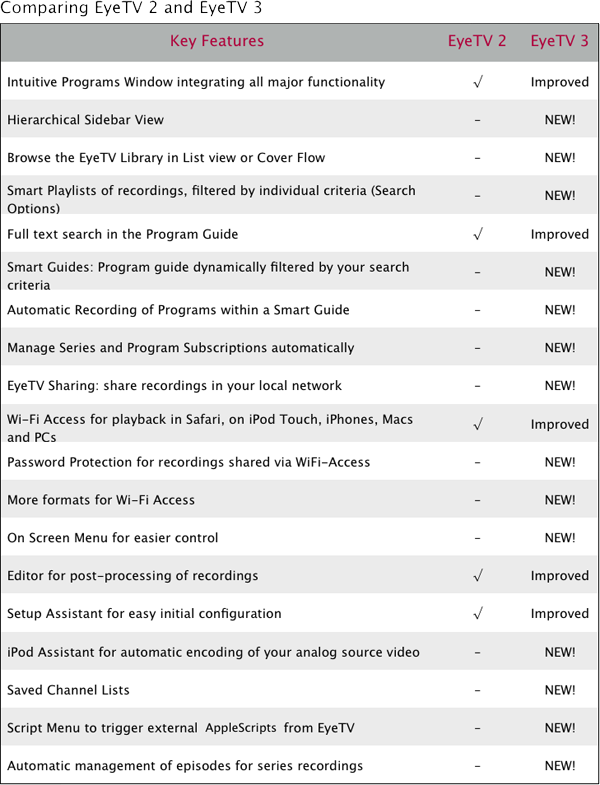 Other features lined up for Tuesday's EyeTV 3 release include a new on-screen menu, saved channel lists, a Script Menu to trigger external AppleScripts, and improvements to the post-processing editor, full text search, and the EyeTV setup assistant.
EyeTV 3, which is designed for use alongside Elgato's line of hardware-based television tuners, supports analog and digital television signals, IPTV signals, as well as analog video signals from cable boxes, satellite receivers and video recorders.