Apple's iPhone takes on the Enterprise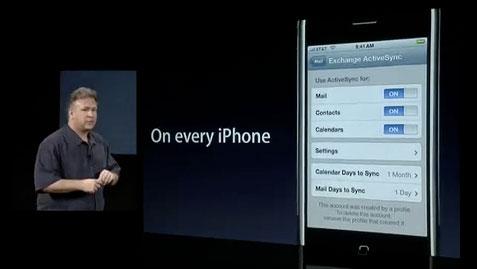 AppleInsider may earn an affiliate commission on purchases made through links on our site.
Apple's SDK roadmap announcements were expected to primarily introduce the company's plans for releasing development tools for casual developers, but chief executive Steve Jobs started the event by introducing broad initiatives to greatly improve the iPhone's features to satiate the demands of Enterprise users.
Apple isn't just plotting out a way to enter big organizations. The iPhone is already there, having grabbed 28% market share in just eight months on the market. In addition, the phone has also become the most popular way to access the mobile web, swallowing up 71% of the US mobile browser market.
Apple introduced representatives from a series of major companies and institutions, including Todd Pierce, a VP of Genentech, who stated that "the iPhone is a watershed event in mobile computing for corporations" and has deployed thousands of iPhones within the company. The CIO of Nike called the iPhone a "plug-and-play enterprise solution."
The senior VP of IT at Disney also endorsed Apple's enterprise strategy on the iPhone, stating "Apple has really done their homework, addressing issues of security, manageability, and integration. We currently have hundreds of iPhone users and expect the demand to grow significantly with this release."
Stanford University also reported having deployed hundreds of iPhones on its campus. Bill Clebsch, Stanford's CIO, reported, "The iPhone has worked effortlessly at Stanford and the user acceptance has just astounded us. We have been inundated with orders."
Grooming iPhone for the Enterprise
With all of the millions of iPhones already out there and in use by highly satisfied users — including many corporate executives — Apple has been pushed to add features to the iPhone to make it easier for IT staff to manage and integrate into the existing systems.
"We've been hard at work trying to understand what it takes to bring the iPhone out across enterprise," noted Phil Schiller, Apple's senior VP of Marketing. One key feature relates to support for Microsoft Exchange 2003 and 2007.
Exchange is Microsoft's proprietary email server, which talks to standard Internet mail servers over SMTP and can deliver email to standard clients like the iPhone over IMAP, but which prefers to use its own MAPI system for talking to email clients and devices. Exchange competes against IBM's Lotus Notes, which has also announced support for the iPhone, and Novell Groupware, as described in Apple's Open Calendar Server vs Microsoft Exchange.
In order to accommodate Enterprise users tied to Exchange, Apple has also licensed Microsoft's proprietary ActiveSync protocol and will be delivering built-in support for talking to Exchange using its native language. This will enable iPhone users to gain access to server updates pushed from Exchange as they are updated on the server, rather than requested by the client at regular intervals like a typical email program.
Push Email - delivers messages as they arrive
Push contacts - updates information as it is changed
Push calendar - delivers meeting requests and changes in real time
Global Address List - provides access to the company directory of employees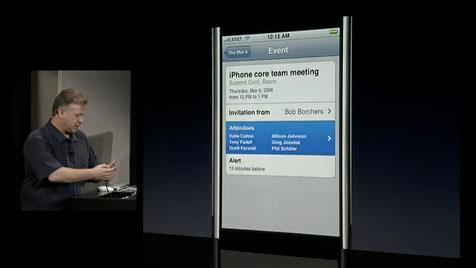 Enterprise Network Support
Additionally, Apple is adding broader support for using the iPhone with secured networks. The iPhone 2.0 update, expected in late June, will add support for additional VPN protocol types, including the popular Cisco IPsec VPN. Virtual Private Networks allow remote users to authenticate with a company server and gain access to local resources, including email and private corporate Intranets, from anywhere on the open Internet.
The iPhone update will also add support for authentication via password, two-factor token, or digital certificates, and include support for WPA2 Enterprise authentication using 802.1x for corporate and institutional WiFi networks. The iPhone currently supports WPA2 Personal for connecting to WiFi networks with simple password authentication.
Most large installations use the 802.1x protocol for controlling access to their wireless networks, based on a list of accounts managed by a central directory server. Support for the protocol is already provided in Mac OS X, but iPhone and iPod Touch users have been left unable to connect to Enterprise WiFi networks both in corporate circles and on many university campuses.
Enterprise Device Management
Apple also plotted out the delivery of tools to enforce security policies, both for Enterprise users wanting to lock down specific features of the iPhone, such as camera use or the installation of additional applications, as well as home users seeking to block or limit the use of certain apps by their children, such as web access in Safari.
Additionally, Apple outlined plans to provide tools to enable IT staff to configure iPhone deployments by the thousands and set them up automatically, using technologies borrowed from remote deployment of Xserves and Mac desktops. There will also be tools designed to protect data stored on the iPhone by remotely wiping it in the case of being lost or stolen.
The ability to remote wipe phones completely, including sensitive data stored on any installed Flash RAM, has only arrived recently for Windows Mobile 6, introduced over the last year. However, the tepid growth in Windows Smartphones, rapidly outpaced in the US by sales of the iPhone over the last eight months, appears to leave plenty of room for Apple's new platform to become the key rival to RIM's first place BlackBerry among Enterprise users.
In a jab aimed squarely at RIM, Jobs noted that the company, often equated with "secure corporate email," relays all BlackBerry messages out of corporate email servers and through its Network Operation Center servers in Canada.
"Why aren't CIOs really worried about security?" Jobs asked the press. "Every email message sent to or from a RIM device goes through a NOC up in Canada. Now, that provides a single point of failure, but it also provides a very interesting security situation. Where someone working up at that NOC could potentially be having a look at your email. Nobody seems to be focused on that. We certainly are."
Jobs' comments alluded to a blackout of BlackBerry service caused by NOC issues at RIM. For the iPhone, secure push email services will work directly from corporations' own email infrastructure to the iPhone, without traveling through Apple's servers or requiring the installation of additional messing server hardware, as Schiller outlined in a diagram that compared the iPhone against RIM's BlackBerry infrastructure. Schiller noted that Apple's push email strategy would be both more affordable and more reliable.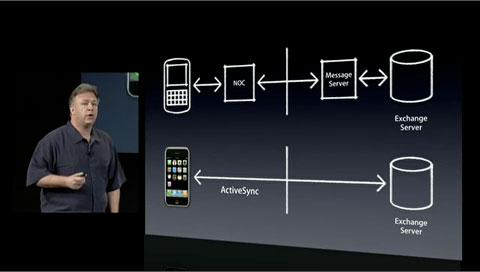 Apple also outlined plans to deliver applications through a new App Store, which will be installed as part of the iPhone 2.0 software, and will function similarly to the iTunes WiFi Store. Users will be able to buy and download software over both WiFi and mobile networks directly, at prices set by the developers themselves. Software can even be offered for free.
For Enterprise users, Apple will be offering a custom App Store infrastructure that will allow corporations and institutions to develop their own internal applications tied into their existing services and deploy them securely to their employees' iPhones.
Enterprise developers will use the same Xcode Cocoa tools to develop iPhone apps as everyone else. Those tools will be very familiar to existing Mac OS X developers, and conversely, Enterprise developers building new apps for the iPhone will also become familiar with deploying desktop applications for the Mac.
Apple also highlighted the thousand of existing web-based applications that already work on the iPhone, including examples from Facebook and Bank of America.
Apple has announced an iPhone Enterprise Beta Program as a unique opportunity for IT departments to try iPhone 2.0 software before its general release slated for late June 2008. Additional details are available at Apple - iPhone - Enterprise.
More news from today's Apple event