Epocrates answers call of iPhone-wielding healthcare professionals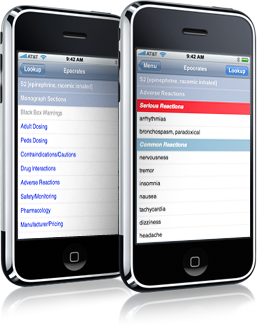 Epocrates, Inc., the developer of mobile applications used by more than 500,000 healthcare professionals, has announced plans to bring its clinical software products to the iPhone.
The popular prescription management software was highlighted by Steve Jobs during the iPhone Software Roadmap media briefing alongside demonstrations by Salesforce.com, AOL's Instant Messenger service, and games from EA and Sega.
"By putting so much computing power into such an elegant mobile device, Apple has opened up tremendous opportunities for application developers," said Kirk Loevner, Epocrates Chairman and CEO. "The technology and software in the iPhone OS will allow us to create new and innovative applications that help improve patient safety and provide healthcare professionals with an unsurpassed user experience."
Epocrates' Native iPhone Clinical Software
Epocrates is one of a select few companies working directly with Apple to create an application that can be installed directly on the iPhone. It will enable healthcare professionals to have immediate, ubiquitous access to vital clinical information even in locations without Internet connectivity. When a network connection is reestablished, the device will be automatically populated with updated drug and safety information and important medical news.
A customized Safari version of Epocrates' free web-based drug reference is currently available at http://m.epocrates.com , which users can access via an Internet or Wi-Fi connection.
Epocrates provides drug dosing and drug interaction information to physicians, as well as presenting a database of reference guides for drug, formulary, disease, codes, and medical terms. The system also delivers clinical alerts to its users from the FDA, ISMP and CDC, updates content weekly, and offers mobile Continuing Medical Education courses.
Physicians Petition for the iPhone
Physicians have been extremely vocal in asking for a version of Epocrates software installed directly on the iPhone, with one doctor even starting an online petition months ago to drive awareness. Based on this demand, as well as the benefit of the product in helping to improve quality of care, Apple invited Epocrates to begin native development for the iPhone in advance of the availability of the public SDK.
Glenn Keighley, who has been working in mobile development for the last eight years at Epocrates, noted that "developing software for the iPhone is like developing for no other mobile platform. The sensation is for developing for a much more powerful, stronger, almost desktop-like environment. The main reason for this differentiation is the availability of the Cocoa Touch frameworks."
Keighley added, "We were able to take advantage of some of the unique features of the iPhone, like the SQL lite database to store our drug formulation information, and the enhanced screen resolution to show pill images on the device for the first time on any mobile platform." He also cited Core Animation as a powerful tool for making it easy to build an attractive, intuitive animated interface to enhance features as MultiCheck, used by Epocrates to monitor possible drug interactions for patients taking multiple medications.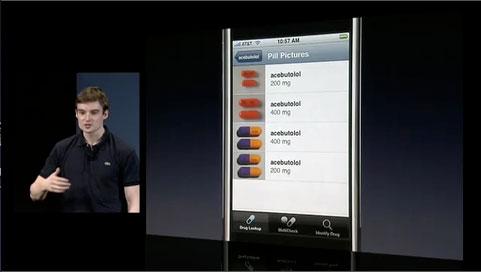 A new Identify Drug feature is entirely new to the iPhone; it allows physicians to enter drug descriptions from patients by color, shape, and scoring to present a list of possible medications, each of which can be used to bring up a monograph detailing the drug.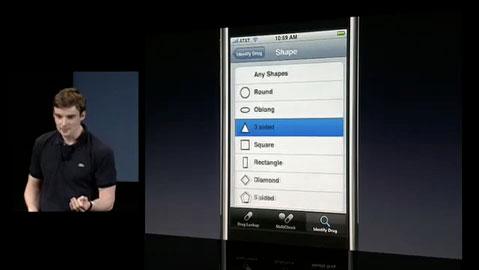 A final version of the software is targeted to be available with the release of iPhone 2.0 software and the new iPhone App Store in June. Epocrates will also run on the iPod Touch.