Lawsuit targets time-based sorting in Apple's iPods, Time Machine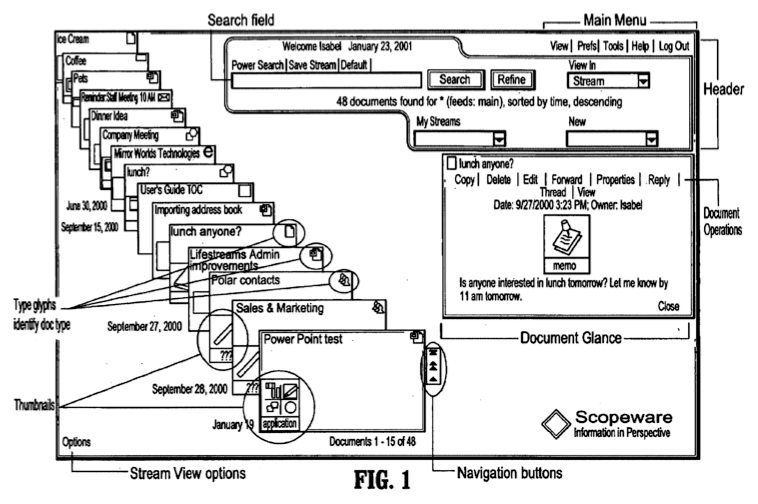 A Texas-based lawsuit claims that virtually all of Apple's product line infringes on a system for organizing data by time, but draws its closest connection with the Time Machine backup feature in Mac OS X Leopard.
Submitted late last week to a Tyler Division court in the southern US state, the seven-page complaint by Mirror Worlds Technologies accuses Apple of violating four distinct but related patents that touch on creating "streams" of documents that are automatically sorted according to time stamps, including future dates assigned to calendars and other reminders.
Dating back as early as 1999, the patents (1, 2, 3, 4) describe a highly visual system that displays a line of documents and other items dating back (or forward) in time along with the option of searching these items to retrieve and edit them.
Users of the system could also set up personalized versions of these feeds, or "lifestreams," as well as separate "substreams" that cover more focused topics. The approach is similarly billed as useful for searching an enterprise database.
In images accompanying the patents, Mirror Worlds portrays a system with more than a passing resemblance to Time Machine, Apple's automated backup utility in Mac OS X.
The plaintiff stops short of drawing a direct connection between the operating system feature and its patent claims but argues that both Macs and Mac OS X infringe on all four patents. However, for all but one of the patents, the company alleges that iPods and iPhones are also guilty of the infringement.
The Mac maker doesn't use a visually identical system on any of its handheld devices but often sorts podcasts and similar material by the date it was received.
Apple has been aware of the patents' existence starting from late 2001 and so is responsible for "willful and deliberate" violations, according to the plaintiff, which argues that Apple is damaging Mirror Worlds' business. The lawsuit would have an injunction issued against any Apple products found infringing on the patents and asks for triple damages.
As is the company's usual practice, Apple has not commented on the lawsuit.