Morgan Stanley: 40% of college students plan to buy Macs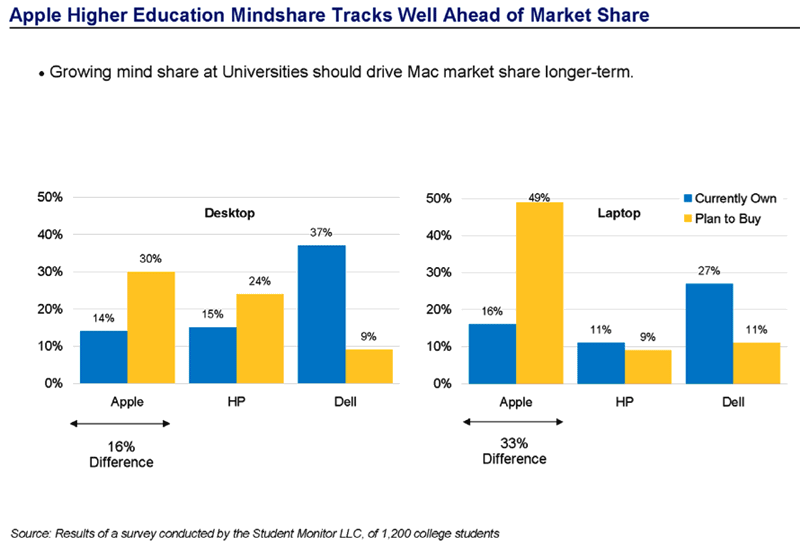 Apple's rapidly rising mindshare amongst current generation college students is setting the company up for an "aging phenomenon" that will spur further market share and revenue growth as those students enter the work force, investment bank Morgan Stanley said Wednesday.
A recent higher-education survey cited by analyst Katy Huberty reveals that roughly 40 percent of college students say their next computer purchase will be a Mac, well ahead of Apple's current 15 percent market share in the demographic.
In the near term, this sets the Cupertino-based Mac maker up for a strong September quarter — a three-month period that embodies the heart of the back-to-school buying season, where incoming freshmen, existing undergraduates, and universities all plunk down considerable sums of cash in order to invest in computer hardware for the coming school year.
"Longer term," Huberty said, "we see an 'aging phenomenon' that will put Apple in a more mainstream market share position as students enter the work force, much like Linux adoption in the 1998-2003 time frame."
She noted that as the Linux platform matured and developers entered the workforce, enterprise-level Linux adoption accelerated eightfold, with 16 percent of servers shipped in 2003 running flavors of the linux operating systems compared to just 2 percent five years earlier.
For Apple, which holds just shy of 3 percent worldwide share of the personal computer market, each incremental percentage point of share gain means billions, Huberty said; approximately 6 billion in yearly revenues, and a full dollar in per share earnings for investors.
The analyst maintained her Overweight rating on shares of Apple, with a $185 per-share Base Case scenario that assumes Mac unit share rises to 3.5 percent from 2.9 percent in the next 12 months, and that consumers continue to buy up into the Mac product family, providing the company with some gross margin leverage.
Huberty also outline a $225 per-share Bull Case scenario which assumes twice the operating margin expansion of her Base Case scenario for the 2008 calendar year, driven by 40 percent revenue growth from broader demand for mobile products and greater success in the international and enterprise markets.
"Consumer demand presents largest downside risk to estimates," she said. "[The] rate of new product innovation must be sustained to justify strong double-digit revenue growth expectations."