Apple files for universal iPhone instant messaging patent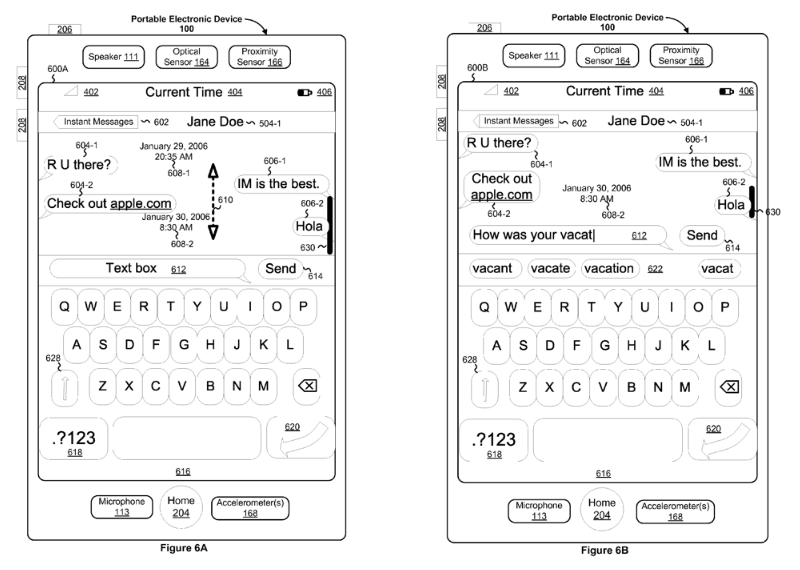 Apple has set the groundwork for instant messaging on the iPhone and other touchscreen devices with an application for a patent on a universal interface for real-time text chat services.
Published in March, the USPTO filing describes an interface similar to the existing SMS (Short Messaging Service) text messaging interface for the iPhone, but with key changes.
In normal use, users would continue to use the same bubble chat interface as with today's phone, complete with the ability to start new messages by searching through the contact list or typing the first few letters of someone's name. Users can also see a past chat history and remove individual conversations from the list.
However, the patent also adds features not present in the current iPhone software. While one chat view closely resembles that of the current SMS interface with a dedicated text field for entering new messages, another would have typed text appear directly in a new message bubble and would replace the text entry box with a list of suggested words.
The iPhone currently floats just its most recommended word above the text cursor during typing.
Significantly, Apple's drawings for the image also make no mention of SMS, instead referring to icons for "IM" and to instant messaging and thus pointing to a universal application of the patent to any data-based chat format. While SMS is mentioned in the patent text, the Cupertino, Calif.-based firm also suggests the chat interface could be used for MMS (Multimedia Message Service) picture and video messages, but doesn't include an interface for sending more than text as part of its filing.
Apple's current chat format for SMS (left) and the patent's alternate version (right).
Instant messaging is widely considered one of the most heavily requested features for the iPhone since its debut in June 2007, but has remained absent throughout multiple minor updates. The closest official solution has been an AOL-developed client for AIM that would be subject to Apple's software development kit limitations, which prevent background applications such as those offered on many handsets.
Apple's submission to the patent office was first filed late August of last year, two months after the iPhone's US release and several months after the company first demonstrated its SMS chat interface for the iPhone at Macworld San Francisco.