BlackBerry Bold stands as 3G iPhone's chief rival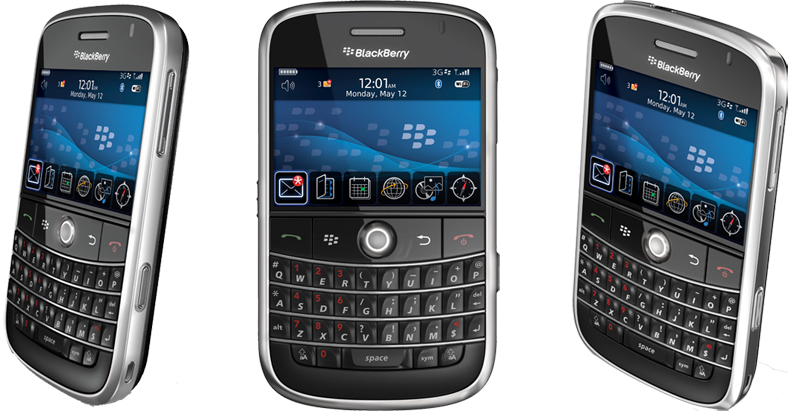 AppleInsider is supported by its audience and may earn commission as an Amazon Associate and affiliate partner on qualifying purchases. These affiliate partnerships do not influence our editorial content.
With the announcement of the first 3G BlackBerry compatible with the same high-speed networks as the upcoming 3G iPhone, Research in Motion has set itself up for what will likely be the defining smartphone battle of 2008.
To most observers, the BlackBerry Bold's feature list reads as a laundry list of solutions to complaints that could have been equally valid for both RIM's own smartphone line and Apple's iPhone.
Introduced on Monday, the Bold is the first BlackBerry to support third-generation cellular data using the HSDPA (High Speed Download Packet Access) standard shared by most faster international networks, opening the door to faster Internet access with AT&T and other carriers that have been forced to offer 2G speeds to the BlackBerry lineup — and the iPhone — until today.
As with Apple's device, the handset also unlocks the potential for BlackBerry use in Japan and Korea, which use a form of 3G for most basic calling that, until now, has been absent from any of RIM's communicators.
Multiple features that have previously been included by themselves in earlier models are now together for the first time. In addition to Wi-Fi, the Bold will have a real GPS receiver for navigation, an easily-reachable memory card slot, and a 2-megapixel camera.
RIM is also making concessions to the increasing numbers of home users opting for its phones: the Bold will pack 1GB of built-in memory and even syncs with iTunes courtesy of a utility that mediates between the Apple software and the phone itself.
What's most telling, however, is the visual redesign of the Bold. The new phone is a conspicuous break from RIM's designs for the 8800, Curve, and Pearl. The glossy black face, rounded body, and (simulated) chrome trim will be more than slightly familiar to iPhone fans — and may be more similar than expected, if reports of a black plastic backing to the 3G iPhone prove accurate.
The phones will even share the same display resolution at 480x320, although the Bold's QWERTY keyboard in place of a touchscreen dictates a smaller LCD with a landscape aspect ratio.
These design choices, combined with the choice of networks, will make competition all but inevitable between the Bold and its Apple-created challenger. AT&T has already confirmed that it will carry the Bold and expects to launch the 3G BlackBerry during the summer, likely arriving within weeks of the new iPhone.
One rumor has also alluded to AT&T deliberately delaying the launch of the BlackBerry to July or later to avoid a potential clash between the introductions of the two high-profile devices. Most observers now expect Apple to ship its refresh in late June.
Industry watchers note, however, that RIM is likely to face more than just a physically similar platform no matter when the Bold appears. The advent of Apple's iPhone 2.0 software and the option of third-party native apps is understood to potentially pull customers away from BlackBerries who might otherwise have needed one for work.
Potentially showing its awareness of this, Canada-based RIM has even announced a similar venture capital pool, the $150 million BlackBerry Partners Fund, to invest in newcomers developing third-party software. It closely shadows Apple's own attempt to kindle development with its $100 million iFund for iPhone coders.