Latest iPhone deals nearly quadruple Apple's addressable market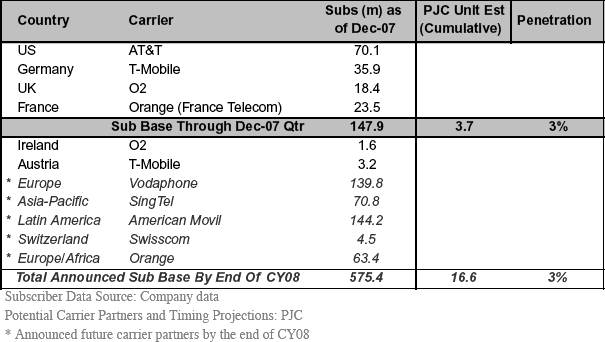 An announcement by France Telecom's Orange subsidiary on Friday to deliver the iPhone to 10 more countries later this year effectively quadruples Apple's total addressable market when combined with other carrier announcements over the past two weeks, according to investment firm Piper Jaffray.
"Currently Apple's total addressable market includes 153 million subscribers in 6 countries with AT&T, T-Mobile Germany and Austria, O2, and Orange," analyst Gene Munster wrote in a report. "These announcements increase those numbers to 575 million subscribers in 42 countries including recent agreements with Vodafone, SingTel, American Movil, Swisscom, and Orange."
The rapid international rollout is about 8 months ahead of the analyst's expectations, giving him much higher confidence in his earlier predictions that the company will sell 12.9 million iPhones this year and 45 million next year.
"To give some context to these numbers, Apple sold 3.7 million iPhones in 2007 into a total addressable market of 148 million subscribers (or 3 percent penetration)," he explained. "Taking the recent carrier announcements into consideration, we are modeling for Apple's penetration rate to remain at 3 percent in 2008 and double to 6 percent in 2009."
Munster's model for 2009 factors in the assumption that the handset maker will have by that time rolled out the iPhone into the blistering Chinese and Japanese markets, which would nearly double the iPhone's addressable market again from 575 million to 1.1 billion.
In general, the analyst believes the majority of Apple's new carrier agreements are non-exclusive deals that will have a
positive impact on iPhone units and a negative impact on iPhone revenue share. For investors, however, the overall net impact should be positive, he said, as he believes Apple shares will trade on unit numbers alone for the next year or so.
"We expect the next generation iPhone to launch in mid-June, shortly after Apple's Worldwide Developer's conference on June 9 and the international rollout will continue throughout the second half of 2008," Munster wrote. "While there is little question that the next version of the iPhone will include 3G mobile data, we can now all but confirm 3G in the second-generation iPhone."
The analyst maintained his Buy rating and $250 price target on shares of Apple.