All-encompassing iPhone patent filing hints at GPS, video chat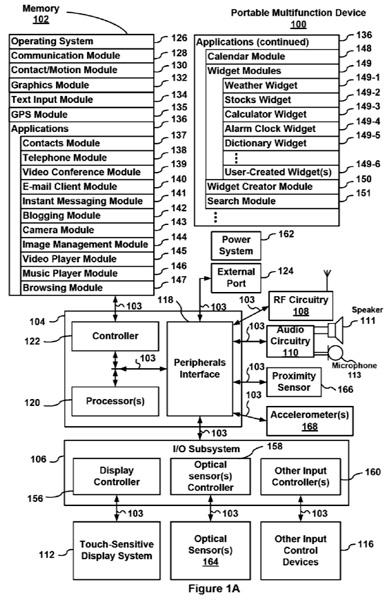 Apple has filed for a patent that addresses virtually every aspect of the iPhone, including potential additions such as GPS mapping, media messaging, video calls, and voice commands.
While Apple has filed for patents covering individual aspects of the iPhone experience, including text messaging, a new patent application published late last week promises to roll all these and more into a single, comprehensive document — one which credits Apple chief Steve Jobs as first in the list of inventors.
In addition to describing much of what the iPhone is capable of today, the patent for a "Touch Screen Device" would also safeguard Apple's ability to implement several features that have yet to appear in any hardware or in a software revision for the cellphone. On a software level, the company describes simple additions such as instant messaging and a version of Safari capable of playing in-line content such as Quicktime movies or Flash without having to temporarily leave the browser environment.
Adobe has said it's willing to offer Flash for the iPhone, but says it would need access beyond that of the official SDK, which bars plug-ins.
Further welcome additions described in the publication would include a dedicated blogging client, Java software downloads, MMS picture and video messaging, and support for voice-activated commands as well as audio capture. Many of these features are already built into competing smartphones, such as Research in Motion's BlackBerry line, or are available as downloads for these devices.
Some features described in the 371 pages of the application, however, would demand hardware additions that are widely suspected for future iPhone updates. Most pages of the patent place an "optical sensor" at the top-center of the device which, in some versions of the device outlined by Apple, would allow for videoconferencing with one or more participants. Several reports have floated the possibility of a front-facing camera appearing in an iPhone refresh believed to be unveiled this month.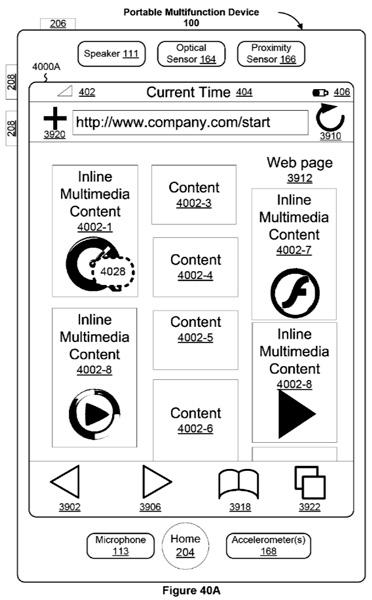 The company also alludes to more uses of multi-touch in apps that would account for acceleration and velocity, including through a "physical click wheel" as well as a touchscreen.
Additional text in the potential patent also refers to a GPS module that would be used both for mapping and to add positional data to other applications. A weather or yellow page widget could base its information on the user's location, Apple says. Notably, the company has already added geo-tagging support to a recent beta of its iPhone 2.0 firmware that would potentially use a GPS receiver to locate where a photo was taken, suggesting that this feature is closest among those described in the patent to becoming a reality. The change further brought positioning requests to Google Maps and a toggle for "Location Services" to the iPhone's settings menu.
The California-based electronics maker isn't under any obligations to use technology described in the patent, which was originally submitted on September 5th, the same day as Apple announced the iPod touch and the iTunes Wi-Fi Music Store. Its publication came just over a week before the company's Worldwide Developer Conference, when Steve Jobs plans to showcase the iPhone during his keynote speech at the event.