Apple's worldwide notebook share approaching 5 percent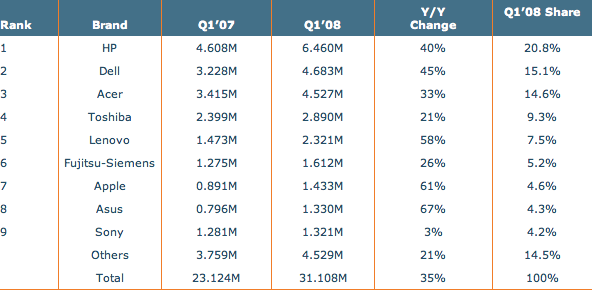 The worldwide market for notebook computers shrank 6 percent during the first quarter of 2008, but the effects of the squeeze were nowhere to be found at Mac maker Apple Inc., which saw sales rise 7 percent to boost its position in the global rankings for the first time in about a year.
Data released this week by DisplaySearch ranked Apple 7th amongst the world's largest notebook manufacturers, up from the 8th position it's held since the first quarter of 2007. The firm now estimates the company's global share at 4.6 percent, thanks to sales of more than 1.43 million portable systems during the three-month period ending March, an increase of 61 percent year-over-year.
Apple wasn't the only notebook maker who managed to buck the historic trend that has seen unit volumes decline quarter-to-quarter from the fourth calendar quarter to the first, noted John Jacobs, Director of Notebook Market Research at DisplaySearch.
"Dell, perhaps as a result of an increased focus on retail and Greater China, as well as Toshiba, avoided this trend," he said. "Also of particular note were Apple's 7 percent and Samsung's 15 percent [quarterly] growth. Apple's entry-level notebook starts at more than $1,000, while Samsung, at present, only sells notebooks in Asia-Pacific, Europe, the Middle East and Africa, and greater China."
Overall, HP remained No. 1 in the notebook PC market for the seventh consecutive quarter, maintaining a lead of almost 2 million units over Dell. But Acer, which recently acquired Gateway and Packard Bell, is fast approaching the No. 2 slot, having sold just 156,000 units less than Dell in the first quarter.
Meanwhile, DisplaySearch said the most popular panel size and resolution continues to be 15.4" 1280 × 800, which accounted for almost 50 percent of all notebook PCs shipped in the quarter. In a distant second position was 14.1" 1280 × 800 with 22 percent share, though in China and the Asia Pacific countries, 14.1" notebook PCs had twice as much share.
Looking further into 2008, the research firm said it expects notebook PC shipments to continue to grow, with total units likely exceeding 135 million units for the year.