Apple following iPod, PS2 model to sell 23m iPhones in one year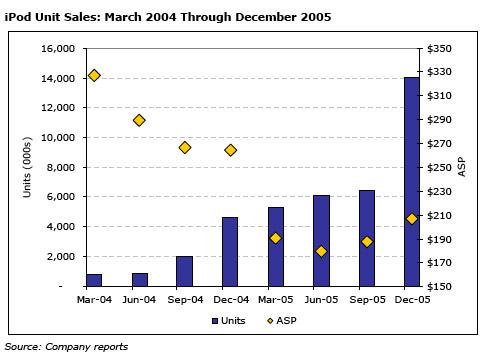 With a new price cut for the iPhone that hits the magic $199 mark, Apple is said to be following the same paths taken by the iPod and even the PlayStation 2 that triggered explosive growth and cemented both devices as champions in their fields.
In a research note, Pacific Crest's Andy Hargreaves notes that both the iPod mini and the PlayStation 2 both saw "massive acceleration" when their prices dipped below $200 for the first time, selling several times the amount they'd managed the year before.
For Apple, the change saw iPod sales grow from selling 8.3 million of the players in one year to 32 million — or nearly four times more. If Apple's estimated six million iPhones sold in the past year matches that same change in growth rate, the Cupertino, Calif.-based company would sell over 23 million iPhones by June 2009.
"The relationship [between price and sales] is shockingly consistent," Hargreaves says. "At average prices above $200, Apple never sold more than [6 million] units in a rolling four-quarter period. At prices below $200, Apple never sold fewer than [8 million]."
The analyst also explains that this doesn't take into account the wildcard of free iPhones and heavier discounts in Germany, the UK, and other countries, which could add "several million" more iPhones to sales for every quarter and overcome rivals like Nokia, whose N95 is often given away with many plans.
The iPod's surge in sales after price drops.
Even on the more modest curve on Sony's PlayStation 2 console, the iPhone is likely to sell many more units, according to the report. When the Japanese electronics giant slashed the PS2's price to $199 in May 2002, it not only reversed a drop in sales but saw Sony's monthly sales jump 61 percent on average. A similar change would give Apple a still significant 17 million iPhone sales in 12 months.
Pacific Crest's researcher further suggests that Apple is generating more money per iPhone than already high estimates: an early prediction would have AT&T alone subsidizing as much as $350 of the cost of an iPhone to reach the $199 price point.
Regardless of Apple's income per phone, the company is also thought to have momentum on its side by launching earlier than phones based on Google's Android as well as very similar touchscreen phones from other rivals.
"We believe Apple has already established its brand as a premium name in the space, and the company appears to be continuing its recent history of introducing revolutionary products," Hargreaves asserts. "This combination should allow it to maintain a leadership position and mitigate the margin pressure that can come with increased competition."