O2 offering existing iPhone customers free iPhone 3G upgrades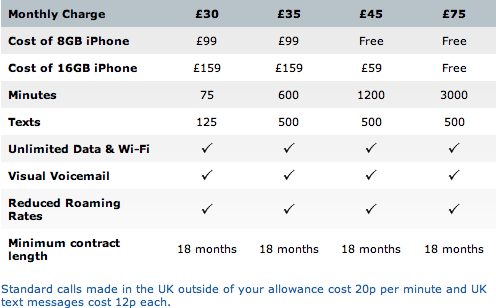 Existing iPhone owners on the UK's O2 wireless network are being offered a free upgrade to Apple's just-announced iPhone 3G if they agree to a new 18-month contract and sign up for one of the carrier's pricier tariffs.
"To thank you for being an iPhone fan, we're offering you an early upgrade to the brand new version when it launches on 11th July 2008," the company wrote in a note to subscribers. "You won't have to wait until the end of your existing contract, all you'll need to do is agree to a new 18-month minimum term contract."
The special early upgrade offer will only be available online at o2.co.uk during the three-month stretch spanning July 11th to October 11th.
Specifically, it offers a free upgrade to the 8GB iPhone 3G model for existing iPhone customers who agree to a new 18-month contract and subscribe to the company's £45 or £75 Pay Monthly tariff. Alternatively, customers can get the 8GB model for £99 when they subscribe to the existing £35 tariff and all new £30 tariff.
Those customers subscribe to the high-end £75 tariff can also choose a 16GB iPhone 3G for free. The 16GB handset will cost just £59 with the £45 tariff, and £159 with either the £30 or £35 tariff.
All tariffs include unlimited browsing on the iPhone, unlimited Wi-Fi access, visual voicemail and reduced roaming rates with O2's International Traveller Service.
O2's iPhone 3G Monthly Tariffs
.
After upgrading to an iPhone 3G, owners of the original iPhone will be able to transfer their old handset to a friend or family member already on an eligible O2 tariff, who will then need to upgrade to one of the carrier's iPhone tariffs. If they friend or family member is not already an O2 customer, they can still use the first-generation iPhone by purchasing a new iPhone Pay & Go SIM card.
Separately, O2 also announced that customers will soon be able to enjoy all the great features of iPhone without a monthly contract with the iPhone for Pay & Go. The carrier promises additional details on all its iPhone 3G offers in a "in a few days" and recommends that subscribers register their interest to receive the most up-to-date news.