Additional notes on iPhone 3G software, activations, plans, etc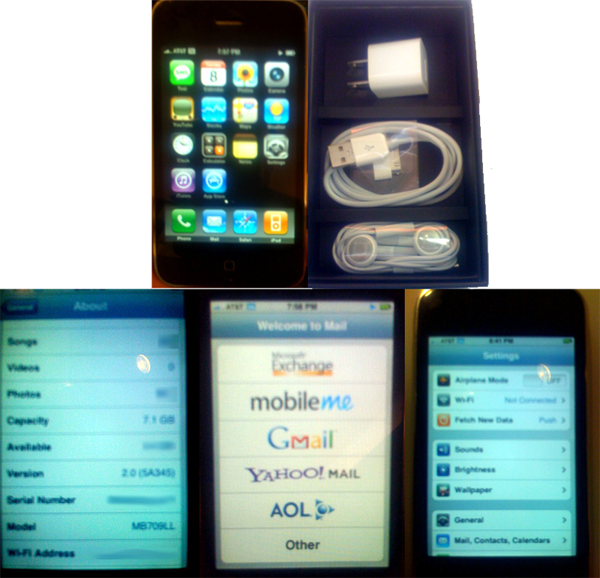 AppleInsider may earn an affiliate commission on purchases made through links on our site.
Included are some rough and dirty notes on: the build number of iPhone Software v2.0 gold master, iPhone 3G sales to Apple store customers unaware of their upgrade pricing eligibility, in-store activation times, FamilyTalk plans, and more.
The build number of iPhone Software 2.0 shipping on iPhone 3G handsets that will go on sale Friday is '5A345.'
The model number of the 8GB iPhone itself is 'MB709LL.'
As mentioned previously, Apple retail employees will not be able tell whether an existing non-iPhone AT&T customer is eligible for upgrade pricing before beginning a new iPhone 3G purchase transaction, so customers should determine this on their own first. However, customers unsure of their upgrade status can still upgrade to iPhone 3G at Apple retail stores. Once a purchase transaction for these customers has begun, Apple's EasyPay handheld systems will indeed tap AT&T's account database at a certain point to determine the price to charge the customer for the iPhone hardware. The customer just won't know ahead of time unless they check their account status online, go to an AT&T store, or call AT&T customer service.
The actual activation of an iPhone 3G through the modified iTunes app Apple and AT&T will use takes less than 30 seconds. A credit check takes about 5 minutes and the remainder of the process that includes picking a plan takes less than 5 minutes.
The majority of customers signing new 24-month contracts with AT&T should be prepared to possibly have their existing rollover minutes reset to the number of monthly minutes included with their new iPhone 3G plan. This is standard practice for AT&T and it's possible it will carry over to iPhone upgrades.
AT&T's 4000 minute ($259.99) and 6000 minute ($359.99) FamilyTalk plans are somewhat pointless and AT&T reps have confessed to almost never selling these plans in favor of the Unlimited FamilyTalk plan ($259.99) or breaking down a two-line FamilyTalk plan into two individual plans.
The $30 Unlimited Text Message plan for FamilyTalk plans is the only text message plan that can be shared across all FamilyTalk lines. FamilyTalk subscribers can still purchase the 200 ($5), or 1500 ($15) text message plans, but must purchase those plans on a per-line basis. They cannot be shared.
Customers will have to accept AT&T's terms and conditions using a signature capture device in AT&T stores (and likely Apple stores as well).
An unconfirmed report suggests that the UK's Carphone Warehouse was expecting 50,000 iPhones on launch date but will now receive just 5500 8GB models and 3500 16GB models. Staff were reportedly told to expect an average of 12 iPhones per store, down from the average of 80 for the original iPhone launch. A large delivery of iPhones is expected in 10 to 14 days. O2 has also warned its customers of weeks-long iPhone shortages.