New media patent filing puts Apple closer to touchscreen Macs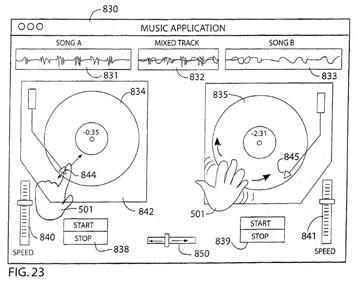 A new patent filing by Apple illustrates the potential of future multi-touch Macs could allow a whole new suite of creative software, and even a whole desktop operating system, controlled simply through on-screen gestures.
Filed just over a year ago as the first iPhone was about to go on sale, the patent application published on Thursday explains that the multi-touch input found on Apple's newer trackpads — particularly the MacBook Air and MacBook Pro pads that launched several months after the filing — are limited in what they can achieve and in many cases go against the user's own instinct for what to do in a given event.
With that in mind, the patent's sole inventor, Greg Christie, suggests that many creative programs could be changed to take advantage of a full multi-touch interface in what appears to mirror the same music, photo, and video editing tools it already produces for Macs.
A music editor could have a live mixing feature that lets the user "scratch" two on-screen turntables just by spinning fingers and pushing faders, not unlike a real DJ; sound effects could play at the same time to provide audio as well as visual feedback, Apple says.
In turn, a photo editing program could overlay on-screen sliders and other tools for adjusting image quality or rotating photos on the fly. A video editing tool could alternately let users manipulate the timeline, pan the image, and change volumes on individual channels by grabbing on-screen components with one or more fingers.
Many apps could use an iPod-like scroll wheel to navigate content, Apple says.
Despite the skew towards media apps, however, the filing also makes clear that Apple is devising methods to control its entire Mac operating system through multi-touch rather than a mouse and keyboard.
On a basic level, finger input could be used to select icons in the Dock or to tap individual menu items. Apple's described methods, however, would replace the two-finger trackpad scrolling of today with controls on the screen proper: an interface could either recognize two fingers on the screen itself and pan along with the user, or else turn to an on-screen directional pad that permits four-way scrolling with single finger presses.
The Mac maker's inventor has also developed a unique way of registering a right-click equivalent on an icon or list item. Placing two fingers on an item and then tapping the right finger would open a context-sensitive menu that would allow copying, shortcut creation, and other functions frequently off-limits to touch displays.
As always, filings such as this are never guarantees that Apple will produce a shipping device based on what it has discovered; the document also implies that what was learned with the new invention could be applicable to a phone or portable media player instead of the computer-grade interface it appears to describe.
Nevertheless, the patent filing adds to the growing catalog of technology that indicates Apple's desire to expand beyond handhelds with simple interfaces, including research the company has performed on more complex multi-touch surfaces. It also comes as Apple is still believed to be developing a tablet-like device in between the iPhone and full Macs that would require more advanced multi-touch controls — albeit one which Apple has delayed and without a definite release window in sight.