Inside MobileMe: Apple's Push vs Exchange, BlackBerry, Google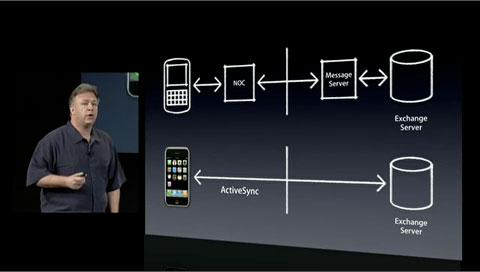 AppleInsider is supported by its audience and may earn commission as an Amazon Associate and affiliate partner on qualifying purchases. These affiliate partnerships do not influence our editorial content.
Apple's MobileMe provides mobile device push and an innovative Wide-Area Bonjour push sync mechanism for securely updating desktop clients over the Internet. There's currently nothing identical to the service on other platforms, but there is some feature overlap with Microsoft's Exchange Server in corporate settings, RIM's BlackBerry mobile push messaging, and web-based service offerings from Google and others. Here's a look at how MobileMe compares in price and features.
Inside MobileMe series segments
Inside MobileMe: Apple's Push vs Exchange, BlackBerry, Google (Today)
The push for push messaging
Push messaging was brought into the mainstream by Research In Motion, which got started selling two way pagers. RIM gradually advanced its network with a bolt-on system that interfaces with corporate messaging servers (such as Exchange Server or IBM's Lotus Notes Domino server), grabs any updates from the server, and sends them to RIM's own servers at its Network Operations Center, which then relays the messages over the mobile network to BlackBerry devices. This works out well for RIM, as it gets to sell the BlackBerry devices, the BlackBerry Enterprise Servers that connect to each company's mail server, rather expensive client access licenses (CALs) for each user served by the BES, and then on top of that charge steep monthly messaging fees for every user served by its relay system.Â
In response to RIM's success, Microsoft advanced its own competing push messaging component to Exchange Server (somewhat confusingly called Exchange ActiveSync or EAS, although it bears little in common with the desktop ActiveSync tool), which pushes out updates to mobile devices directly. Microsoft is currently still in a distant runner up position behind BES, so it does not yet charge for CALs for using EAS, and does not bill companies per-user service fees to relay messages to their own employees. Of course, Microsoft does still require per-mailbox CALs for every user on Exchange, which results in making it an expensive solution once you start adding users.
Apple touted Microsoft's EAS direct messaging architecture as a security and reliability feature when it announced that it had licensed Exchange ActiveSync for use on the iPhone. When using EAS to send Exchange messages to the iPhone, companies push messages directly to their employees rather than paying RIM to forward these through its BES and NOC (below, as illustrated by Phil Schiller in the iPhone 2.0 announcement). RIM's BES has exposed users to a variety of serious critical security vulnerabilities, while RIM's NOC has experienced high profile blackouts this spring that left millions of subscribers unable to receive new messages for hours.Â
For MobileMe, Apple hosts the messaging servers itself and similarly pushes updates directly to any configured mobiles. However, it also pushes messages to subscribers' desktop email, as well as to Address Book and iCal on the Mac OS X desktop. This is still quite a unique feature for any service provider to offer, particularly to consumers. Microsoft's Hotmail, Google Gmail, and Yahoo Mail all offer push email-only services for mobile users, but nobody currently offers low cost push email, contacts, calendar, and bookmark support as MobileMe does, let alone matching the integrated iDisk file share, web hosting, photo and video gallery, and PC sync features that are also bundled into MobileMe.Â
The high cost of push services
Just to match the push messaging features in MobileMe, you'd have to pay steep fees for a hosted Exchange Server account. The cost for a 10GB, hosted Exchange plan is $24.95 per month, per mailbox from Microsoft-certified partner DNAMail, plus a $2 monthly fee for Windows Mobile or BlackBerry mobile push service, or $324 annually (the BlackBerry plan does not get mobile push calendar and contacts and incurs an additional $20 fee, for a grand annual total of $344). Despite being more than three times the retail price of MobileMe, DNAMail only offers half the storage; Apple gives MobileMe subscribers 20GB to allocate between email and iDisk use.
DNAMail offers cheaper plans with even less storage, while Apple offers a $49 upgrade to 40GB, and a $99 upgrade to 60GB or storage. So Apple's most expensive option is just shy of $200 at full retail, but provides six times the storage of DNAMail. Apple also offers a $149 family plan, which supplies 20GB of storage for a primary account, plus four family member accounts, each with its own email address and 5GB of storage. Â
In some cases, hosted Exchange Server accounts are only available to businesses buying multiple accounts for their employees. Many of the features of a hosted Exchange account are also only useful in a shared office setting. Microsoft itself does not currently offer individuals any type of hosted Exchange account, nor has it yet released its Live Mesh service, which would sync files and settings between computers as MobileMe also does (and as .Mac has been doing for years now). Further, Exchange is really designed to be used over a high speed local network, not over the Internet.Â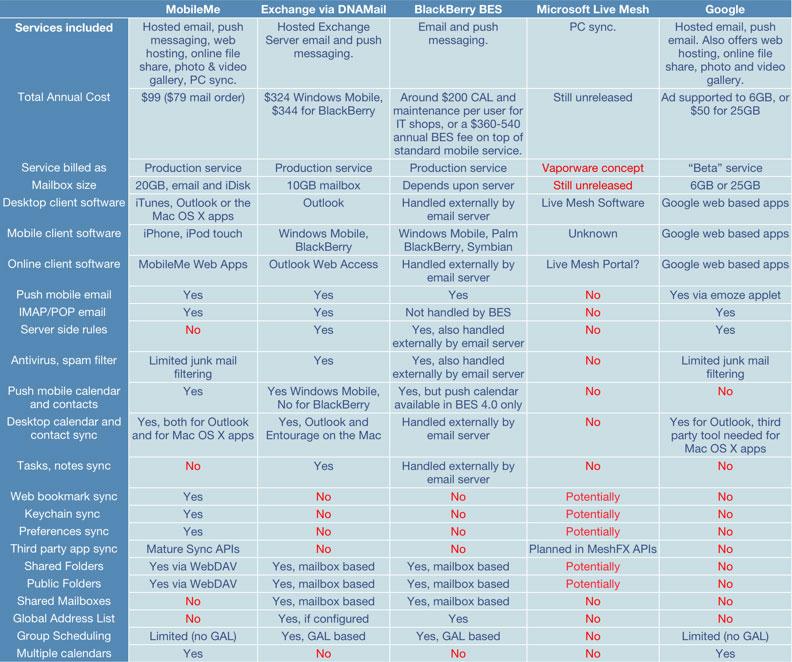 On page 2 of 2: MobileMe's industry standard protocols vs. Exchange proprietary RPC; Google and Yahoo's web services and RIM's mobile push; Other features missing in MobileMe vs BlackBerry and Exchange.
MobileMe's industry standard protocols vs. Exchange proprietary RPC
Microsoft's proprietary MAPI RPC (Messaging API using Remote Procedure Calls), used by Exchange Server to deliver messages between the server and Outlook client software, was designed only for use over a secured LAN and does not provide the security required to pass messages over the open Internet. That means remote connections to Exchange typically require an externally secured VPN connection. Further, features and responsiveness that business users expect from Exchange over a 100/1000 megabit LAN are not going to translate well to service hosted over a typical 1.5 megabit Internet connection.Â
That's why Apple has rolled out MobileMe using a combination of industry standard IMAP email with IDLE push updating on the desktop (using SSL encryption for security), Wide-Area Bonjour push sync updates on Mac OS X (secured through Back to My Mac's ad hoc IPSec sessions), and regularly synced updates via Sync Services (also secured via SSL) rather than trying to deliver an "always on" desktop client that would be compared to Outlook with a high speed, direct MAPI RPC link to Exchange Server.Â
MobileMe's architecture allows the cloud to provide push services for mobile devices, like RIM's BlackBerry services and Microsoft's EAS, while also delivering rapid updates for desktop clients receiving regular updates back, all without requiring any complex network management, VPN concentrators, or other setup. MobileMe's integration with SyncServices also ensures that any applications or devices that sync calender or contact data will also stay up to date with the MobileMe cloud. This includes third party tools designed to sync alternative mobile phones, PDAs, or similar devices.Â
The tradeoff in MobileMe's design is that users currently may have to wait up to fifteen minutes for their desktop apps to sync with the cloud, although an immediate sync can be initiated manually as well. Apple has already solved the more difficult task of developing a mechanism to securely push updates to the desktop; enhancing the service to also support push updates from the desktop to the cloud is much easier to address, and Apple has indicated that's in the pipeline. Adding push updates for Notes and ToDo events (and other data types) will also be relatively simple now that the foundation for mobile data sync has been laid.
Google and Yahoo's web services and RIM's mobile push
MobileMe critics like to point out that many of the services in Apple's package can be assembled from ad-supported services such those from Google and Yahoo. However, both of those services lack push support for anything other than email. Google's push email only works via a Java applet (which can't be installed on the iPhone). Yahoo offers free push email service for the iPhone, but neither it nor Google's service supports push calendar or contact updates for mobile devices. Additionally, to obtain a similar allocation of online email storage space from Google, you have to pay $50 a year for its commercial offering, and that still does not offer unrestricted WebDAV disk access, data sync between Macs and PCs, nor native app integration on the iPhone as MobileMe does.
RIM's BES pushes updates to BlackBerry devices or to other phones running the BlackBerry Connect client software (below: from left to right: BlackBerry, Palm OS, Symbian OS, and Windows Mobile), but it does not push messages to desktop email, calendar, or contact apps. And despite being far more expensive than MobileMe, it also delivers none of the PC sync features, online apps, or file and web hosting services of MobileMe. Â

As Steve Jobs might point out in a keynote, the trash mailbox on the iPhone (below) looks better than the main mailbox of the other smartphone platforms (above). Even so, looks aren't everything. MobileMe doesn't currently support any ability to filter messages by sender or subject or to search messages on the server as BES does, or to set up server side mail rules as Exchange Server allows. Exchange also supports group sharing features that make less sense in a consumer-oriented offering like MobileMe, including access to a shared, corporate directory (Global Address Book) and shared mailboxes of email, contacts, or calendars data.
There's currently no way to pool MobileMe accounts together to do group scheduling or share directory services, but Apple's solution for that is to use Mac OS X Server to administer those kinds of services locally. It would be interesting to see MobileMe begin to offer more business-oriented functionality, including not only grouped accounts but also other collaboration services from Leopard Server, including blogs and wiki services. It also makes sense that Apple might soon begin offering third party developers the ability to offer subscription access to their online web applications as add-ons to MobileMe, acting as an application merchandiser and payment coordinator just as it does with the iPhone App Store.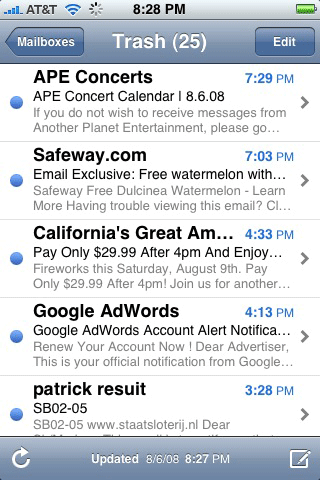 Other features missing in MobileMe vs BlackBerry and Exchange
There is a provision for filtering junk mail in MobileMe, but no plugin architecture for installing third party spam or antivirus filters. The junk mail filtering Apple provides doesn't seem to be very adept at catching the increasingly clever junk mail sent out by spammers, which is a huge pain when you get lots of spam pushed to your device at regular intervals. Both BES and Exchange (often used together) support more sophisticated junk and antivirus filtering, so Apple needs to improve in this regard.
MobileMe also currently lacks push and sync support for task/todos events and notes. However, readers have forwarded in findings that indicate that task and note syncing is in the works, and the emphasis on ToDo and Notes in Leopard Mail harmonizes with that as well. MobileMe already syncs Notes (but not Events/ToDos) among Macs, it just doesn't push those updates to the iPhone yet. The iPhone is even still conspicuously missing any support for ToDos at all.
The iPhone also still lacks mobile messaging features many BlackBerry users have grown attached to, including voice memos and voice-to-text, which transcribes voicemail so you can reply with a text or email. The BlackBerry can also capitalize letters while typing by holding down the key, can automatic insert a phrase after you type in a short text replacement, and there's a way to copy and paste text, as well as the ability to save an email as a draft. You can look up a contact to dial by typing their name, and you can grab a listed phone number hyperlink and create a contact from it. Apart from a copy and paste system, none of those features would be too difficult for Apple to add in upcoming software updates however. As long as the company keeps up its rapid iPhone sales, it will continue to invest in updating its software.
For an initial offering, Apple's MobileMe really gives even the entrenched enterprise-grade competition a run for its money with its low consumer price tag. MobileMe's low price is all the more interesting because nobody is currently even competing in the consumer market for comprehensive push messaging. And despite the attention Apple has been getting for the rough rollout of the service, MobileMe is now working smoothly enough to be well worth the $99 retail price. The next segment will look closer at how MobileMe works on the iPhone, what you can expect from the service in exchange for your subscription fee.Â