Next-gen iPod nano, iPod touch dimensions revealed?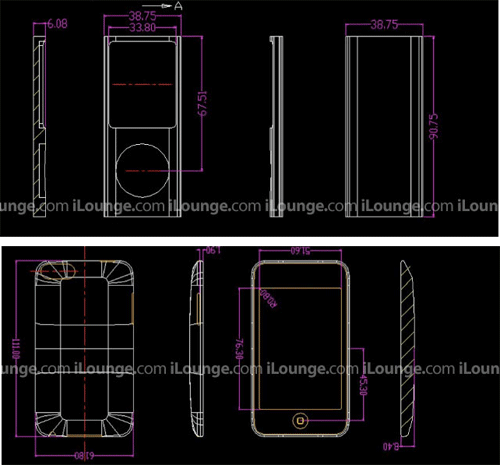 Dimensional drawings said to depict Apple's next-generation digital media players suggest the company is about to unveil its thinnest iPod nano yet alongside a new version of the iPod touch that will be marginally thicker than its predecessor.
The drawings, published over at iLounge, show an iPod nano that will mark a return of the tall and narrow form factor, checking in at 0.75mm taller, 1.25mm narrower, and 0.42mm thinner than the second-generation iPod nanos introduced during the fall of 2006.
Although the drawings portray a more pronounced oval-shaped body than the second generation nanos, the player's aluminum enclosure will reportedly give way to a plastic covered screen that is flat, and doesn't share the same curvature as the iPod's body, as some earlier reports had suggested.
Meanwhile, the second-generation iPod touch is shown in the drawings to adopt several design cues from Apple's new iPhone 3G, including the use of a more tapered enclosure that will produce a thinning effect.
Compared to the existing iPod touch, the new model is said to be the same width, but 1mm taller and 0.4mm thicker. Also apparent from the drawings are the presence of physical volume controls on the side of the device (iPhone style), addressing one of the most widely cited shortcomings of the first-generation model.
Supposed drawings of next-gen iPods | Source : iLounge
Separately, iPod casemaker XSKN is now promoting fourth-generation iPod nano protectors (below) on its website that match the aforementioned description.
Apple is set to unveil its new iPod offerings at a special event next Tuesday in San Francisco.