iPhone snags cover of Best Buy circular ahead of Sunday's launch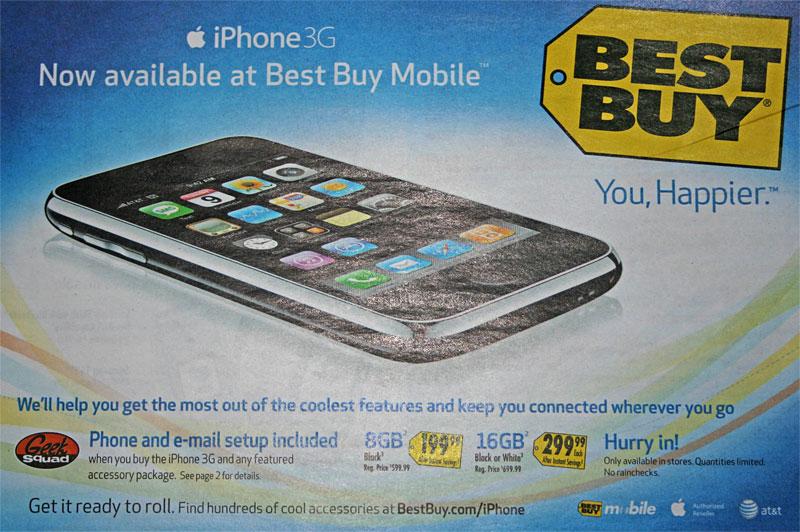 While there's no sign that sales of Apple's iPhone 3G have slowed, they're due for an incremental boost come Sunday when the device goes on sale at Best Buy retail outlets nationwide.
A copy of next week's Best Buy circular (below) duly notes the handset's arrival with a sprawling glamour shot across its cover, the latest example of a blossoming relationship between Apple and the No. 1 U.S. specialty electronics retailer.
Best Buy has long offered Apple's complete line of iPod digital music players. More recently, it expanded a store-within-a-store concept that highlights most of the company's Mac computer line to approximately 600 of its locations.
On September 7th, Best Buy will also become the first independent U.S. retailer to carry the iPhone 3G when it's put up for sale at 970 Best Buy locations and 16 Best Buy Mobile specialty outlets across the country. More importantly, however, the deal broadens Apple's reach by expanding the number of iPhone distribution points by approximately 30 percent to over 3000 locations.
Up until now, Americans could only purchase the iPhone from approximately 2,200 locations, including approximately 190 Apple retail stores and 2000 mobile phone dealerships operated by exclusive US iPhone carrier AT&T.
According to next week's circular, Best Buy will be promoting free in-store phone and email setup — a complimentary offering at Apple's own retail shops — to customers who purchase an iPhone 3G with one of four pre-designed accessory packages.
The packages range in price from $106 for an "On the go" bundle with a 5-pack of DLO surface shields and Shure Stereo headset, to $234 for an "In the car" kit that includes a Belkin FM transmitter and Jawbone Bluetooth headset.
In a report to clients this week, Lehman analyst Ben Reitzes noted that Apple has managed iPhone 3G into a supply and demand equilibrium just in time for Sunday's Best Buy launch. He, along with several other Wall Street analysts, have cited the Best Buy play and recent international roll outs as cause to consider that current quarter iPhone sales estimates have been lowballed.
"We continue to believe our estimate of 3.8 million iPhones sold in Apple's fiscal fourth quarter is very conservative," he said. "Checks of build plans and in-store demand continue to indicate that investors could be positively surprised by demand this quarter and its impact on Apple's free cash flow."