Nokia answers iPhone's blows with its first touchscreen phone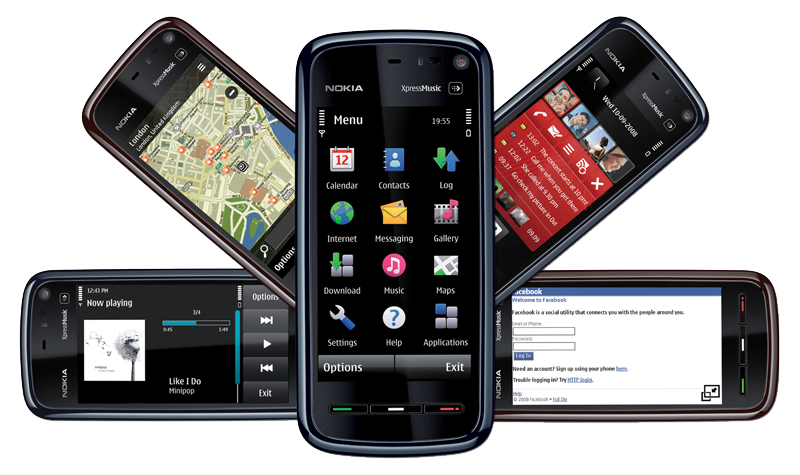 AppleInsider may earn an affiliate commission on purchases made through links on our site.
After more than a year without a direct competitor to the iPhone, Nokia on Thursday fired back with a phone that it hopes will better Apple's now widespread device — albeit with a delayed launch and a few other catches.
Although the largest single producer of cellphones in the world, Nokia is only now rolling out its first touchscreen phone in the form of the 5800 XpressMusic.
Pitched as a media phone first and an Internet device second, the familiar-looking device has 3G, GPS and Wi-Fi but focuses most of its attention on a reworked, 5th Edition of the Symbian Series 60 operating system that has a drop-down media bar for controlling music regardless of where the user might happen to be in their software.
The Finland-based company touts a crisper 640x360 screen versus the iPhone's 480x320, vibration feedback for on-screen presses, a 3.2-megapixel camera with flash and video recording, and removable storage.
And in a not-so-subtle tweak at the absence of Flash on the iPhone, Nokia notes that Flash Lite 3 is built into the 5800's full HTML web browser.
"Individuals can surf the entire web, not just pieces of it," the company boasts.
Price is also important to Nokia. The phone's unsubsidized price with an 8GB memory card is set at 279 Euro, or $396 — well below the $631 UK iPhone sold with O2's pay-as-you-go service and lower still than the $826 Belgian iPhone.
A special version of the phone will come later with access to the handset maker's Comes With Music, a service that hikes the price of the phone in return for a year's worth of unlimited but permanent music downloads.
Even with these key differences, several discrepancies as well as Nokia's current competitive environment may dampen expectations. Thanks in part to Apple's patents for multi-touch input, the 5800 uses a single-touch display and comes bundled with a stylus to handle aspects of the interface that can't be controlled with a finger.
The screen is also dependent on pressure for input rather than the reaction to finger electricity that makes the iPhone's input relatively subtle and precise, further supporting the need for a pen.
Moreover, Nokia's final release plans for the heavily leaked phone are now known to be especially conservative. Instead of a launch into its core European market or into Apple's US home, Nokia will have to launch its first touchscreen phone in Asia, the Middle East and Russia during 2008. American and European launches are now only due in 2009 and won't necessarily bring Comes With Music to all areas.
The official explanation, according to representatives speaking with Forbes, is the insistence by carriers such as Orange and Vodafone that the new XpressMusic phone come to their networks with proprietary branding and portals adapted to the touch interface. By contrast, Apple has so far insisted on keeping nearly all carrier branding and interfaces off of iPhones regardless of territory and just recently completed its third wave of iPhone 3G introductions, launching the phone in 30 more countries late last month.
The delays only serve to reinforce problems that the Symbian Foundation and Nokia itself has had with preserving its lead. Recent statistics from the mobile operating system development group have Symbian's use on phones growing just 5 percent year-over-year versus rapid growth just the year before, while Nokia proper has had to lower estimates for its market share during the summer as Apple and peers undercut its smartphones' pricing.