BlackBerry Storm debuts with app store, Mac suite on the way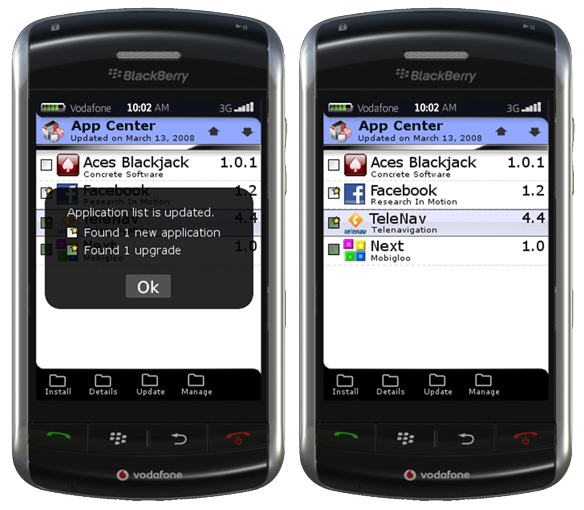 Research in Motion has launched its very first touchscreen smartphone — and promises to shadow Apple's iTunes App Store while also providing an official utility to sync its phones with Macs.
Also known as the 9500, the BlackBerry Storm as revealed by Vodafone UK is the Canadian cellphone maker's first opportunity to answer Apple's touchscreen hardware and contains what could be considered a laundry list of improvements to the iPhone.
Besides including BlackBerry push email, the handset includes a 3.2-megapixel camera with autofocus and flash, a screen with "click" feedback to simulate button touches, and removables that include a battery as well as up to a 16GB memory card.
The European version destined for Vodafone supports only GSM and HSDPA-based 3G data, but a version from Verizon is known to be in the works with both this networking and the CDMA plus the EVDO-based 3G necessary for its own service.
Separately, RIM is also known to be solving a number of software problems associated with earlier rivals as well as the iPhone, albeit using an only partly modified version of the BlackBerry OS: owners will have the option to copy and paste text, for example, and have access to a full HTML browser closer to that of the iPhone.
While pricing and exact launch times are still to be set outside of a widely rumored November introduction window, the phone is already regarded as the first real hopes of both Verizon and Vodafone to draw attention lost to Apple's devices and its partners AT&T and O2. In one case, Verizon is known to have drafted counter-iPhone arguments for questions the company is certain will be asked in-store.
The Storm also signals the beginning of a larger-scale policy change towards app support at RIM. A late leak from CrackBerry appears to reveal the smartphone maker to be developing its own hub for third-party software, dubbed the Application Center. Much like the App Store for iPhones or Google's Android Market, the service will present a consistent interface and location for downloading outside software. The new BlackBerry's offering isn't understood to be independent, however: the alleged slip points to carriers selectively filtering which apps are visible in the portal to guard against offensive or simply unprofitable apps.
BlackBerry Storm and its App Center. | Image credits: CrackBerry.
This software isn't yet known to be available on launch and may appear later.
And while Mac owners may not necessarily fall in favor of the Storm upon its arrival, those that do will have a way of loading their devices with music without having to use a third-party suite or to boot into Windows, Boy Genius Report says in a sneak peek of RIM's previously announced BlackBerry Media Sync for Mac.
Similar to an iPhone, Media Sync will let users choose to sync all or only some playlists, and will give a certain amount of control over storage. Owners pick whether to load music to built-in memory or an add-in card, and have an iPod shuffle-style ability to reserve a certain minimum of free memory on their BlackBerries for more essential info.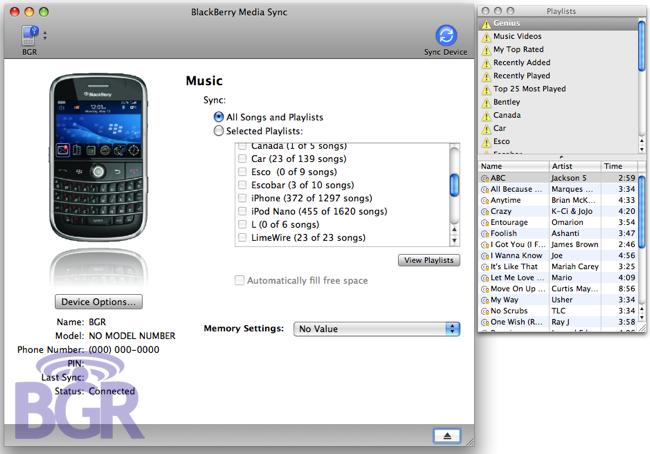 BlackBerry Media Sync for Mac. | Image credits: Boy Genius Report.
In at least its rough form, however, Media Sync doesn't offer much else. There is currently no contact, photo or video sync, leaving those who want more out in the cold — though BGR anticipates some or all of these features returning by the time a finished product is available.
The move is a rare gesture for RIM, which has often supplied a copy of PocketMac as a stopgap but has so far reserved its software efforts for the Windows users that form the core of its business.