New photo reveals MacBook Pro, new display also expected [Updated x4]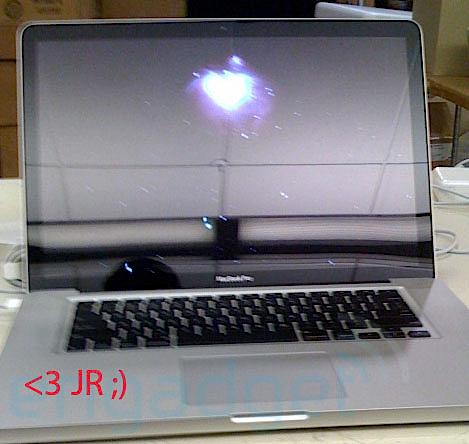 A new photo showing a fully assembled next-generation 15-inch MacBook Pro with a black display bezel has surfaced, which AppleInsider can confirm is legitimate. Separately, Apple is believed to be readying a new breed of display which may or may not be announced tomorrow.
The image, published by Engadget, comes via the same source (JR) who leaked authentic photos of Apple's fourth-generation iPod nano to several news sites days before the company publicly unveiled the player at a media event last month. AppleInsider believes the image was taken on at the Apple Town Hall on Apple's Cupertino campus earlier today during a product briefing.
The latest photo shows a 15-inch MacBook Pro comprised of aluminum with a glass display that's framed by a black bezel, matching AppleInsider's description from April, which noted that the new systems would take design cues from both the aluminum iMacs and MacBook Air. A source who has recently seen the new 15-inch MacBook confirms the image to be legitimate.
Also visible from the photo is what appears to be a new generation of Apple trackpad that lacks a dedicated button. A report received by AppleInsider this evening described a MacBook Pro with a black display bezel whose entire trackpad would serve as a button.
Update: The new MacBook Pro will reportedly feature two NVIDIA graphics cards, according to Engadget and our own sources — an integrated GPU for normal use and a dedicated card that will be tapped when the extra power is needed.
Our sources add that the two chips will combine to support Hybrid SLI, where the integrated graphics chip would assist the GPU to boost performance when the MacBook Pro is plugged to a power socket while the dedicated chip would be shut down when the system was unplugged from power socket to lower overall graphics power consumption.
As such, Apple will also be touting some "sick" battery claims on these new notebooks, our sources claim.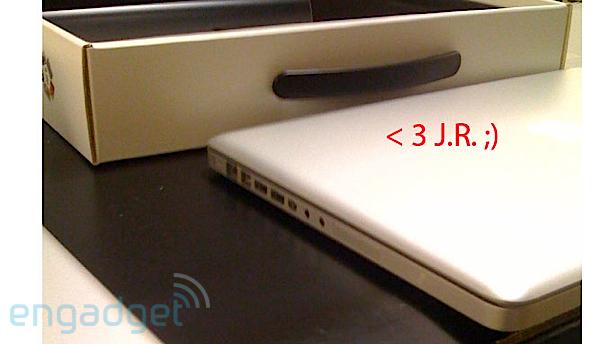 The source who filed that reported added that the new MacBook Pro featured what appears to be a mini DisplayPort (possibly corroborating a recent blog post) rather than a mini DVI port.
DisplayPort is a new license-free, royalty-free, digital audio/video interconnect, intended to be used primarily between a computer and its display monitor, or a computer and a home-theater system.
Meanwhile, a couple of sources believe Apple is reading new displays that also sport a DisplayPort connector and MageSafe adapter. The displays, which may or may not be announced tomorrow, are said to resemble the existing aluminum iMacs without the "chin" of aluminum, featuring a thinner version of the iMac's stand and black bezel (like the MacBook Pro seen above).
A second source adds that the display is about 24-inches and features a "super thin" base stand. The new 24-inch display may be the mysteriously-priced $899 Apple product that recently turned up in Apple's systems, rather than a $899 MacBook (though this much is not certain).
The $899 product is codenamed K29, while all other products on the price list begin with an "M" such as "M96." Apple has traditionally used different codename trackers for its accessory products. For instance, several years ago, its Mac codenames began with a "Q" and its MightyMouse codename started with an "M." Alternatively, Apple could be attempting to disguise the product from its own partners.
Update: MacRumors also has information to suggest that Apple holds an LED-lit Apple Cinema Display, and similarly suggests that the new display may be the $899 product that turned up in Apple's inventory systems.
In recent hours, AppleInsider has also received confirmation that the aforementioned price list does indeed exist in Apple's retail systems. The prices are as follows:
MB382LL/A $899.00 (K29) (could be the display or could be MacBook)
MB466LL/A $1,299.00 (M97) (could be MacBook)
MB467LL/A $1,599.00 (M97) (could be MacBook)
MB543LL/A $1,799.00 (M96) (could be MacBook Air)
MB940LL/A $2,499.00 (M96) (could be MacBook Air)
MB470LL/A $1,999.00 (M98) (could be 15-inch MacBook Pro)
MB471LL/A $2,499.00 (M98) (could be 15-inch MacBook Pro)
MB766LL/A $2,799.00 (M88) (could be 15- or 17-inch MacBook Pro)
On its blogs, AppleInsider also noted that a new 17-inch MacBook Pro is unlikely to surface tomorrow (though one exists in the labs), a bumped MacBook Air may not be immediately available for purchase, and that Blu-ray drives may not happen.
Live Coverage of Today's Event