Apple notebook lines to see major design changes, sources say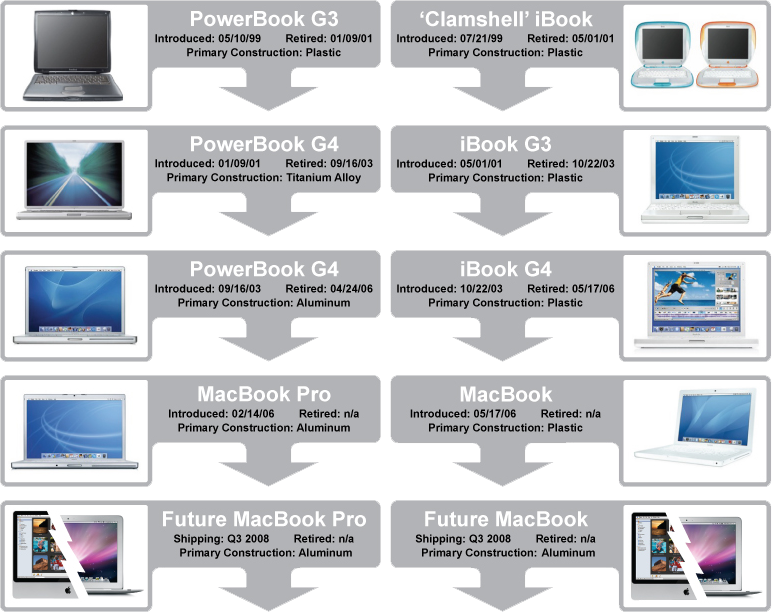 Apple Inc.'s existing MacBook and MacBook Pro notebooks will be the last of their breed, as both product families are destined for major design changes upon their next refresh, AppleInsider has learned.
Of the two, the 13-inch consumer MacBooks will undergo the most significant metamorphosis, shedding their plastic enclosures for ones constructed from more eco-friendly materials such as aircraft-grade aluminum and stainless steel, people familiar with the matter say.
The move, which makes good

">on a promise

by company chief executive Steve Jobs to push towards a "greener Apple," will also mark an end to Macs that come clad in the now tawdry looking white enclosures that began with front face of original iMac nearly a decade ago.
Similarly, the MacBook Pro is also bound for aesthetic revisions, which like their upcoming MacBook counterparts are described by those familiar with the products as borrowing several design cues from the August 2007 aluminum iMacs and all-new MacBook Air. The end result, those same people say, will be a more uniform Mac product matrix in terms of design and material usage, and a MacBook offering that will far outclass its rivals.
Though precise details are admittedly limited given the ongoing revision process, it's presumed this will include instances of matte black on portions of the casings, oversized trackpads, and the adoption of the MacBook Air's keyboard by the MacBook.
While the footprint of the 13-, 15-, and 17-inch systems will remain largely unchanged, Apple will reportedly be free to perform some trimming around the edges, similar to — but nowhere near the same magnitude — as what was accomplished with the MacBook Air, and to a lesser extent, the rear of the aluminum iMacs.
Compelling the Cupertino-based firm to introduce radical revisions across its notebook lines at this juncture are two primary factors. The first is the company's industrial design cycle, which typically spans 18-24 months.
Neither the MacBook nor MacBook Pro have undergone an aesthetic or structural revision since adopting Intel chips back in the first half of 2006, meaning both will sport outdated outfits by Apple's design standards come mid-year.
The design of the MacBook Pro is particularly dated, having been introduced in January of that year with a form factor largely reminiscent of the late PowerBook G4, only 20 percent slimmer. MacBooks, arguably the fresher of the two lines, saw the most significant overhaul of all Intel-bound Macs systems just a few months later with their robust, magnetic-latching enclosures. (AppleInsider provided coverage and details of both design revisions (MacBook Pro: 1, 2; MacBook: 1, 2, 3, 4, 5) in the months leading up to their respective introductions.)
Also paving the way for redesigned enclosures at this time are logic-board changes on the part of Intel that offer Apple the opportunity to reassess and slightly modify the notebooks' internals. Both the MacBook and MacBook Pro are to receive "Montevina"-based processors from the chipmaker's upcoming Centrino 2 platform, which require a new "Socket B" logic-board. The second-gen mobile Penryn chips will boast a 1066MHz front-side bus and clock between 2.26GHz and 2.8GHz.
Intel's roadmap calls for Montevina to splash down this June, around the same time Apple will host its annual developers conference in San Francisco. However, it's unclear at this time whether the Mac maker will use that forum to showcase its new notebook designs, or reserve their unveiling for a different stage at a slightly later date.
Although Apple has been amongst the first PC manufacturers to adopt Intel's latest mobile technologies over the past two years, there's often a window period of several weeks (or months) between the chipmaker's formal announcements and the arrival of supporting Mac systems. Therefore, it's believed volume shipments of Montevina-based Mac notebooks won't take place until sometime during the third calendar quarter of the year, which spans July through Sept.
Nevertheless, Apple has been on a tear as of late when it comes to notebook sales momentum, and the new models are only expected to accelerate that growth. According to the most recent data from research firm NPD, sales of Mac notebook systems in the US retail sector rose 64 percent year-over-year for the month of February, compared to an average 20 percent increase for the rest of the industry.
While awaiting new MacBooks and MacBook Pros in the third quarter, Apple enthusiasts will have a pair of other major product launches to anticipate. First and foremost will be a complete refresh of the company's desktop computer families, which will include iMac and Mac mini systems built around current generation Core 2 Duo mobile processors based on Intel's Penryn architecture.
Also expected within the next 60 days is an eagerly anticipated update to the company's iPhone handset that will operate on third-generation wireless networks, which promise speed increases of up to 10X for Internet-related functions.