Alleged iPhone 2.2 leak shows direct podcast downoads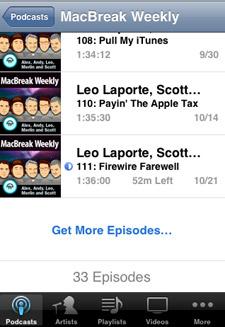 An apparent new slip from Apple's upcoming iPhone firmware update shows the device gaining a long requested ability to download podcasts directly from the device instead of relying on an iTunes sync.
The claimed leak of iPhone 2.2 beta features handed to TUAW shows a list of episodes from a podcast with a new "Get More Episodes" item added at the bottom.
Tapping the option doesn't perform any actions in the current build of the software but implies that iPhone and iPod touch owners will have the option of picking and downloading individual podcasts, though whether subscriptions are also possible isn't mentioned.
While no other discussions of this feature with iPhone 2.2 have surfaced until this point, casting a certain amount of doubt, the appearance would potentially explain Apple's decision to pull Podcaster from the App Store.
At the time, Apple had described the podcast download utility as replicating an iTunes feature despite other iPhone music and podcast apps with streaming-only features — either of which are possible in iTunes — surviving the cut.
If part of the final release, podcast downloads would make the in-development firmware one of Apple's largest outside of the landmark 1.1 and 2.0 releases. The California electronics giant is set to expand Google Maps with Street View, directions for public transit and walking, and location sharing. It should also carry text auto-correction, support for Japanese emoji symbols and the ability to rate App Store listings.