Japanese iPhone owners to be offered TV tuner add-on

Addressing a widely-publicized feature omission for Japanese iPhone users, local carrier Softbank on Thursday announced plans to begin selling a TV Tuner add-on later this year that will also serve as an extended battery pack.
Expected to retail for around US$100 when it goes on sale in mid-December, the rechargeable brick-like receiver will include an internal Wi-Fi module and external antenna for tuning into the One-Seg (or 1seg) mobile terrestrial broadcasting service available in Japan and parts of Brazil.
The device will deliver the One-Seg signal to iPhones via Wi-Fi through a specialized application that will be made available on the App Store free of charge. This frees users to place the receiver in their purse or pocket. Alternatively, the gadget can be connected to iPhones via the dock connector, where it can then serve as an secondary iPhone battery.
It appears that Softbank, Apple's exclusive iPhone carrier in Japan, will market the unnamed device through its retail stores, advocating "around 3 hours" of continuous One-Seg viewing time. It weighs in at about 2.8 ounces and measures approximately 2.0 x 3.5 x 0.6 inches — slightly more compact than the iPhone but a bit thicker and lighter. It can be fully recharged in about 2 hours over an AC power supply or about 4 hours over USB.
Earlier this week, Softbank announced that iPhone sales drove a near 2 percent rise in quarterly profits for its September quarter.
"The iPhone certainly supported our profit and boosted the number of new mobile phone subscribers during the quarter," a company spokesperson said. "Since the July launch, iPhone sales have been very good."
Still, there's a lingering debate among industry watchers about whether the iPhone has met initial expectations in the Far East or come up well short due to routine difficulties faced by most handset vendors when attempting to crack the Japanese cell phone market.
In a report last month, the Wall Street Journal said one barrier to adoption has been the iPhone's lack of features that are familiar to Japanese consumers and found on most other handsets sold locally. Among them were "emoji," a form of clip art that can be inserted in sentences to spruce up email messages, digital television, satellite navigation service, and chips that let owners use their phones as debit cards or train passes.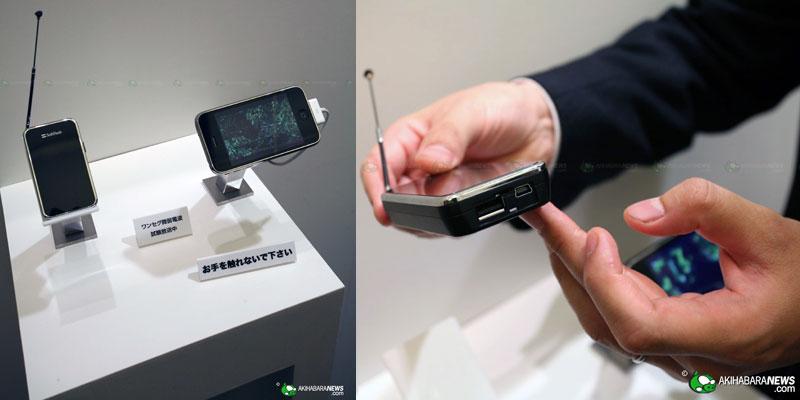 Softbank's One-Seg TV tuner device looks like a bulky iPhone. | Photo credits: AkihabaraNews
Apple and Softbank appear to be working together to fill the gaps, one feature at a time. It was recently discovered the iPhone Software 2.2, due out by the end of the year, will deliver emoji support. Meanwhile, Softbank's TV tuner device will attempt to plug the digital television void, though it remains to be seen whether Japanese consumers will find the clunky device a viable solution.