Docs show Apple failed to find ideal successor for iPod chief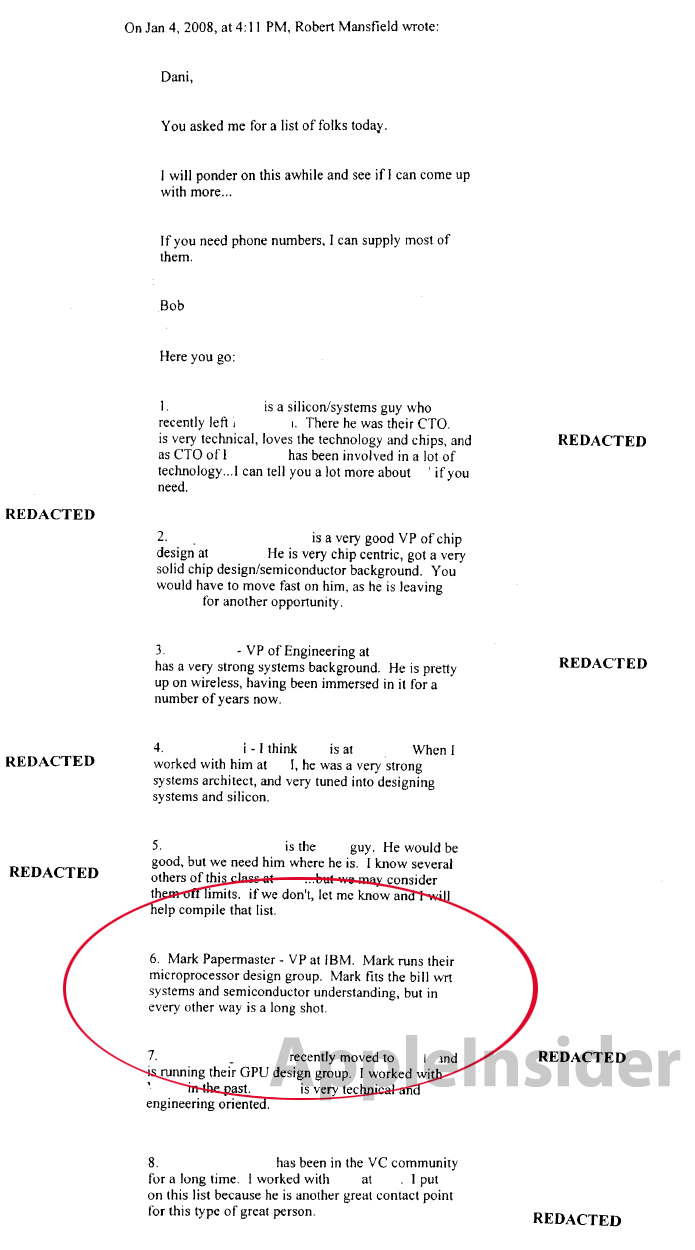 A series of statements made in court filings by tentative iPod & iPhone chief Mark Papermaster and those who recruited him at Apple show that the company at first considered him a secondary pick. They also reveal that IBM's own management has partly contradicted its stance on whether the executive could leave.
Apple's frustrating search
The filings were submitted to the Southern District New York court to take the various parties' interpretation of events relating to IBM's lawsuit, which accuses Papermaster of breaching the non-compete clause in his contract by leaving to head up Apple's mobile devices group.
A statement by Apple Human Resources VP Danielle Lambert reveals that the Cupertino, Calif.-based firm had started searching as early as October of 2007 for 'iPod father' Tony Fadell's replacement. Apple quickly grew frustrated as it unsuccessfully tried to find a candidate with experience in consumer electronics, and ultimately made concessions to its strategy five months later, when it became clear an ideal candidate wasn't in view.
"We interviewed numerous individuals with backgrounds in consumer electronics," Lambert wrote in court filings. "Although several of the people we interviewed possessed the technical skills necessary to understand the complex design of the iPod and iPhone, they lacked the managerial and leadership skills necessary to lead such a large and extensive undertaking. Moreover, in many cases we did not believe that the candidates would fit into Apple's culture."
Instead, the company decided to investigate generalists who happened to be a good cultural and managerial fit, and turned to its Senior VP of Macintosh Hardware Engineering, Bob Mansfield, for recommendations; he named eight candidates.
In late January 2008 email exchanges conducted just before the interview process began, Mansfield had Papermaster near the bottom of the list. While the two worked together on IBM's POWER technology years ago, Papermaster was described in one of messages as being "a long shot" in "every other way" outside of his knowledge of semiconductors. The indication put him on the relative backburner along with candidates who were strong but whose particular conditions likely ruled them out, such as one already leaving for another job or who were already valuable to Apple where they were at the time.
In fact, Apple quickly questioned how Papermaster's predominant experience with servers could translate to iPhones and iPods, and even suggested personally to the former IBM exec that he might be better developing Macs — an offer he declined.
An email from Mac hardware chief Bob Mansfield to Human Resources lead Danielle Lambert on candidates for Fadell's successor.
It wasn't until September that Apple rekindled its interest and decided that Papermaster's "dynamic personality" and leadership was distinctive enough to overcome any short-term lack of understanding. Unintentional pressure from the then IBM exec, who had been tentatively offered a new position inside IBM, forced Apple to show its hand with an offer that Papermaster ultimately accepted on October 10th, a full year after Apple had begun its search.
The ensuing word of Papermaster's acceptance drew mixed reactions at IBM, according to Papermaster's own observations, and allegedly weren't as uniformly clear as his former employer would have the court believe.
On breaking the news to IBM the night of October 13th, Papermaster says IBM Senior VP Rodney Atkins had no objections to his departure other than hoping he could stay; even when Papermaster brought up the subject of non-competition, Adkins didn't contest the matter.
"Adkins told me that he was disappointed, but understood, and wished me well," the potential Apple employee recalls.
IBM Senior VP of Human Resources Randall MacDonald also purportedly made no mention of non-competition two days later and had only taken to creating a last-minute job offer that would hopefully persuade Papermaster to remain onboard. Seeing Apple as a "once in a lifetime" chance, Papermaster says he turned it down and claimed not to be interested in the financial incentive IBM had to offer.
But on October 20th, when MacDonald called again, the tone had suddenly changed. The HR official presented a second unsuccessful offer but waited until afterwards to say that he believed Papermaster violated the non-competition part of his contract based on a rough salary guide that included Apple in the same list as IBM. He was also asked what effect joining Apple would have on his family, which "shocked" him as it suggested he hadn't taken that into consideration before announcing his departure.
The about-face is also reflected in court statements from Adkins. Where Apple is confident Papermaster won't use IBM experience for mobile devices as he was mostly involved in servers, Adkins goes on to assert that its former worker's experience with POWER, and its presence in small devices, could be used against IBM in shipping products.
Apple's new recruit also has confidential knowledge of IBM's broader strategy, he adds.
IBM's punishment and Apple's incentives
And while it's already known that IBM has chosen to preemptively punish its former executive for the alleged violation, the filings make the full extent of this known. The New York IT giant made no attempts to keep Papermaster from confidential information but saw fit to block not only existing Restricted Stock Units of his that are worth about $122,729 but also 25,758 stock options previously owed to him as part of his contract, the combination of which would be a serious blow to his financial plans.
Papermaster also warns the court that IBM's "expansive" version of its non-competition agreement could imply that any technology company qualified as a rival and so would rule him out for working anywhere in his field until at least a year later. That could well result in no employment at all if he's forced to sit by the wayside and may have burnt his bridges at his former employer, according to his statement.
"Given that I am an electrical engineer by education and have spent the last two decades as a manager of engineers and professional technical executives, I have little chance of obtaining meaningful employment if IBM's broad interpretation... is accepted," he says. "Given the events that have transpired, I cannot imagine returning to a job at IBM."
Through Lambert, Apple agrees and states that Papermaster is forbidden by law from revealing confidential IBM information even if it became relevant to its work.
If he's forced to give up those stock benefits to make the jump to Apple, however, the Papermaster is known to have been offered significant benefits at the Mac maker to soften the blow. Aside from the specific terms of the deal, which remain a secret, Apple notes that his relocation costs could potentially involve coverage as much as six months of interim living costs, provide help in selling his old home, and even offer as much as a $30,000 bonus for quickly selling his old home.
Relevant declarations in PDF format
AppleInsider is making available a few of the relevant court declarations in PDF format:
Danielle Lambert's declaration: includes Apple's long-term strategy to replace Fadell, the narrowing down of candidates, and Apple's position on why Papermaster isn't violating a non-competition agreement.
Mark Papermaster's declaration: The new hire's view account of events, including his history with IBM, what he believes he had access to and how it might relate to Apple, and the hiring process with Apple as well as IBM's reaction. Also includes possible relocation package terms and the one patent he sought to keep rights to when joining Apple.
Rodney Adkins's declaration: His personal and IBM-level views of Papermaster's role within IBM and what knowledge he has that could potentially harm IBM's business.