Apple may release Snow Leopard early next year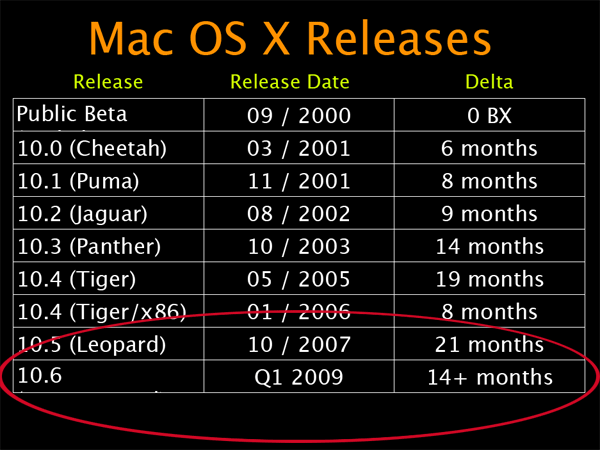 An Apple director has inadvertently broken word that his company may be planning to release Mac OS X 10.6 Snow Leopard three months earlier than expected.
Speaking at the Large Installation System Administration (LISA) conference in San Diego last week, Apple's director of Unix technology Jordan Hubbard ran a series of slides [PDF] as part of his presentation, which have since been linked off the conference's website.
Of possible interest is one slide (below) that outlines the frequency in which the company has released major new versions of the Mac OS X operating system dating back to its inception in 2000. In addition to all past releases, it pencils in Mac OS X 10.6 Snow Leopard for a release during first quarter (Jan - Mar) of 2009. The slide notes that its arrival should come a little more than 14 months after the last major Mac OS X release, Leopard.
While announcing Mac OS X 10.6 Snow Leopard at its developers conference last June, Apple stated that the software was "scheduled to ship in about a year," which would have put its release somewhere in the second or third quarter of the year, rather than the first.
Hubbard's revelation would suggest the Cupertino-based company may have plans to accelerate Snow Leopard's deployment schedule to the point where it can show off a near finalized copy at January's Macworld Expo and follow up with an official release a couple of months later.
Rather than add new usability features, the Mac maker said the goal of Snow Leopard will be to enhance the performance of Mac OS X, set a new standard for quality and lay the foundation for future Mac OS X innovation.
In particular, the software will be optimized for multi-core processors, tap into the vast computing power of graphic processing units (GPUs), enable breakthrough amounts of RAM, bundle support for Microsoft Exchange 2007, and feature a new, modern media platform with QuickTime X.
A slide from Jordan Hubbard's presentation at the LISA conference last week.
It should be noted, however, that external testing of Snow Leopard has thus far been extremely limited and at a frequency uncharacteristic of an Apple operating system bound for market in a few months. The company has released just one new test build of the software since June, which arrived late last month.
In that build, Apple introduced developers to a Mac OS X Finder that had been partially rewritten in Cocoa, a move towards a 64-bit kernel, and HFS+ file compression. The build, however, was rife with issues and a number of components were either suspended or exhibited quirky behavior.
Readers looking to keep up to date on Snow Leopard can find an archive of related reports on AppleInsider's Mac OS X 10.6 topics page. AppleInsider has also recently begun its Road to Snow Leopard series which offers an in-depth look at the real-world benefits of the new operating system.