Apple introduces iWork '09, iWork.com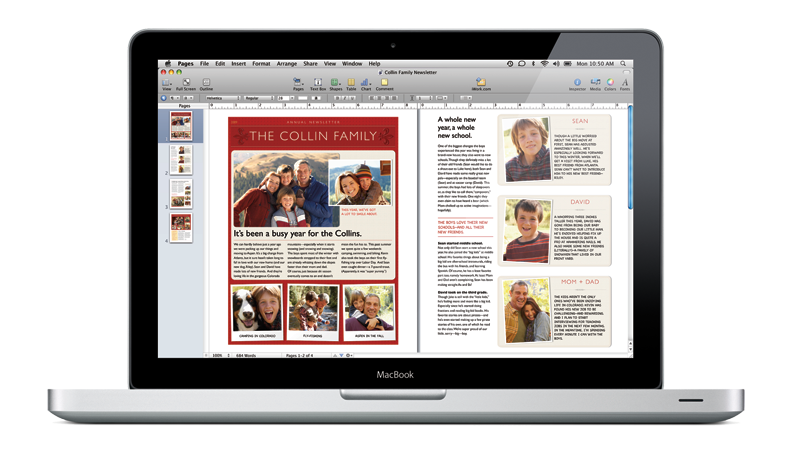 Users of Apple's updated iWork office productivity suite will find new features in their desktop applications and a new online document sharing service at iWork.com, the company announced Tuesday.
"Millions of Mac users have fallen in love with iWork," said Apple chief executive Steve Jobs. Â "With iWork '09, Apple continues to demonstrate that innovation is possible in office productivity software, and that creating impressive presentations, documents and spreadsheets doesn't need to be complicated."
Keynote '09 introduces automatic, animated transitions between two user-defined endpoints with a choice of effects. Â Called Magic Move, the new feature can alter the position, scale, rotation and opacity of any image, graphic or text. Â New text transitions can "morph" text from slide to slide. Â 3D charts now support cylinder shapes, beveled-edge pie charts, new textures and four new 3D build effects. Â iPhone and iPod touch users now have the option of a 99-cent app called Keynote Remote, sold in the App Store, that shows slides, presenter notes and presenter controls.
Pages '09 brings a Full Screen view that puts the focus on the document with on-demand menus, format bar and page navigator that only appear when the user begins to use them. Â Outline mode includes templates with collapsible and expandable elements that can be easily rearranged. Â MathType 6 support lets engineers, mathematicians and students add complex equations, and EndNote X2 integration brings comprehensive bibliographic references to the software. Â Pages also ships with 40 new Apple-designed templates ranging from newsletters and posters to certificates and stationery.
Numbers '09 provides quick categorization options by column that can be collapsed, expanded and summarized to help sift through large sets of data. Â An enhanced function browser makes formula writing easier with built-in help for more than 250 functions, as well as visual placeholders with tips to explain each variable in the formula. Â The new Formula List can display all formulas in the entire spreadsheet at once, and a single click jumps to any given formula cell. Â Expanded chart options include mixed chart types, two-axis charts, and the ability to apply error bars and trend lines. Â Numbers charts pasted into Pages or Keynote are linked and available to be updated with a click.

Initially a free public beta, iWork.com brings iWork '09 documents onto the web for sharing with multiple collaborators. Â Linked to an Apple ID, iWork.com buttons are placed in Keynote, Pages, and Numbers. Â The user can simply click to upload the document and invite others to view it online in any major browser, on a Mac or PC. Â Viewers can provide comments and notes (but not directly edit), and download a copy of the document in their choice of iWork, PDF, or Microsoft Word formats. Â A consolidated online list of all shared documents indicates when viewers have posted comments. Â iWork.com is expected to be a public beta at first, then transition to a fee-based service at a later date.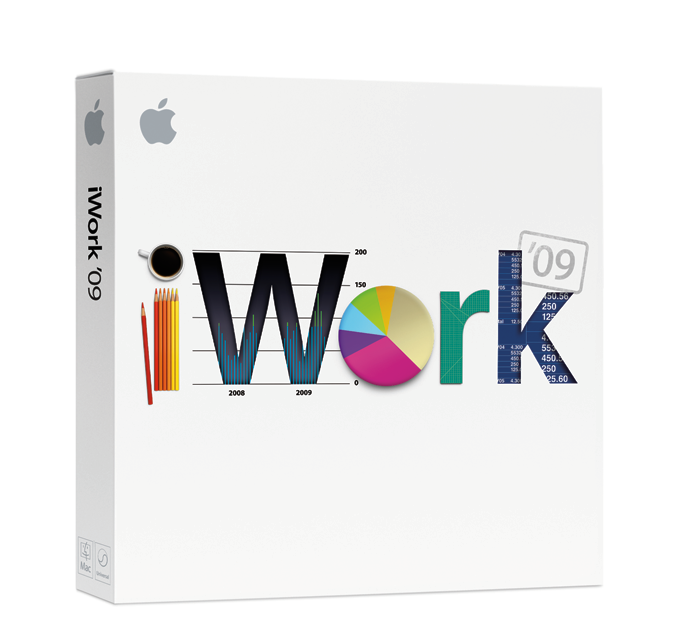 iWork '09 is now available at the Apple Store, shipping immediately, for a suggested retail price of $79 (US). Â iWork '09 is also available for $49 with the purchase of any Mac through the Apple Store, Apple's retail stores and Apple Authorized Resellers.
iWork '09 requires Mac OS X version 10.4.11 or Mac OS X version 10.5.6 or later, a Macintosh computer with an Intel processor, PowerPC G5, or 500 MHz or faster PowerPC G4, 512 MB of RAM (1GB recommended), 32MB of video RAM, QuickTime 7.5.5 or later, a DVD drive for installation and 1.2GB of available disk space. Â iWork.com Public Beta is not included with the purchase of iWork '09. Â Account setup and activation are required. Â Fees may apply. Â Internet access and iWork '09 are required.