IBM to keep tabs on Papermaster's new position at Apple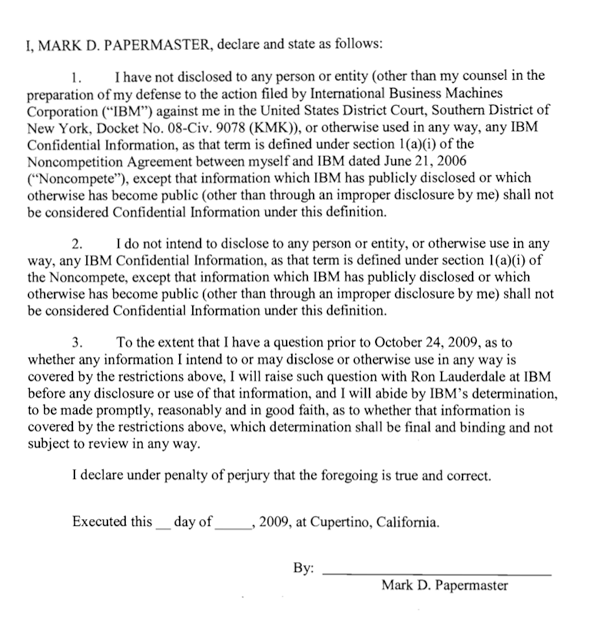 As part of his settlement with IBM last week, Mark Papermaster will be required to sign and submit court-governed declarations every few months saying he hasn't divulged any of the company's trade secrets while performing his new duties at Apple.
In a five-page Southern District of New York court filing dated yesterday, and signed by attorneys for both parties, Papermaster agrees to check in with Big Blue whenever he's not sure whether he's about to tread on confidential information. Â According to the document, the two sides reached the settlement last Friday.
Papermaster will also submit signed declarations, one in July and another in October, confirming he has not disclosed any of IBM's secrets nor does he intend to, under penalty of perjury. Â Similar arrangements are seldom seen publicly, although a case pitting two well-known companies like Apple and IBM has attracted more attention than most non-compete disputes. Â The agreement clears Papermaster to go back to work on April 24.
The full declaration he'll sign, which is due in the first two weeks of July, and again during the first two weeks of October, can be seen below in full.
If Papermaster has any questions over whether certain information is confidential or if he wants to disclose once-confidential IBM information, he will have to ask IBM Vice President and Assistant General Counsel Ron Lauderdale first. Â Lauderdale will make the determination "promptly, reasonably, and in good faith," and his decision is binding and not subject to review, meaning Papermaster risks a perjury conviction if he doesn't follow Lauderdale's directions.
These conditions expire on October 24, one year after Papermaster's departure from IBM. Â At that time, the lawsuit and countersuit will be dropped. Â If either or both parties violate the consent order, they could be held in contempt.
Any further terms of the settlement, financial or otherwise, were not listed in the court filings discovered by AppleInsider. Â Yesterday Apple announced Papermaster would be joining the company as chief of iPod and iPhone development in April, noting briefly that "The litigation between IBM and Mark Papermaster has been resolved."