Apple leads 2009 customer satisfaction survey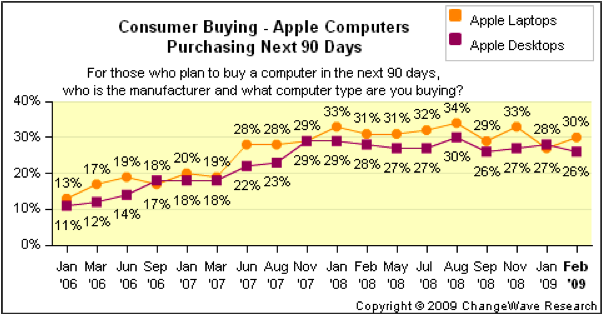 A survey examining users' satisfaction with recent PC purchases and their near term buying outlook gave Apple the top spot and a distant lead in consumer approval rankings and improved numbers related to buyer's immediate plans for new notebooks.
The numbers (pdf), compiled by ChangeWave Research, indicate a continued drop in overall spending for both desktops and notebooks, hitting the lowest point in at least two years. Only 4% of respondents plan to buy a new desktop in the next 90 days, and just 6% have notebook plans. That's roughly half of the planned demand expressed in 2007.
Of those who plan to buy new notebooks, 30% said they will buy from Apple, compared to 22% for HP and 26% for Dell. Eighteen percent said they would buy a netbook, up from 14% last month, while two thirds said they wouldn't be considering a netbook and another 16% weren't sure.
In desktops, 26% said they were planning to buy from Apple, while 28% said HP and 32% said Dell. Looking backward at actual purchases over the last 90 days, 15% bought Apple desktops, 27% bought HP, and 33% bought Dell. In notebooks, 20% reported buying Apple, 27% HP, and 33% bought Dell.
ChangeWave's survey also asked recent buyers to rank their new PC purchase as being very satisfied, somewhat satisfied, somewhat unsatisfied, or very unsatisfied. Apple claimed the top spot with 81% saying they were very satisfied, compared to figures of 67% to 50% from other top PC manufacturers.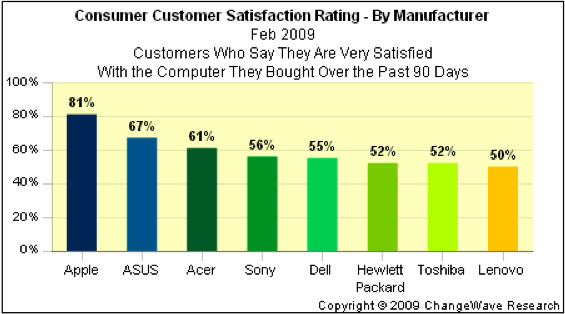 A ChangeWave survey from last year, ranking corporate users' satisfaction with their computer's operating system, highlighted that while 54% of Mac OS X Leopard users were 'very satisfied,' only 40% of Windows XP Profession users were, and just 28% of Windows XP Home users, 24% of Windows XP Media Center users, and between 5% and 12% of Windows Vista users (depending on the edition they used) were similarly "very satisfied."
Poor satisfaction rankings with both Windows software and generic PCs may be having an impact on the overall demand in the PC market, which actually shrunk for the first time in history last quarter. However, it's unquestionable that those factors are driving switchers to Apple. The company continues to report that half of the computer purchases made in its retail stores are to users new to the Mac.