Apple introduces iTunes Pass for following favorite bands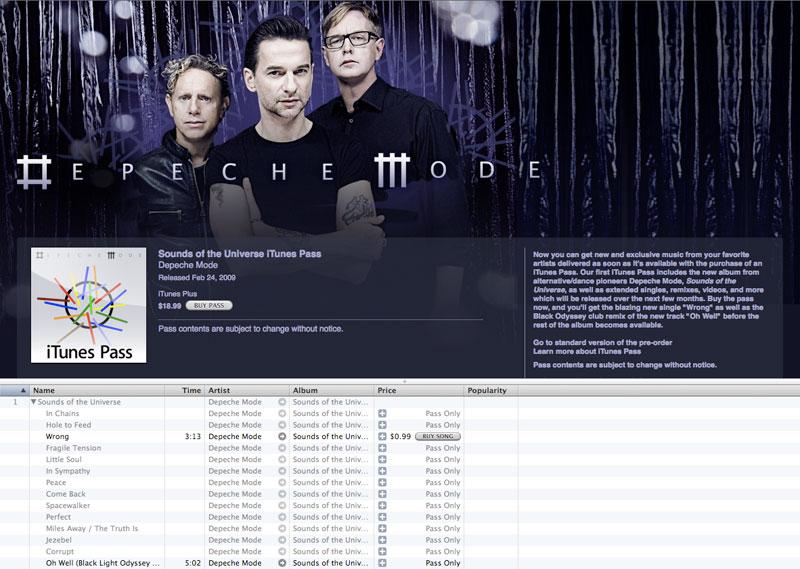 Apple this week is testing a new feature of its digital download service called iTunes Pass, which will buy shoppers access to all of their favorite bands' iTunes-related releases and exclusive material over a set time period.
The feature is similar in some ways to iTunes Season Pass for TV shows in that customers who purchase an iTunes Pass for a certain artist will be notified through email whenever new albums or exclusive content included in the package is posted to iTunes for download. However, the contents of each iTunes Pass are not fully disclosed at purchase time and are similarly "subject to change without notice."
For instance, Apple is kicking off the program in conjunction with Depeche Mode's upcoming album Sounds of the Universe. For $18.99 — the cost of the Depeche Mode iTunes Pass — customers will be able to download the band's new single "Wrong" and an exclusive remix of "Oh Well" in advance before gaining access to the full album and bonus tracks when they're released on April 21.
Between now and June 16 — a seemingly arbitrary pass expiration date selected by the band's record label — pass holders will also be privy to any Depeche Mode "extended singles, remixes, videos" and other media content that may turn up on iTunes.
According to the iTunes Pass Learn More page, all songs and music videos come in DRM-free, high-quality iTunes Plus format. Apple also notes that: "The purchase price of the iTunes Pass will not exceed the fair market value of the individual items offered as part of the iTunes Pass." It's unclear however whether the pass provides any significant form of cost savings to customers who could otherwise purchase much of the same content at their leisure.
It's likely that iTunes Pass subscriptions, which cannot be canceled or refunded, are the result of concessions made by Apple to record labels in return for providing their music catalogs to iTunes in DRM-free format with 256 kbps AAC encoding. This past January, Apple announced that Universal Music Group, Sony BMG, and Warner Music Group would join EMI in serving up their tracks in the higher-quality, unrestricted iTunes Plus format, ending an 18-month standoff between the labels and iPod maker.
As part of their demands, labels had asked for greater flexibility to sell higher-margin digital content bundles and the ability to set variable pricing for individual tracks and albums, both of which Apple ultimately agreed to. As part of the Cupertino-based company's announcement in January, it also said "beginning in April, based on what the music labels charge Apple, songs on iTunes will be available at one of three price points: 69 cents, 99 cents and $1.29, with most albums still priced at $9.99."
The new iTunes Pass is not to be confused with iTunes Replay, an on-demand streaming video service for iTunes movie and videos reported by AppleInsider to be in the works earlier this month. Since then, CNET News.com claims to have independently confirmed plans for the service, which will allow iTunes customers to build their video libraries without worrying about the hard drive space needed to store the media files because the service would stream purchased content back to users at any time.