Two possible dates for Apple's WWDC 2009 emerge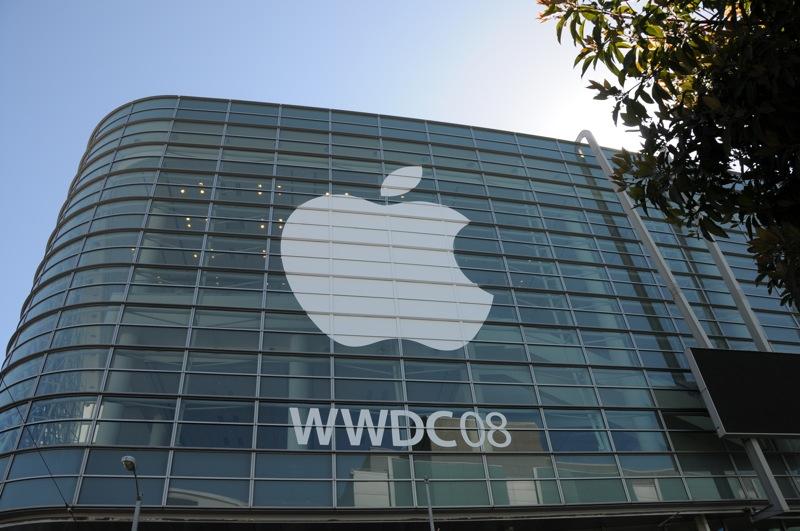 Event bookings for the San Francisco Moscone Center indicate that Apple may be planning its annual Worldwide Developer Conference in either mid-May or early June.
Companies book the Moscone Center venue many months in advance, with Sun's Java One, Cisco Live!, Linux World, Oracle OpenWorld, and other events already planned for just about every free week through the end of the year.
Before reports hit the web, tipsters informed AppleInsider last week that May 16-22 was reserved for a convention only listed as a "corporate meeting" in the events schedule at Moscone Center, the convention center that has hosted WWDC, as well as the winter Macworld Expo, for many years. Apple has hid WWDC behind that same anonymous listing in years past.
When contacted about the matter by telephone last week, representatives for the Moscone Center unsurprisingly refused to provide further details on the booking, claiming they had "no further information" on who the corporate client was. With well under three months separating that date — the approximate lead time between Apple's announcement of past WWDC events and their actual start date — the booking carried with it a significant amount of doubt.
However, the Baltimore Sun points out today that a second "corporate meeting" was added to the convention center's calendar this week for June 6-12, which seems more likely for the annual developers' gathering. Both listings — the one in May and the one in June — are for Moscone West, where Apple has historically held the event.
It should be noted that while typically held in June, the 2006 WWDC was scheduled for August to accommodate the unveiling of a new Mac Pro and an early first look at Mac OS X 10.5 Leopard. This year's WWDC is expected to be used to show off a final or near-finalized version of Mac OS X 10.6 Snow Leopard and get the latest builds of the OS into developers' hands ahead of its general release, which could come closer to the middle of the year.
The event is also likely to introduce new iPhone 3.0 software and a new mobile hardware revision internally designated as iPhone 2,1, both of which are also expected to see a mid-year release.
A massive Apple logo adorns one side of the Moscone West convention center last June.
The WWDC 2007 peak of 5,000 attendees was exceeded last year after the event sold out early thanks to a huge influx of iPhone developers joining the ranks of attendees interested in exploring Apple's week-long training and hands-on labs.
The nearly 200,000 square feet of meeting space in the three-level Moscone West portion of the Moscone Center would be strained to accommodate significantly larger audiences, as a major draw of the event involves a central keynote held in the Presidio Room, the main theater on the top floor. Another nearly 100,000 square feet of exhibition space is available in Moscone West's ground floor Golden Gate Hall, but that space is typically used for food service and labs at WWDC and lacks the theatrical ambiance of the Presidio Room.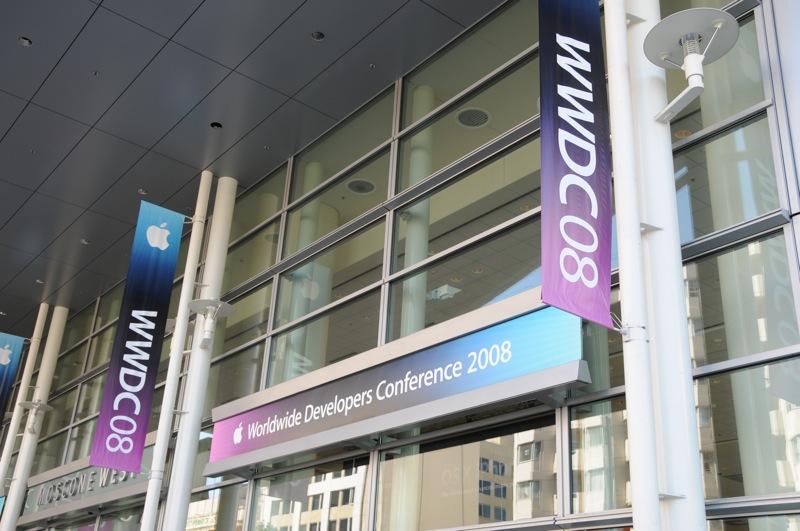 The entranceway to the Moscone West greeted developers to Apple WWDC last June.
The event's keynote has traditionally been presented by Steve Jobs. However, Jobs in January announced plans to relax on medical leave through June. Neither Apple nor Jobs have stated whether he will present the keynote this year or not.
Following the keynote, WWDC offers three primary tracks: Mac OS X development, mobile software for the iPhone and iPod touch, and an IT administration track covering large scale deployment and management of Macs within institutions.
Should Apple indeed be planning to hold the conference in early June again this year, an announcement should be forthcoming sometime in the next two weeks.