Amazon introduces iPhone-optimized Kindle book store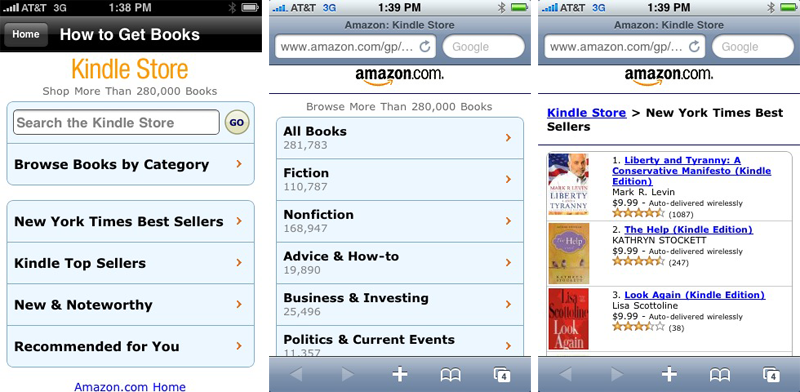 Responding to popular request, Amazon on Monday announced a version of its Kindle electronic book store formatted specifically for Apple's multi-touch devices and designed to supplement the recently released Kindle for iPhone application.
This optimized Kindle store offers both iPhone and iPod touch users easier access to browse and download from Amazon's library of more than 280,000 Kindle formatted books.
"Now when users of the Kindle for iPhone app click on 'Get Books,' the new Kindle Store tailored for the size and shape of the iPhone and iPod touch screens automatically opens in Safari," the retailer said.
Released March 4th, the Kindle for iPhone application quickly became the most popular books application on Apple's App Store. It ties into Amazon's 3G Whispersync technology, which saves and synchronizes Kindle customers' bookmarks across Kindles, iPhones and iPod touches, so users never lose their place. For instance, users can read a few pages on their iPhone or iPod touch and pick up right where they left off on their Kindle device, or vise versa.
"The response to Kindle for iPhone has been tremendous," said Ian Freed, vice president, Amazon Kindle. "The most common feedback we heard from customers was that they wanted a better experience for purchasing new Kindle books from their iPhones."
The iPhone optimized Kindle store is the latest in a string of Kindle-related announcements from Amazon geared towards building electronic books into a more material piece of its business. Last week, the retailer introduced the latest member of its Kindle family of devices: a big-screen DX model suited for more natural display of textbooks, magazines and newspapers.
Amazon in recent weeks also scooped up the developer of Stanza, a popular iPhone application that provides users with 24-hour access to a catalog of over 100,000 eBooks in the open ePub format, an eBook container not supported by its Kindle devices.