Amazon unveils 9.7-inch Kindle DX with focus on education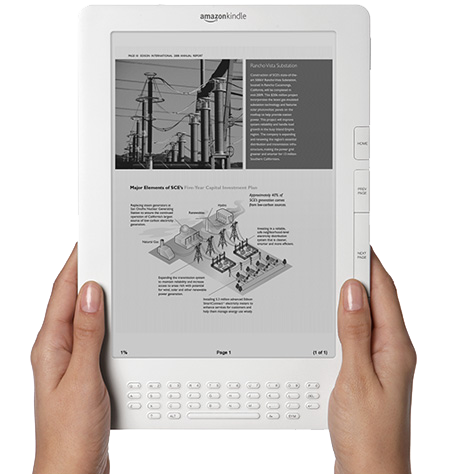 Amazon on Tuesday introduced the Kindle DX, a new multi-purpose version of its digital eBook reader that, thanks to a 2.5 times larger screen, is garnering the support of several universities, newspapers and textbook publishers who've announce pilot programs around the device.
Thinner than most magazines at just over a third of an inch, the $489 Kindle DX sports a large 9.7-inch e-ink paper display with 16 shades of gray, making it ideal for newspapers, magazines, and graphic-rich textbooks that include an assortment of images, tables, charts, and equations.
Also new to the DX model is an Auto-Rotation feature for displaying content in landscape or portrait mode, and a built-in PDF reader leveraging Adobe Reader Mobile technology. Like other types of documents on Kindle, users can email their PDF format documents to their Kindle email address or move them over using a USB connection.
Each Kindle DX ships with 3.3 GB of memory, which Amazon says is sufficient for storing up to 3,500 books, or more than double that of the Kindle 2 (unboxing, review). The online bookseller will also automatically back up a copy of every Kindle book purchased so users can wirelessly re-download titles from their library at any time.
Like the Kindle 2, the DX model connects to Amazon's 3G-based Whispernet for wireless book shopping and is capable of downloading new content in "less than 60 seconds." The wireless service is included in the price of each Kindle DX, meaning users won't need to seek out Wi-Fi hot spots or access a PC to transfer and purchase content. The device also automatically syncs content across Kindle, Kindle 2, and the Kindle for iPhone app.
"Personal and professional documents look so good on the big Kindle DX display that you'll find yourself changing ink-toner cartridges less often," said Amazon chief executive Jeff Bezos. "Cookbooks, computer books, and textbooks – anything highly formatted – also shine on the Kindle DX. Carry all your documents and your whole library in one slender package."
Several high-circulation newspapers include The New York Times, The Boston Globe, and The Washington Post each have announced pilots with Kindle DX this summer, where they'll offer the device at a reduced price to readers who live in areas where home-delivery is not available and who sign up for a long-term subscription to the Kindle edition of the newspapers.
Educational institutions and book publishers are also throwing their support behind Amazon's big-screen device. Textbook publishers Cengage Learning, Pearson, and Wiley, which together make up more than 60 percent of the U.S. higher education textbook market, will all begin offering textbooks through the Kindle Store beginning this summer.
Textbook brands published by those companies include Addison-Wesley, Allyn & Bacon, Benjamin Cummings, Longman & Prentice Hall (Pearson); Wadsworth, Brooks/Cole, Course Technology, Delmar, Heinle, Schirmer, South-Western (Cengage); and Wiley Higher Education.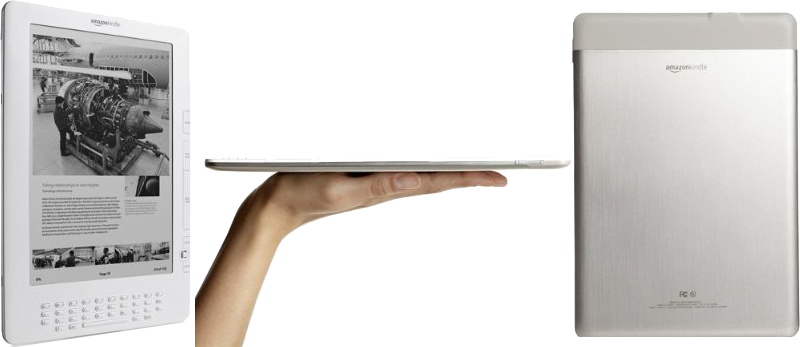 With the first batch of Kindle-formatted textbooks on the way, Arizona State University, Case Western Reserve University, Princeton University, Reed College, and Darden School of Business at the University of Virginia have each announce plans to launch trial programs that will make Kindle DX devices available to students this fall.
These schools have agreed to distribute hundreds of Kindle DX devices to students spread across a broad range of academic disciplines, Amazon said. In addition to reading their course material on a larger screen, students can take advantage of existing Kindle features such as the ability to take notes and highlight, search across their library, look up words in a built-in dictionary, and carry all of their books in a single lightweight device.

"The Kindle DX holds enormous potential to influence the way students learn," said Barbara R. Snyder, president of Case Western Reserve University. "We look forward to seeing how the device affects the participation of both students and faculty in the educational experience."
Textbooks aside, Amazon said there are more than 275,000 traditional books available in the Kindle Store, including 107 of 112 current New York Times Best Sellers. Most of those books and other new release are priced at $9.99. Many top U.S. and international magazines and newspapers, as well as more than 1,500 blogs, are also available.
Amazon is currently taking pre-orders for the Kindle DX through its online store on a first-come, first-served basis ahead of availability planned for sometime this summer. A guided tour of the new eBook reader is also available at Amazon.com.