Apple upgraded by Morgan Stanley on expected iPhone boom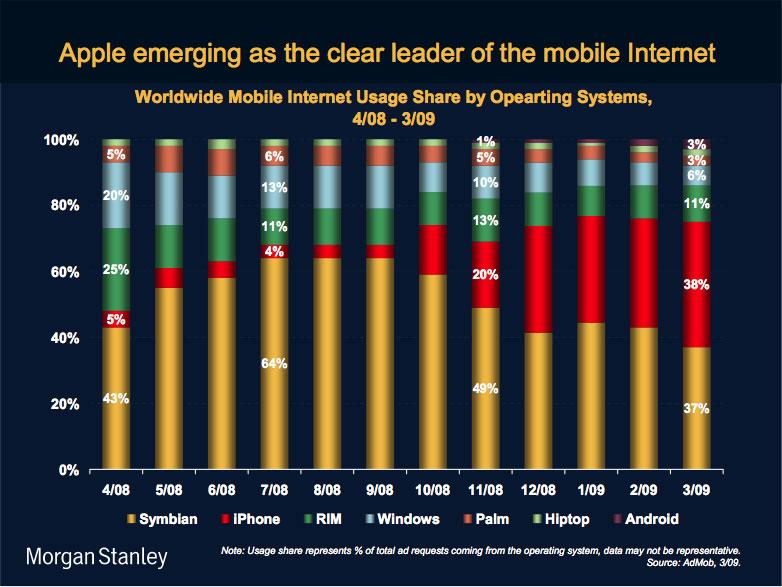 AppleInsider is supported by its audience and may earn commission as an Amazon Associate and affiliate partner on qualifying purchases. These affiliate partnerships do not influence our editorial content.
Arguing that the market is underestimating demand for iPhones over the next two calendar years, investment bank Morgan Stanley on Tuesday upgraded shares of Apple to Overweight from Equal-weight, saying success of the touchscreen handset should offset any growth risks in the company's core Mac and iPod businesses.
"We believe Apple is emerging as the clear leader in the battle over the mobile Internet," wrote analyst Katy Huberty, who also boosted her 12-month price target on the company's shares to $180 from $105. "We size this as an incremental 4 billion installed base opportunity for Apple, 4x the installed base of PCs and 10x the installed base of MP3 players."
Although Huberty believes Apple will only manage to garner a 2% share of all mobile devices — or 15% of the smartphone market — by year's end, she notes that the iPhone has already captured a commanding 38% share of mobile internet operating system usage.
"[D]ata usage on the iPhone is 6-10x, and application downloads are 100x other mobile devices — suggesting to us that Apple's market share will continue to expand as mobile Internet adoption continues to rise," she told clients. "Even looking at Apple's own history, the iPhone has already proven to be a more meaningful growth opportunity."
Huberty cited an internal study in predicting that two key inflection points will help drive iPhone unit growth and subsequently per-share earnings for Apple during the third calendar quarter of the year, which runs July through September.
First, she believes Apple will cut the price of the existing iPhone 3G to $99-$149 from $199 when it introduces new models next month, spurring a 50%-100% incremental increase in unit demand. She also pointed to her study in predicting that more than 15% of existing iPhone owners will likely to upgrade to new models when they're announced.
"Putting all the pieces together, our base case assumes 9.9 million unit shipments in [the third quarter] and 24.8 million for the full year '09 vs. consensus of approximately 18-20 million units," Huberty wrote. "For [2010], our base case assumes 36.2 million units which we believe is materially higher than market expectations."
Assuming her model proves accurate, the analyst believes sales of the handsets will contribute roughly 50% of Apple's per-share earnings in calendar year 2010, up from 30 percent last year, helping the company grab 3% of the worldwide handset market and 17% of the smartphone market, up from 1% and 10% respectively in 2008.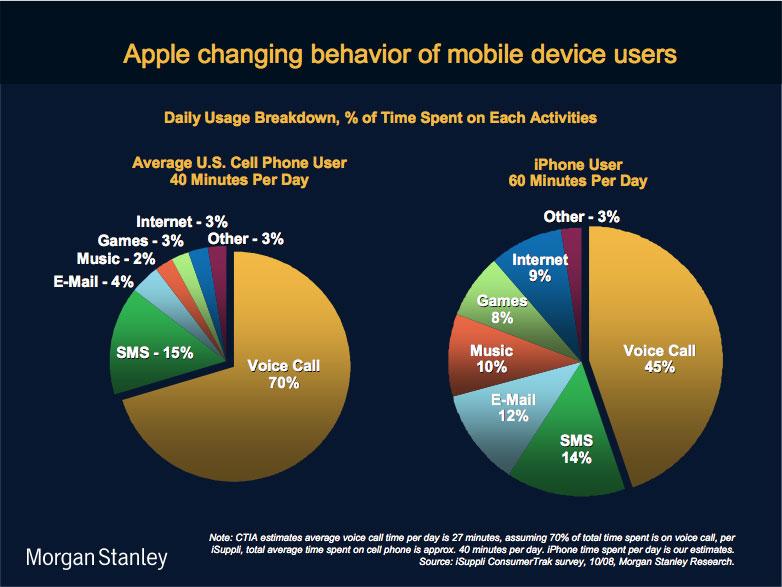 "The core of our stock call is that the iPhone's success and higher margins will begin to mute the fundamental margin and growth risks in Apple's core Mac/iPod businesses," she told clients. For calendar year 2010, Huberty now estimates Apple's GAAP per-share earnings to come in at $7.50, up from $5.52, while non-GAAP earnings surge to $9.00 from $5.52.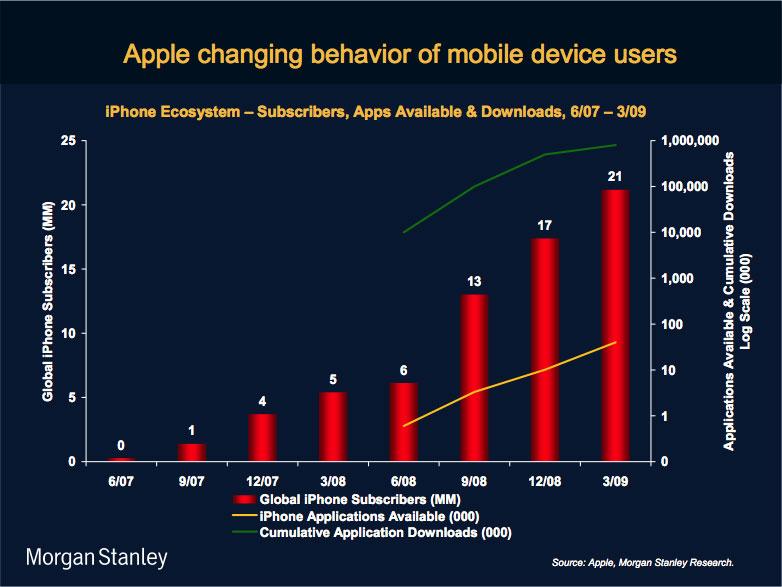 "We think Apple shares are fundamentally undervalued relative to our revised earnings and free cash flow expectations in 2009/2010," she wrote. "With an attractive valuation, $29 billion of cash, no debt and product cycle [per-share earnings] growth over the next three years, we would be buyers of Apple today and incrementally on any near term weakness."
Shares of Apple are up $4.76, or nearly 4%, to $127.26 in morning trading on the Nasdaq stock market.