Apple briefs staff on wireless iPhone movie and TV downloads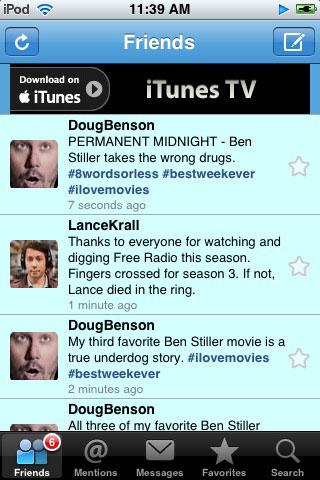 The iPhone 3.0 operating system release will include new support for direct downloads of movie and TV content from the iTunes Store, according to people familiar with Apple's internal training materials.
Last week, a Salon blogger covered initial reports of a new iTunes Store interface for downloading movies and TV directly on the iPhone, including support for movie rentals.
Beta testers of iPhone 3.0 can already access the new interface from a special URL.
The new interface is mostly functional, although featured content blocks were marked with F.P.O (for positioning only) placeholder art and all attempts to download any video content return the error "the item you've requested is not available."
Now however, AppleInsider has learned from people familiar with Apple's training program that new self-guided training materials being distributed to familiarize AppleCare agents with the features of iPhone 3.0 software "definitely covered" the ability to directly download movies and TV shows on the device itself, rather than just syncing video content through iTunes.
Those people noted that the advanced training was unique, saying that "Apple never puts out product training this far ahead of a product launch." This training material is roughly 6 weeks early, they said, having arrived in the form of a single training module on Tuesday.
Apple already supports direct downloads of free video podcasts within the mobile iTunes app, as well as video content from YouTube on the iPhone and iPod touch, so direct video downloads of rented or purchased videos from iTunes would be an incremental and unsurprising step over the current selection of directly downloadable music for sale within the app. It would, however, cement Apple's lead in delivering paid content to mobile users.
What isn't yet known is whether Apple will immediately enable video downloads over 3G mobile networks. The company originally limited iTunes music downloads to WiFi, and even originally called the feature the iTunes WiFi Store. That measure was likely done to gauge the demand for bandwidth that users would create.
Since then, the WiFi limitation has been removed and it is now possible to directly access iTunes music over 3G mobile networks. Apple touted mobile music downloads on the iPhone as being no more expensive than music purchased over WiFi or directly from iTunes running on a desktop computer, a direct blow to other mobile network operators and mobile content stores that charge extra fees when users try to obtain content over their mobile network.
Since videos are much larger than music files, it is likely that video and TV downloads and rentals might initially be limited to WiFi. AT&T's plans to double the speed of its American 3G network to HSPA 7.2 Mbps service and its parallel efforts to bolster its back end networks to better support mobile data demands — specifically video steams — may likely play into how soon iPhone users can expect to download videos from iTunes outside of a WiFi hotspot.