Apple's Snow Leopard bests Windows 7 in speed tests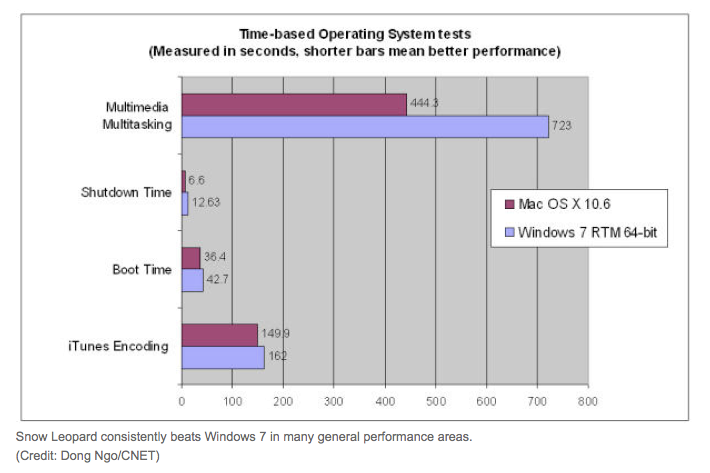 AppleInsider may earn an affiliate commission on purchases made through links on our site.
When both Mac OS X 10.6 and Windows 7 were tested on a MacBook Pro, Apple's new operating system clearly beat Microsoft in terms of speed, a new test has shown.
Both operating systems were tested on a 2008 MacBook Pro machine by CNet, and each was given its own, separate, clean hard drive. The 64-bit version of each OS was included in the test, which measured a variety of speed and performance related tasks. Snow Leopard was given true, full 64-bit support with most of its native applications taking full advantage of modern processors.
Each OS had the same software installed: iTunes 9, QuickTime, Call of Duty 4: Modern Warfare, and Cinebench R10. In the test, Snow Leopard booted and shut down significantly faster than Windows 7.
"In time-based tests, Snow Leopard consistently outdid Windows 7," the study found. "It took only 36.4 seconds to boot up, while Windows took 42.7 seconds. In a shutdown test, Snow Leopard took only 6.6 seconds, while Windows needed twice the amount of time: 12.6 seconds. Both computers, however, took just about 1 second to return from sleeping. For this reason, I didn't actually test the wake-up time as it was too short in both operating systems to produce meaningful numbers or even allow me to measure the difference."
The Mac software also unsurprisingly ran Apple's own native applications more efficiently. Converting a movie from M4 format to iPod in Quicktime X on Snow Leopard took 444.3 seconds, while Windows 7, with QuickTime 7 (the latest version available) took 723 seconds. Similarly, converting 17 songs in iTunes from MP3 to AAC took 149.9 seconds in Snow Leopard, while Windows 7 required 162 seconds.
The test also found that Mac OS X 10.6 had better battery life on the MacBook Pro than Windows 7. The 2008 model has a removable battery. But author Dong Ngo said he believes Boot Camp drivers were mostly responsible for the Windows 7 battery life, as many PC laptops fared much better than the 77 minutes the Microsoft OS fared.
One area where Windows 7 was able to easily trump Snow Leopard was in graphics performance. The system's 512MB Nvidia GeForce 9600M GT graphics card helped the system score much better in the latest version of Windows, earning a 5,777 3D rendering score in Cinebench R10. Snow Leopard scored 5,437.
In testing Call of Duty 4: Modern Warfare, Windows 7 again came out on top, with an average 26.3 frames per second performance, compared to 21.2 frames per second within Snow Leopard.
Ngo's conclusion: Unless you are a gamer, get a Mac.
"If you can get by with just software designed by Apple and if money is not a big issue, you will be happy with a Mac," he said. "Examples of these software choices are iTunes, iLife, QuickTime, Safari, iChat, and so on (and you probably won't need much more than those for daily entertainment and communication needs). Finally, if money is not an issue— and it definitely is for most of us— you should get a Mac anyway. It's the only platform, for now, that can run both Windows and OS X."