Apple stock seen poised to pop after record setting quarter

AppleInsider is supported by its audience and may earn commission as an Amazon Associate and affiliate partner on qualifying purchases. These affiliate partnerships do not influence our editorial content.
Wall Street analysts have raised their price targets for Apple stock yet again, after the company posted another recession defying blockbuster quarter with record Mac and iPhone sales.
Apple announced Monday that its fourth-quarter profits surged more than 46 percent to $1.67 billion, as the company sold 3.05 million Macs and 7.4 million iPhones, the most ever in a single frame. In response, analysts are once again bullish on AAPL stock, recommending investors buy as the Mac maker is poised for what is anticipated to be a strong holiday quarter.
As numerous analysts joked, someone forgot to tell Apple about the recession.
Analyst Gene Munster said the September quarter managed to be impressive despite demand for the new iPhone 3GS exceeding supply, and aging Mac desktops still awaiting an update. iPhone sales were slightly lower than his prediction of 7.5 million, but Munster chalked that up to Apple's inability to meet demand for a large portion of the quarter.
"Apple can't build enough phones to meet demand," he said.
The number of Macs moved in the quarter blew away the firm's 2.8 million estimate. Munster continues to believe new Macs will be released during the December quarter, likely iMacs, Mac minis, and/or MacBooks. Desktop Mac sales dipped 16 percent year-over-year during the quarter, something that would be greatly helped by a new iMac debut.
Munster has maintained his overweight rating for AAPL stock and raised his price target to $277.
Analyst Charlie Wolf singled out the success of the App Store as a key driver for both iPhone and iPod touch sales. The next step he sees Apple taking to further grow the iPhone platform is to eliminate exclusive carrier contracts for the handset.
"We believe it's only a matter of time before Apple discards all of its exclusive distribution markets, which, in turn, would materially increase its addressable market," he said.
In the U.S., Wolf does not expect Apple to make the iPhone available on Verizon's network until at least 2011, when the company's LTE 4G network is expected to debut.
"The incompatibility of the AT&T and Verizon networks argues against a partnership before then," he said. "However, a partnership may never occur if the relationship between Apple and Verizon, which appears at best quite fragile, intervenes."
Needham & Company raised its GAAP 2011 earnings per share estimate from $6.70 to $7.30, and maintained its $235 price target for AAPL stock, along with a strong buy rating.
The first quarter of Apple's 2010 fiscal year is "shaping up to be another gargantuan quarter," said analyst Yair Rainer. Even though Apple issued its traditional conservative guidance for the coming frame, investors will know better.
"As usual, Apple appears to be leaving plenty of room for upside surprises to both revenue and margins," Rainer said. "On the revenue side, Apple should benefit from continued Mac momentum (particularly in Europe), higher recognized iPhone revenue, and some channel fill for both Mac and iPhone. Gross margin upside is likely to come from a higher proportion of recognized, high-margin iPhone revenue."
Increasing Mac growth suggests to Rainer that the first signs of "Halo 2.0" are appearing, which is the firm's theory that the iPhone will draw PC users to the Mac platform.
"We believe Halo 2.0 may have been operating below the radar for the past year or more, but that its effect had been subdued by the macro-economy, which likely forestalled purchases of premium computers (like the Mac) more than others," Rainer said. "With the economy beginning to stabilize, consumers may be more willing to move ahead with buying decisions that have been shelved in the face of uncertainty."
Oppenheimer has raised its price target to $235.
"Recession?" asked analyst Mike Abramsky. "Someone tell Apple."
The company has been able to improve its margins over the past year, this in spite of an average 10 percent lower price on new Macs. Apple has benefitted from improved component efficiencies, lower iPod transition costs and sales of Snow Leopard.
Abramsky said Apple's above-peer margins and cash flow are one of the most important aspects of the company's success, something he expects to continue well into the future. He has reaffirmed an expectation of 33.3 million iPhone sales in the 2010 fiscal year, and another 47.5 million sold in 2011.
"We view the iPhone as a 10-year platform, with significant growth and share gains ahead," he said. "Our outlook reflects continued iPhone share gains in domestic and international markets, driven by distribution expansion, more innovations in devices and user experience, and additional iPhone SKUs."
RBC Capital Markets has upped its price target for AAPL to $275 and reiterated its outperform rating.
"Guess somebody forgot to tell Apple about the recession," said analyst Robert Cihra. He expects the company's success to continue through the December quarter, with iPhone supply now meeting demand and anticipated MacBook and iMac refreshes "imminent."
Next year, Cihra expects to see Apple's long-rumored tablet device debut in the March quarter, creating a brand new product category for the hardware maker.
Caris & Company has raised its projection for AAPL stock in the coming year to $260.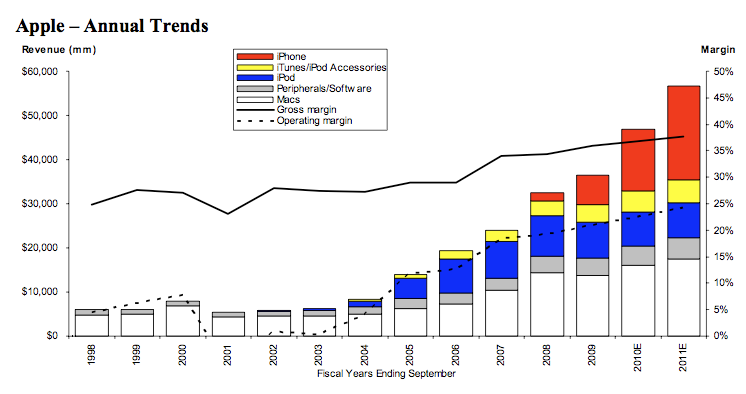 Analyst Maynard J. Um said he sees Apple's guidance for the December quarter as overly conservative, as Apple is known to do. As a result, he sees "plenty of upside" in the coming frame.
Um said he expects recurring iPhone hardware revenue to grow, thanks to a larger install based and the popularity of the App Store. He expects iPhone sales to grow more than 20 percent in the 2010 fiscal year.
In the future, Um expects to see a service that would provide access to digital content on the go, for use on all Apple devices. "[That] may be the draw (halo) that drives additional future Apple sales," he said.
UBS Investment Research has increased its 12-month price target to $280.
AAPL stock is a "must-own technology bellweather," said analyst Brian Marhsall. He said the stand-out news of the company's earnings report is the $600 average sale price of the iPhone. That's much higher than his firm's own estimate of around $530.
The firm views Apple as "the best technology company on the planet," and one with a number of new products on the horizon that are poised to propel its earnings only higher. Marshall expects sales of the iPhone in China and a forthcoming netbook or tablet launch to be driving factors.
Broadpoint.AmTech has reiterated its buy rating for AAPL and raised its price target to $235.