First Look: Apple's 27" big screen iMac

Apple has revamped the iMac with a huge, cinematic 16:9 27" screen, fast CPU options, standard wireless keyboard and Magic Mouse, a staggering 16GB RAM capacity, and a new video input feature.
The biggest feature of the new iMac is its massive screen, which jumps from the previous high end of 24" to 27" and delivers nearly the resolution (2560x1440) of the 30" Cinema Display HD (2560x1600). That's also nearly equivalent to four 13.3" MacBook screens (1280x800) in a single display (compare the photo below). The new iMac is priced $100 less than Apple's standalone big screen however, despite packing in a powerful computer and new LED backlighting.
The new 27" iMac, along with its smaller 21.5" partner, also sport higher quality IPS LCD screen technology, resulting in spectacular color, contrast and wide viewing angles. Like previous models, the glossy screen is covered with a glass panel that extends across the entire top face of the unit.
Last year, Apple was sued over its iMacs with cheaper, 6-bit TN ("twisted nematic") screens, which have a narrower viewing angle and less color accuracy and depth, because some users argued the screens were technically incapable of actually producing the "millions of colors" supported by their graphics cards. The latest models reverse the trend toward cheap displays and instead provide quality IPS ("in-plane switching") panels that deliver the much improved color and wide, 178 degree viewing angles.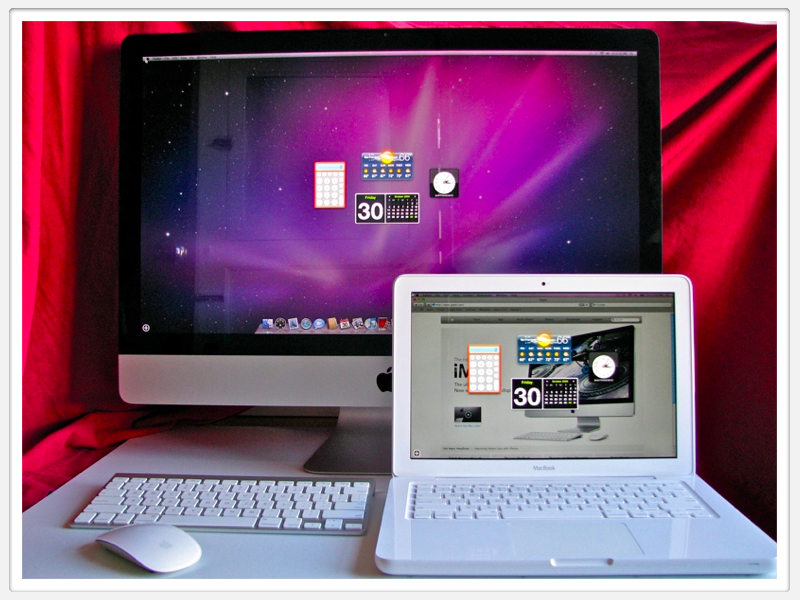 The new screens are also LED backlit (unlike the 30" Cinema Display HD), which means they turn on instantly and allow for finer grained control over brightness than conventional cold cathode fluorescent lamp backlighting. LED backlighting is also environmentally friendly because it uses no toxic mercury. Overall, the new machines also meet Energy Star 5.0 and EPEAT Gold standards for energy efficiency and environmentally-sound design, manufacturing, and use of recyclable materials.
The new 27" display is backed by ATI Radeon HD 4670 (or for $150 more, the 4850) graphics hardware equipped with 256MB (or 512MB) of GDDR3 RAM. It supports video output up to 2560x1600, capable of driving a 30" Cinema Display HD. It supports VGA, DVI/HDMI and DisplayPort screens via its standard Mini DisplayPort connector.
A new feature of the 27" iMac is its ability to act as a display for another DisplayPort computer. It is the first and currently the only Mac to support this new capability. The 21.5" iMac doesn't support video input and provides simpler NVIDIA GeForce 9400M graphics, the same as Apple's MacBook line and Mac mini.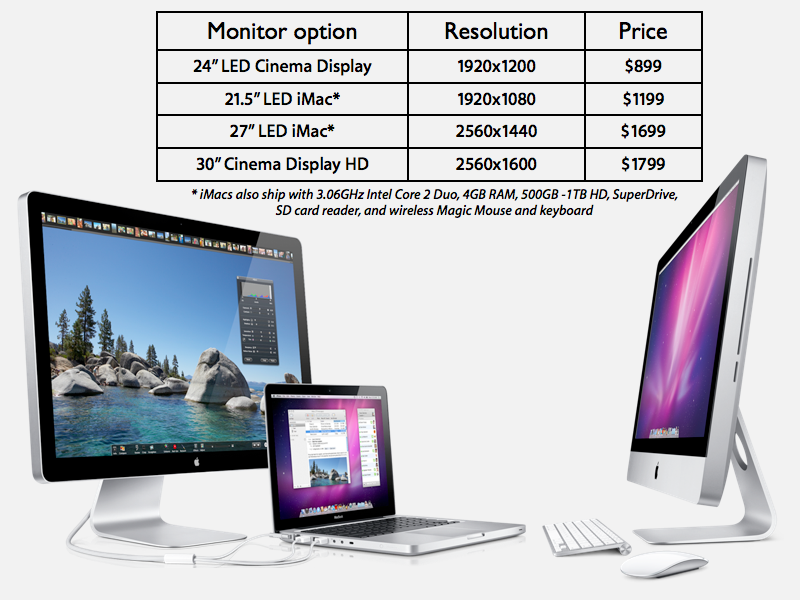 The base model ships with 4GB of 1066MHz PC-8500 DDR3 RAM and supplies 4 memory slots capable of expanding that up to 16GB. It also ships with a 1TB 7200 RPM SATA hard drive, which can be upgraded to a 2TB version, and an 8x dual layer DVD SuperDrive.
The $1699 iMac comes equipped with a dual core 3.06GHz Core 2 Duo E7600 processor with 3MB of L2 cache, with the upgrade option of a 3.33GHz Core 2 Duo E8600 with 6MB of L2 cache for $200 more. A $1999 option upgrades the CPU to a "Nehalem" quad core 2.66GHz Core i5 750 processor, or for $200 more, a Core i7 860, both of which include 8MB of L3 cache. Apple benchmarks the high end Nehalem Core i7 as being up to 2.4 times faster than the Core 2 Duo.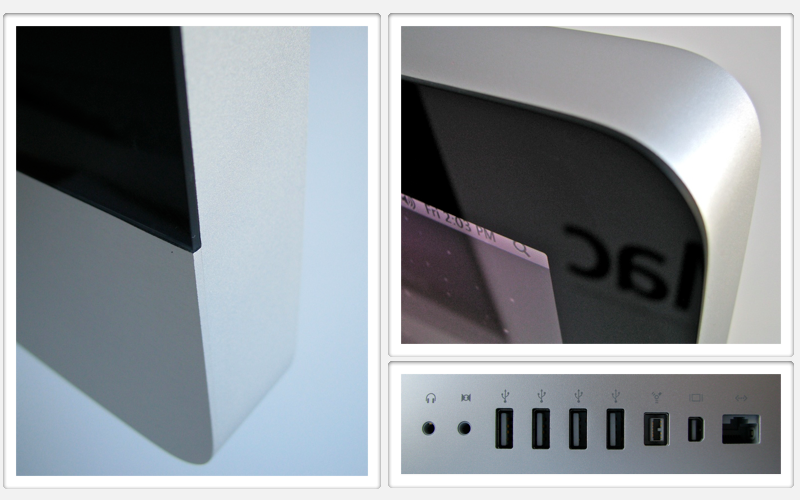 The iMac is equipped with a new SD card slot under the DVD drive, and back panel ports provide Gigabit Ethernet, Mini DisplayPort, Firewire 800, four USB 2.0 ports, and hybrid analog/optical digital audio input and output ports.
It also has an IR receiver for use with an Apple Remote (not bundled; the new aluminum remote is a $19 option), a built-in iSight camera and microphone, Bluetooth and 802.11a/b/g/n wireless networking.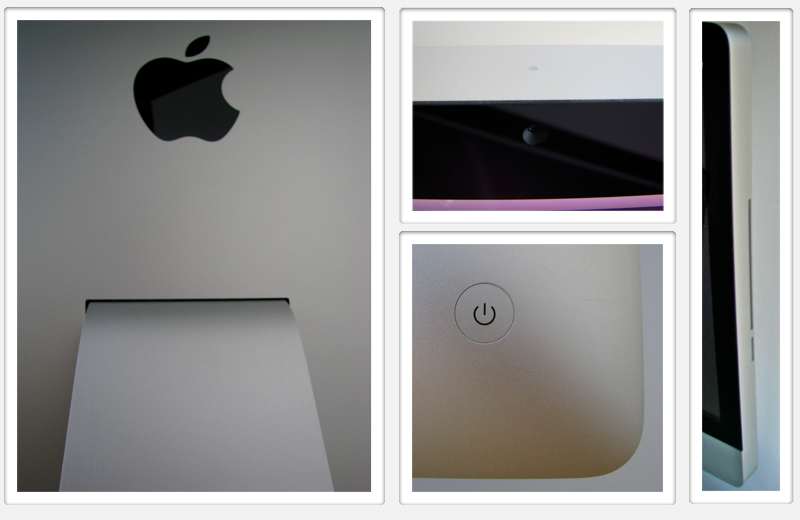 The new iMacs now come standard with a Bluetooth Wireless Keyboard and multitouch Magic Mouse. These can be traded for a compact or full sized (with numeric keypad) USB keyboard and/or a standard USB Apple Mouse (the same model that was formerly referred to as Mighty Mouse).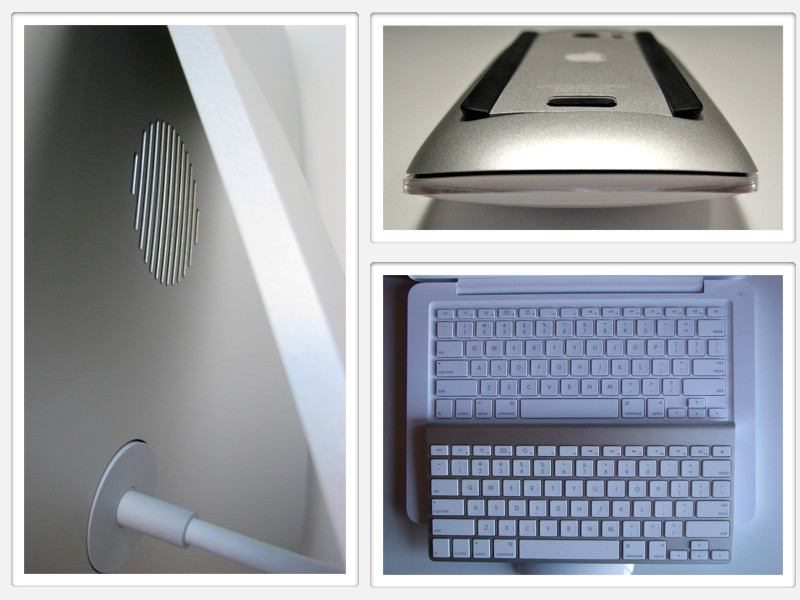 The keyboard is virtually identical to the MacBook's built-in keyboard, and is slightly modified from Apple's original Bluetooth keyboard in that it now only uses two AA batteries and has moved the wireless receiver to the center of the back panel.
The iMac ships in a simple box with styrofoam corners, including just a power cable and an accessory box that holds the keyboard, mouse, an introductory booklet, a screen wipe cloth, install and restore DVDs, stickers and regulatory information. A full review with performance benchmarks will be presented next week, so present any questions you'd like to see answered.
Below is a table of iMac prices from leading Apple Resellers that was extracted from AppleInsider's MacPriceGuide. Currently, ClubMac is offering the lowest prices on the new all-in-one desktops, with savings of between $135 and $208 after a mail-in-rebate and an exclusive 3% discount available only to AppleInsider readers. However, this discount coupon expires at midnight (Oct. 31) and is unlikely return until some time next year.
To see the 3 percent discount and achieve the final prices listed in the table above, you must first add an iMac to your shopping cart after clicking through the links in the table (above). The 3% discount is reflected as "Instant Discount(s)" during checkout at ClubMac, after the items have been placed in your shopping cart.
For similar offers on the remainder of Apple's Mac product line, please see our full-fledged Mac Price Guide.