Apple investigating 'Grab & Go' simplified cross-platform sync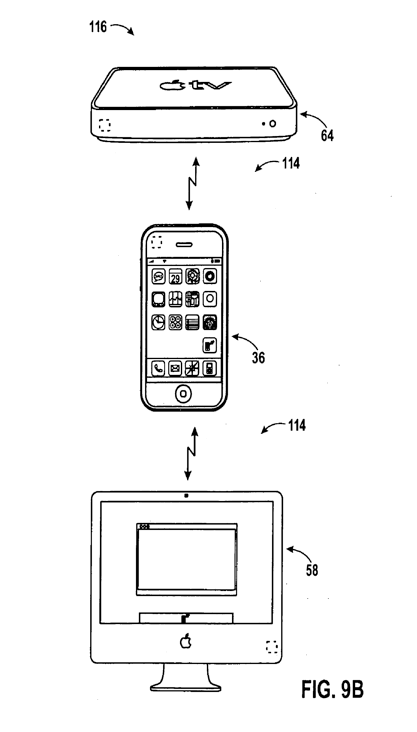 Apple could make the transferring of files between devices like Macs, iPhones and the Apple TV simpler with a new cross-platform, cloud-integrated sync service.
In a system described in a new patent application revealed this week, Apple has worked on a software syncing system that would give users great flexibility in deciding which files to share between devices, all while aiming to simplify the process of syncing. The described method would not only take personal files, but content within specific applications, allowing users to continue their current activities no matter where they are and what device they are using.
In the application, Apple said that current sync methods are needlessly complex.
"Though a user may have access to two similarly capable electronic devices, sharing data between the two devices may involve a number of steps, each of which may vary in difficulty," the application reads. "The process of transferring data between the devices may include many user decisions, such as which data to save, where the data is saved, which formats each device may be capable of processing, how to interconnect the devices for a most effective data transfer, etc. Such complexity may increase the difficulty or time spent transferring data between two electronic devices.
The patent application includes references to a number of devices that could be used in sync, including a Mac, iPhone, Apple TV, Apple Remote, and a video game controller that resembles that of a Playstation. The described system could share Safari bookmarks, iTunes content, Time Machine backups, Keynote presentations, or even video game file saves.
Syncing of files could take place between a number of hardware types as well, in a wireless method between an iPhone and an iMac, or between two iPhones. The massive, detailed, 84-page application presents a number of potential sync combinations between two and three devices.
The system could also integrate the Web in its storage, keeping data on the "cloud" and allowing it to be pushed to numerous devices.
The described system includes software that would allow users to "grab" files from each system easily. One such example is a potential iPhone application tentatively named "Grab & Go."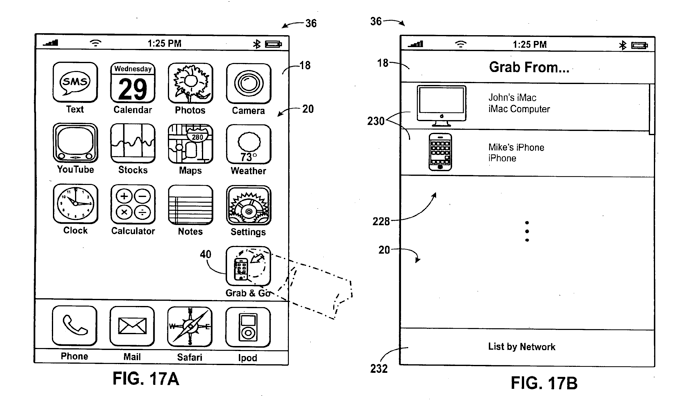 Device preferences configurable by the user would allow for application content and files to be sorted by type. Users could select whether they want to sync software for family, business, entertainment, gaming media, education, accounting and more.
Such a system could allow users to revisit Web sites they recently accessed on another device. For example, the Safari Web browser's history, bookmarks and recent searches could be shared between a Mac and an iPhone.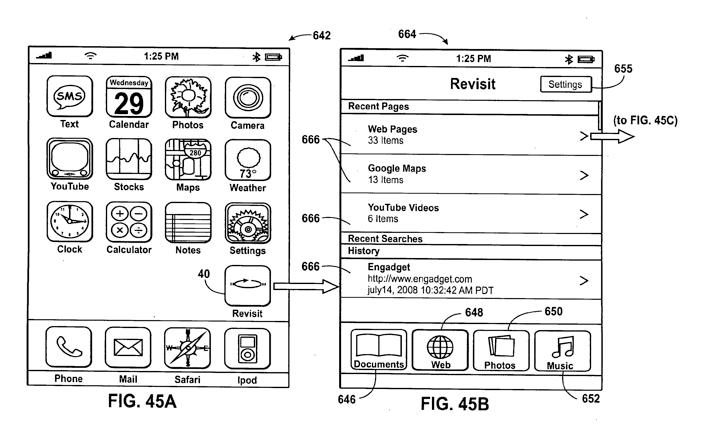 The filing with the U.S. Patent & Trademark Office suggests a scenario where a user is sitting at their desk working on a document, when they are called into an unexpected meeting. While the user may have a number of personal applications running, they would only want to bring their work-related content with them. The preferences would allow the user to "grab" only files and data related to work from the computer.
Another example has a person listening to music on their computer at home. That person might need to go into work, but would want to continue to listening to music on a train on the way to the office. The preferences would allow the user to easily choose not to "grab" files from personal finance, or whatever keywords the user may have chosen.
The "simplified data transfer" method is also said to dynamically adapt to the fastest available connection, and provide security methods. The software would decide whether to connect using the Internet, or to use encryption schemes, or to require a specific proximity to the hardware when syncing. It would also keep a list of "trusted" devices with which to share.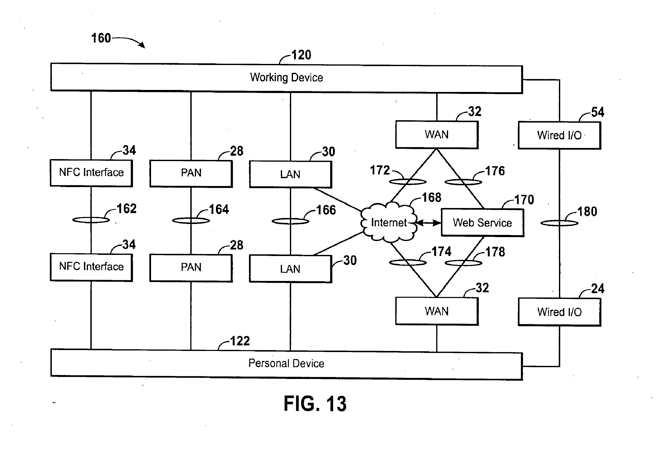 Apple has already stepped into the growing cloud-based sync market with its MobileMe service. However, this described system, applied for on Sept. 30, 2008, would clearly expand that capability much wider.