Bill Gates praises Steve Jobs for saving Apple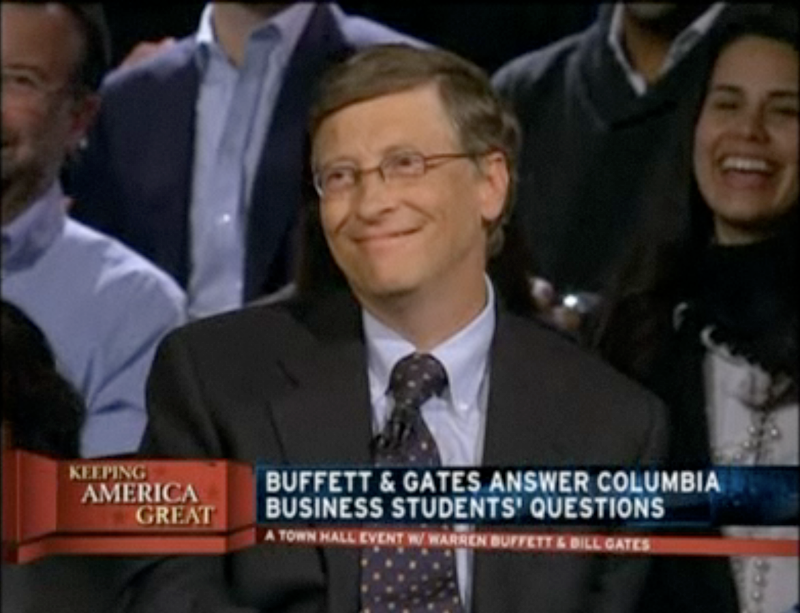 When asked about Steve Jobs in a TV special that aired this week, Bill Gates said the Apple co-founder has shown "more inspiration" than any other leader in the tech industry.
The program "Warren Buffett and Bill Gates: Keeping America Great" aired Thursday night on CNBC. The "Town Hall Event" featured questions from the audience directed towards two of the world's richest men.
One audience member asked Gates, to laughter from the audience, what his thoughts were on Jobs and the work he has done as CEO of Apple. The Microsoft founder had fond words for his rival.
"Well, he's done a fantastic job," Gates said. "Apple is in a bit of a different business where they make hardware and software together. But when Steve was coming back to Apple, which was actually through an acquisition of NeXT that he ran, Apple was in very tough shape. In fact, most likely it wasn't going to survive."
He continued: "And he brought in a team, he brought in inspiration about great products and design that's made Apple back into being an incredible force in doing good things. And it's great to have competitors like that. We write software for Apple, Microsoft does. They compete with Apple. But he, of all the leaders in the industry that I've worked with, he showed more inspiration and he saved the company."
In 2007, both Gates and Jobs sat down side-by-side for an interview with Walt Mossberg of The Wall Street Journal at the D5 conference. In that talk, both influential technology leaders were complimentary of one another.
Jobs credited Gates for being the first to build a company solely around software, rather than depending on customized software. Gates responded by crediting Apple's populist approach with Jobs at the helm.
In that interview, Gates revealed that Microsoft shifted away from developing software for the Mac around the time of Jobs' departure, a move made mostly due to his absence.
"We worried that Apple wasn't differentiating itself from the other platforms–Windows and DOS," Gates said in 2007. "The product line just didn't evolve the way it needed to. Certainly not the way it would have if Steve had been there."
As the Microsoft co-founder noted in his comments on CNBC this week, though the company still competes with Apple, it also continues to write software for the Mac platform. Next year, Microsoft plans to release Office 2010 for Mac, with a new version of Outlook based on Cocoa, the development layer of Mac OS X.