First week Google Nexus One sales a disappointing 20,000 - estimate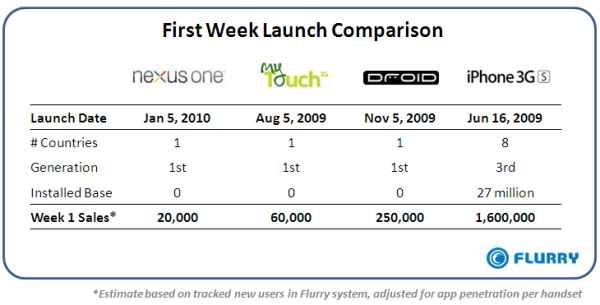 AppleInsider is supported by its audience and may earn commission as an Amazon Associate and affiliate partner on qualifying purchases. These affiliate partnerships do not influence our editorial content.
After much hype, the launch of Google's self-sold Nexus One smartphone managed an estimated 20,000 sales in its first week, well behind not only Apple's iPhone, but also competing Android-based handsets.
Mobile research firm Flurry this week estimated that the Nexus One, despite a great deal of buzz surrounding its announcement, failed to have a strong debut. The 20,000 week one sales are well behind the 1.6 million iPhone 3GS handsets sold in June. However, Apple's device was a third-generation product debuting in eight countries, while the Nexus One was a first-generation device on sale in just the U.S.
But the Android-powered myTouch 3G and Motorola Droid were also first-generation devices with U.S.-only launches, and both had sales much stronger than the Nexus One. The myTouch 3G sold an estimated 60,000 in its first week, while the Motorola Droid sold 250,000 units.
Despite the fact that the Nexus One was outsold three times by the myTouch 3G, 12 times by the Droid, and 80 times by the iPhone 3GS, Flurry noted there are key differences. The Motorola Droid debuted with a $100 million marketing campaign, and even the myTouch 3G was heavily promoted on television by carrier T-Mobile. By comparison, Google's handset launched after the holiday season and is marketing and selling the device through its own Web site.
"While Google, in an effort to avoid channel conflict with T-Mobile, appears to have set the direct-to-consumer price for the handset at over $500 dollars, the high price point combined with the fact that the handset is only considered an 'evolutionary' improvement over previous Android devices, indicates that Google did not take the steps to maximize first week sales," the analysis noted.
"This is especially evident when one considers that among the most expensive costs associated with the launch - marketing - has not been incurred, and could have been applied to lowering the direct-to-consumer price point."
Following the buzz leading up to the announcement of the Nexus One, Google has faced some issues and corresponding criticism from customers who have found that the company's customer support is limited to e-mail. Attempts to reach manufacturer HTC and carrier T-Mobile were reportedly no better for customers.
The Nexus One is available direct from Google for $529 without a contract, or $179 with a two-year agreement for new T-Mobile U.S. customers. The handset is due to be released on Verizon Wireless in the U.S. and Vodafone in Europe this spring.
Google worked closely with hardware maker HTC to design the Nexus One, which features a 3.7-inch AMOLED touchscreen. Though the phone can be purchased unsubsidized and unlocked through Google, the current GSM handset is only compatible with T-Mobile and AT&T in the U.S., and its 3G chip is not compatible with AT&T's high-speed wireless data network.