Apple reveals multi-touch 'iPad' tablet device starting at $499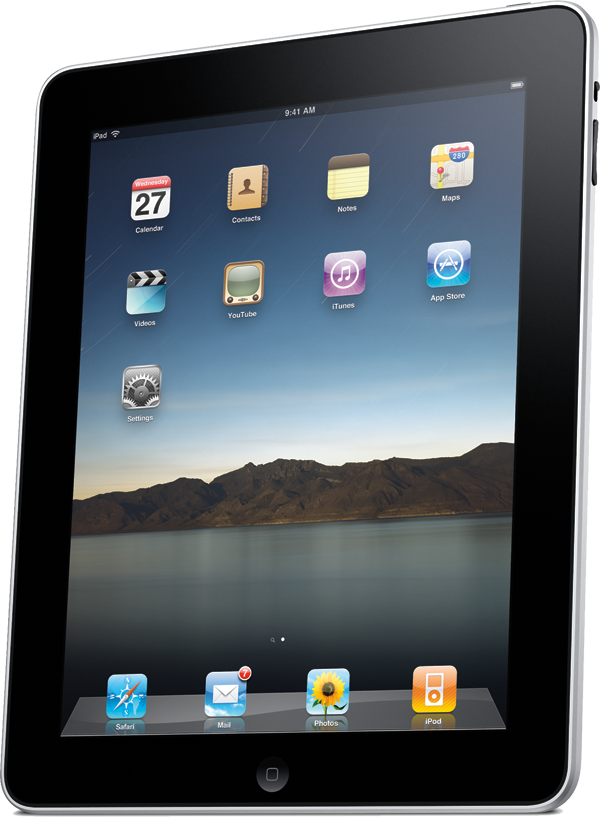 Calling it "way better than a laptop, way better than a phone," Apple CEO Steve Jobs unveiled his company's long-awaited iPad tablet-style multi-touch device Wednesday, with a starting price of $499 with Wi-Fi, or $629 with a 3G radio.
"iPad is our most advanced technology in a magical and revolutionary device at an unbelievable price," Jobs said in a statement. "iPad creates and defines an entirely new category of devices that will connect users with their apps and content in a much more intimate, intuitive and fun way than ever before."
Apple has dubbed the iPad "our most advanced technology in a magical and revolutionary device at an unbeatable price."
The device is 0.5 inches thick and weighs just 1.5 pounds — lighter than any netbook, Jobs noted — and sports a 9.7-inch display. It also includes a 1GHz Apple-built A4 processor which includes the CPU and graphics.
"Everything is one chip, and it screams," Jobs said at Wednesday's keynote.
He also touted that device gets 10 hours battery life watching video, and has a one-month standby charge. It will come in capacities of 16GB to 64GB of flash storage, in models with and without a 3G radio.
The iPad features a 9.7-inch LED-backlit display with IPS technology. It has a 178-degree viewing angle and sports a 1024x768 pixel resolution display at 132 pixels per inch.
The hardware has many of the same capabilities of the iPhone and iPod touch, including an orientation sensor for switching between portrait and landscape modes, and multi-touch capabilities. The device even looks akin to a large iPhone.
Height: 9.56 inches (242.8 mm)
Width: 7.47 inches (189.7 mm)
Depth: 0.5 inch (13.4 mm)
Weight: 1.5 pounds (.68 kg) Wi-Fi model; 1.6 pounds (.73 kg) Wi-Fi + 3G model
9.7-inch (diagonal) LED-backlit glossy widescreen Multi-Touch display with IPS technology
1024-by-768-pixel resolution at 132 pixels per inch (ppi)
Fingerprint-resistant oleophobic coating
Support for display of multiple languages and characters simultaneously
Wi-Fi (802.11 a/b/g/n)
Bluetooth 2.1 + EDR technology
UMTS/HSDPA (850, 1900, 2100 MHz)
GSM/EDGE (850, 900,1800, 1900 MHz)
Data only2
Wi-Fi (802.11 a/b/g/n)
Bluetooth 2.1 + EDR technology
Wi-Fi
Digital compass
Assisted GPS (Wi-Fi + 3G model)
Cellular (Wi-Fi + 3G model)
30-pin Dock connector (same as iPod and iPhone)
10-hours of battery life (Over one month standby time)'
Full capacitive multi-touch interface
16-64GB of Flash memory storage
1 GHz Apple-branded A4 chip (developed in-house)
Bluetooth 2.1 + EDR
802.11n WiFi
Built-in Speaker
Built-in Microphone
iPad
Dock connector to USB cable
10W Power Adapter
Documentation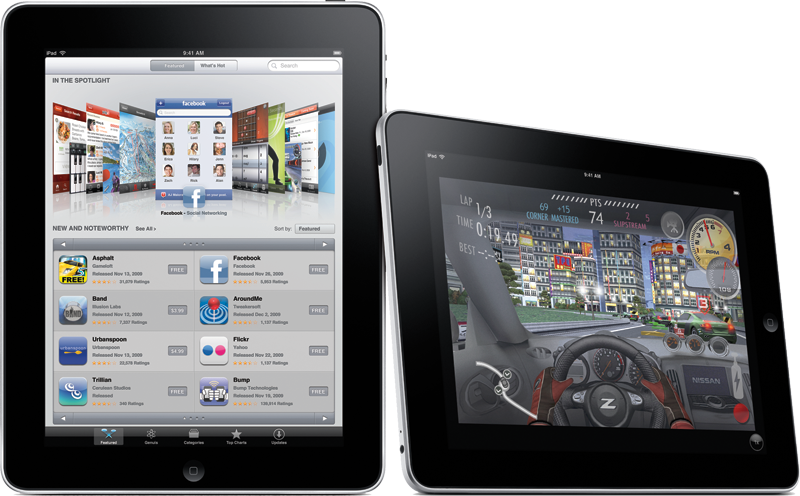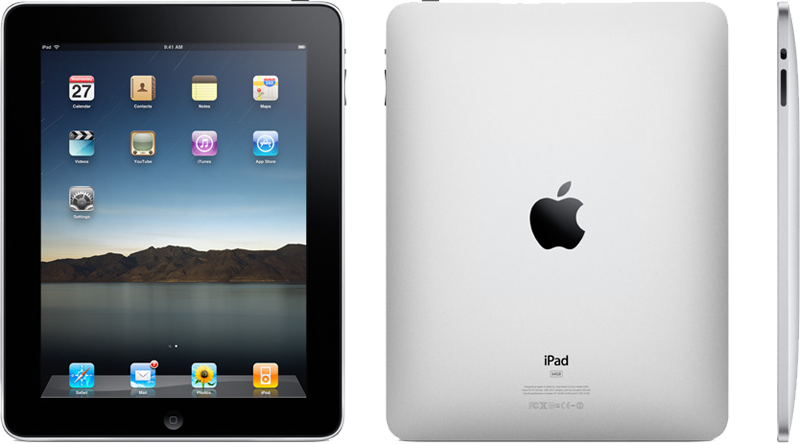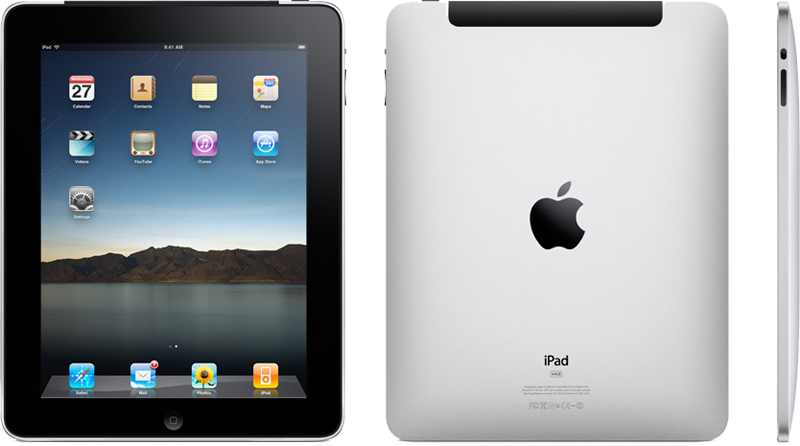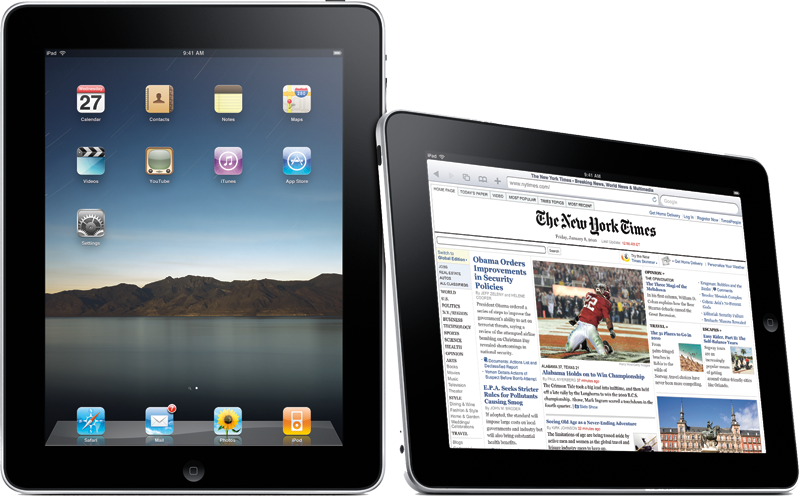 Only U.S. data plans with AT&T were revealed at Apple's event Wednesday. Connectivity will cost $14.99 per month for 250MB of data, and $29.99 per month for unlimited data. It will also come with access to AT&T's nationwide Wi-Fi hotspots.
To access a 3G network, a 3G-enabled iPad must be purchased. The 3G connected hardware costs an extra $130.
Apple CEO Steve Jobs said there are no international plans to reveal yet, but the company hopes to have them in place by the June-July timeframe. The device will come unlocked and will have support for GSM micro-SIM cards.
Runs all iPhone apps
App Store application included
Safari
Mail
Photos
iPod
Calendar
Contacts
Notes
Maps
Movies
YouTube
iTunes Store
App Store
Current iPhone and iPod touch applications will work on the iPad. With just a tap, existing applications can be run in full-screen mode.
Also introduced was "iBooks," Apple's e-book reading application. Jobs credited Amazon with pioneering the e-book market with its Kindle, but said Apple intends to improve on that model.
"We're going to stand on their shoulders and go a bit further," he said.
Jobs noted that the hardware is a "dream to type on," and demonstrated how to read, view media and content and access applications on the hardware. It also includes a charging and docking station with an attached physical keyboard.
It includes calendar, address book, maps and music applications built-in. It also connects to the iTunes store.
"You can discover music, you can purchase it," Jobs said. "Movies, TV shows, podcasts, iTunes University — everything built right in."
It also has access to YouTube the streaming service's high-definition streaming content.
"Using this thing is remarkable. It's so much more intimate than a laptop, and it's so much more capable than a smartphone," Jobs said.
He then demonstrated browsing the Web on the device. Jobs sat on a couch on the stage at the Yerba Buena Center for the Arts in San Francisco and bought movie tickets on Fandango.
Jobs also showed sending e-mail, reading content and flipping through photos. Places that photos were taken could be viewed through the integrated maps application. It also allows a photo slideshow that works much like in iPhoto.
The touchscreen keyboard takes up half of the screen when the device is used in landscape mode.
Jobs also demonstrated a calendar application that looks much like the Calendar app available on the Mac OS X desktop. He also showed off buying and listening to iTunes content on the iPad, demonstrating high-definition clips from movies like "Up" and "Star Trek."
A New York Times reader was also demonstrated, with officials saying they wanted to capture the "essence" of reading a newspaper. The design on the iPad looks like a traditional newspaper front page.
Games were also given a major focus at the event, with Gameloft's "Nova," a new ESPN-licensed title called "Snocross," and EA's "Need for Speed" shown running on the iPad.
Also demonstrated was a Major League Baseball application that allows users to track live games, watch video highlights and view player statistics. The software will be integrated with MLB.com to view player "cards" and track standings.
Starting Wednesday, developers will be able to access a new SDK that will allow them to test their iPhone applications with a "simulator."
iPad Dock: Powers the iPad, connects to a computer, and allows use for accessories through the Camera Connection Kit.

iPad Keyboard Dock: A dock for charging the iPad, integrated with a full-size keyboard. The dock has a rear 30-pin connector, which lets you connect to an electrical outlet using a USB Power Adapter, sync to your computer, and use accessories like the Camera Connection Kit. And an audio jack lets you connect to a stereo or powered speakers.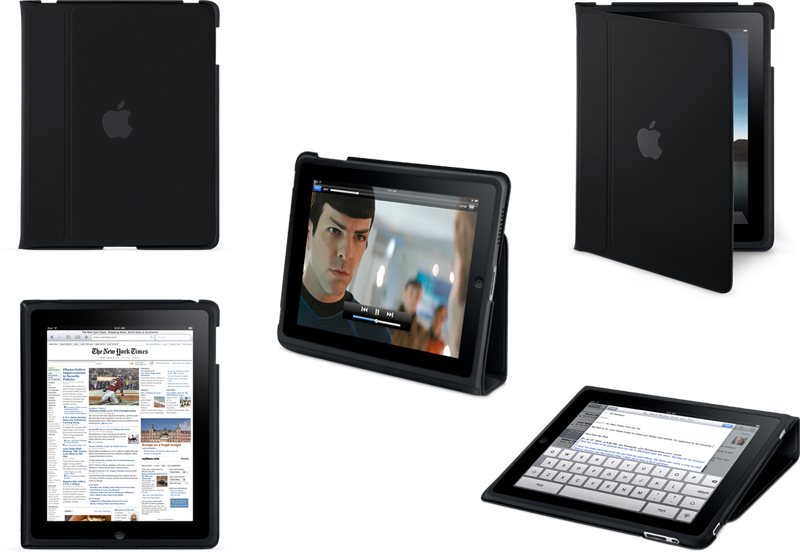 iPad Case: Protects the iPad and can be used in various positions. Users can type, look at photos and slideshows or watch movies with the case attached.
iPad Camera Connection Kit: Gives two ways to import photos and videos from a digital camera. The Camera Connector lets you import your photos and videos to iPad using the camera's USB cable. Or you can use the SD Card Reader to import photos and videos directly from the camera's SD card.
iPad USB Power Adapter: The 10W USB Power Adapter lets you charge your iPad directly through an electrical outlet. And the 6 foot long power cable allows you to charge it from an even greater distance.
The 16GB model, without a 3G radio but with Wi-Fi, will cost $499, with 32GB and 64GB models priced $599 and $699, respectively. Models with 3G radios will cost an extra $130.
16GB - $499
32GB - $599
64GB - $699
16GB - $629
32GB - $729
64GB - $829

They will be shipping in 60 days with worldwide availability for Wi-Fi models. 3G models ship in 90 days.
iPad Environmental Checklist
Arsenic-free
BFR-free
Mercury-free
PVC-free system
Highly Recyclable