Verizon sees Wi-Fi-only iPad as opportunity to sell 3G data plans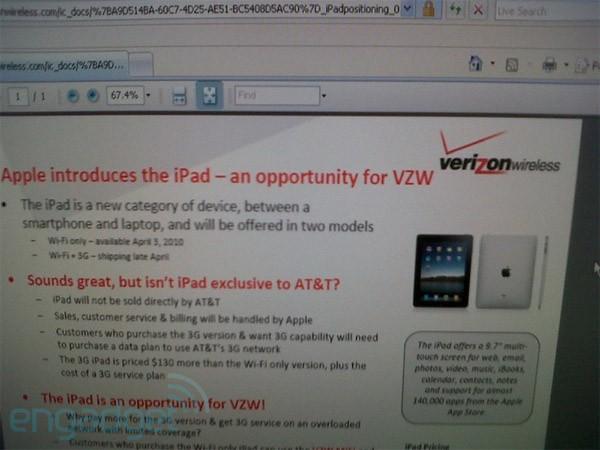 Though the iPad is only compatible with AT&T's 3G network in the U.S., that hasn't stopped Verizon from telling its employees to pitch its own data plans, shared via Wi-Fi, to prospective buyers of Apple's new hardware.
Calling the nation's largest wireless provider an "eternal optimist," Engadget obtained a copy of an internal memo from Verizon, which calls the impending launch of the iPad an "opportunity" for the carrier to court new customers. Verizon salespeople could convince customers to buy a Wi-Fi-only version of the iPad and connect it to the Verizon 3G network with a device like the MiFi.
The company memo notes that the 3G-compatible iPad costs an extra $130, and claims the device will not be directly sold by AT&T. Since sales, customer service and billing will all be through Apple, Verizon believes it could convince some customers to use its data plans instead.
"Why pay more for the 3G version & get 3G service on an overloaded network with limited coverage?" the memo reads.
But a Verizon customer using the MiFi device to tether to its 3G network would pay about $60 per month for a 5GB data-only plan, a rate much higher than the $29.99 unlimited offered without contract by AT&T. And at Verizon's price, a data-only plan would exceed the $130 premium for 3G connectivity in just a matter of months.
Prior to the iPad's unveiling, rumors persisted for months that Verizon was a potential partner for data on the device. However, it is rumored that AT&T outbid Verizon by offering cheaper data plans without contract. AT&T's iPad plans will also offer free access to AT&T's nationwide hotspots.
As a contract-free purchase, users can buy a 3G-enabled version of the iPad starting at $629. The AT&T network access can be purchased — or canceled — at any time directly from the iPad. Though the device ships unlocked, due to hardware limitations it will only have access to AT&T's 3G data network in the U.S.