Intel 'Gulftown' CPU announcement fuels rumors of new Mac Pro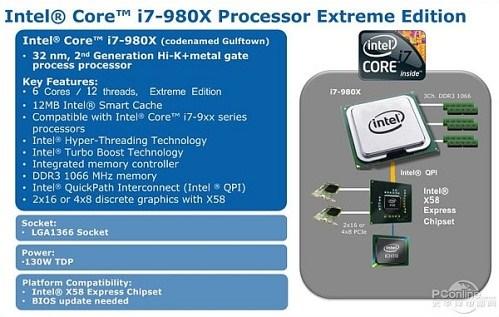 Intel this week previewed its forthcoming 32nm Core i7-980X processor, a six-core CPU codenamed "Gulftown," and a new rumor has suggested the chip could find its way into Apple's Mac Pro line as early as next Tuesday.
Adrian Kingsley-Hughes at ZDNet wrote Wednesday that he had received tips from sources that the hexacore processor would make its way to the Mac Pro desktop systems on March 16.
"If you're thinking of buying a Mac Pro, you might want to wait a few days," he wrote.
The new processor carries a speed of 3.33GHz, six cores capable of 12 threads, and 130W thermal design power. He also noted that he's heard no reports of impending changes to the MacBook Pro line.
The new six-core Mac Pro with the Core i7-980X has been rumored for months, with the chip set to arrive on the open market sometime this month. The new 32 nanometer chips have 12MB of L3 cache. Apple usually doubles the processors in its high-end professional workstations, so it's possible the new Mac Pro system could have a total of 12 cores and 24 threads.
The "Gulftown" processor will be sold under the Intel Core i9 name, while the server version, which has been adopted by Apple in the past, will fall under the Xeon 5600 series.

The last major refresh to the Mac Pro equipped it with its Nehalem Xeon processors, with a high-end eight-core Mac Pro offering two 2.26GHz Quad-Core Intel Xeon 5500 chips. Last year, Apple quietly upgraded that to a potential maximum 2.93GHz eight-core system.
AppleInsider has affiliate partnerships and may earn commission on products purchased through affiliate links. These partnerships do not influence our editorial content.