iPhone devs can now automate app release dates, price changes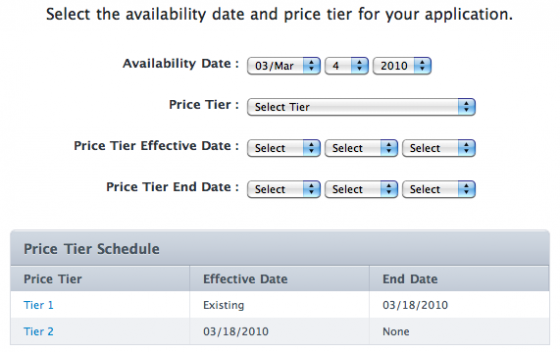 Apple this week unlocked new tools that allow iPhone developers and publishers to pre-set the release date of their applications and schedule price changes.
The new features appeared in the web-based iTunesConnect interface that application publishers — and all other iTunes media partners — use to submit and manage their offerings on the iTunes Store.
More specifically, the additions let publisher pre-schedule a release date for their new and updated applications, in addition to scheduling a series of price changes for those apps that will go into effect automatically on their target dates.
As can be seen in the screenshot below, a publisher can choose to release an app on March 4th under pricing tier 1 ($0.99) and pre-schedule the price to rise to tier 2 ($1.99) two weeks later. Successive price changes could also be scheduled in the interface; it's not limited to two entries.
The new features are the latest changes by Apple that offer app publishers more flexibility and control over how their apps are marketed to end users on its fairly congested App Store.
New tools offered to AppStore publishers | Screenshot via iPhones.ru