Radio Shack set to become nation's second-largest iPhone retailer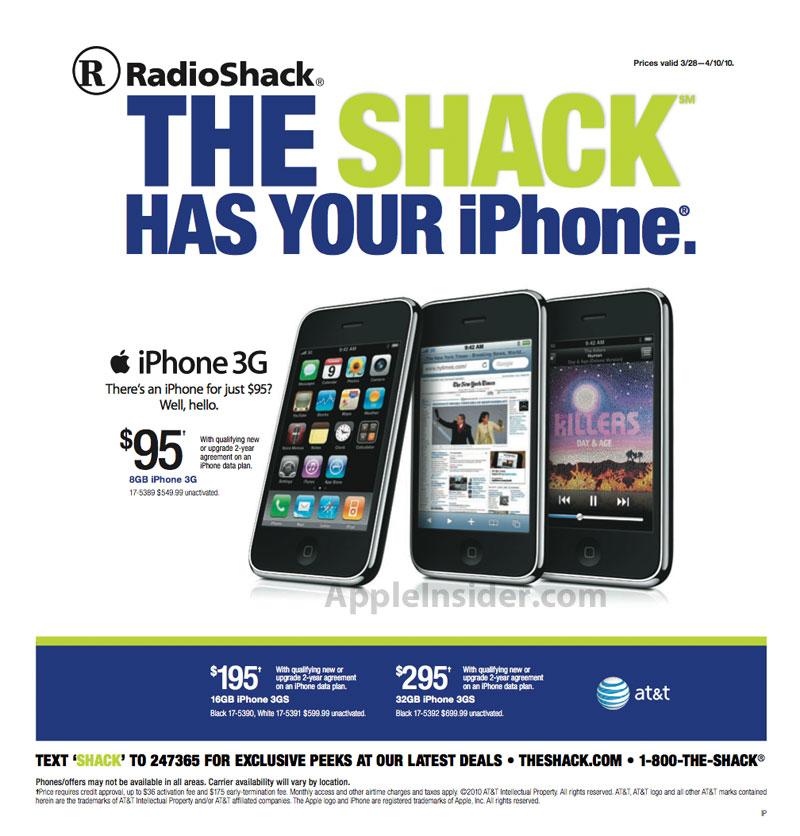 Radio Shack this weekend will become the second-largest third-party retailer of Apple's iPhone by storefronts when it launches a front-page promotion to celebrate the rollout of the touchscreen handset to thousands of its shops nationwide, AppleInsider has learned.
Come March 28, the specialty electronics retailer will offer the iPhone in 3,000 of its 4,500 stores across the U.S., completing a first-phase expansion that will see it leapfrog both AT&T and Best Buy in terms of the number of brick-and-mortar retail locations that will stock the device for walk-in activations, but not necessarily in terms of volume sales. Only big-box retailer Walmart will offer the device in more stores.
Radio Shack has been gradually working towards the milestone since January, expanding sales of the Apple handset to hundreds of new stores each week, following a successful pilot program that began late last year in a handful of locations around Manhattan and its home base of Dallas-Fort Worth, Texas.
The move could serve as a boon for Apple's iPhone shipments during a seasonally slow period of the year, when the Cupertino-based company routinely sees a pull-back in sales of the device as consumers start anticipating the arrival of next-generation models that have historically turned up in the June timeframe.
For its part in this, Radio Shack plans to promote the entire family of iPhones on the cover of its March 28 circular, at what it claims are the lowest prices ever offered for the touchscreen handset nationwide — essentially $5 off MSRP across the board, or $95 for the 8GB iPhone 3G, $195 for the 16GB iPhone 3GS, and $295 for the 32GB iPhone 3GS.
The circular, an advance copy of which can be seen below, is expected to reach roughly 20 million households this weekend through distribution deals that will see it included in editions of the nation's leading newspapers, a representative for electronics retailer told AppleInsider.
Radio Shack locations will also be touting their cell phone Trade-In Program as a means for customers to obtain a new iPhone for a fraction of the cost. Specifically, the program offers customers the option of turning in their old phone in return for a Radio Shack gift card that they could turn around and use towards the purchase of a new iPhone or other product.
For example, a previous-generation 16GB iPhone 3G that appraises "in fairly good condition" could net up to a $171 Radio Shack gift card, if it is tied to an expiring or expired two-year contract, bringing the cost of a new 16GB iPhone 3GS down to just $25 before taxes and AT&T's standard $36 new phone activation fee.
Similarly, a BlackBerry Bold 9000 in good condition could be worth up to $143 in trade-in value, according to Radio Shack's website, while a HTC MyTouch 3G and Palm Pre could each fetch up to $120.
The arrival of the iPhone should also serve as a compelling addition for Radio Shack associates, who are likely to push sales of the device due to its high commission structure. People familiar with the matter say each new iPhone activation has potential to net employees up to and beyond $30 in commission-based compensation, roughly two times that of many other handsets offered by the retailer.
In related news, shares of Radio Shack rose more than 7 percent Friday to $23.43 after a story in the New York Post speculated that the company was exploring a potential merger with rival Best Buy or seeking a leveraged buyout with investors.